As a business owner, you're always looking for ways to improve your bottom line. One way to do that is by improving the energy efficiency of your commercial building. Not only will this save you money on energy bills, but it will also benefit the environment. Here at re:fab, we put a priority on creating energy efficiencies in our commercial building renovation projects in New England for optimal benefits. Here are some top ways to enhance the energy efficiency of your commercial renovation project. Get a free quote today!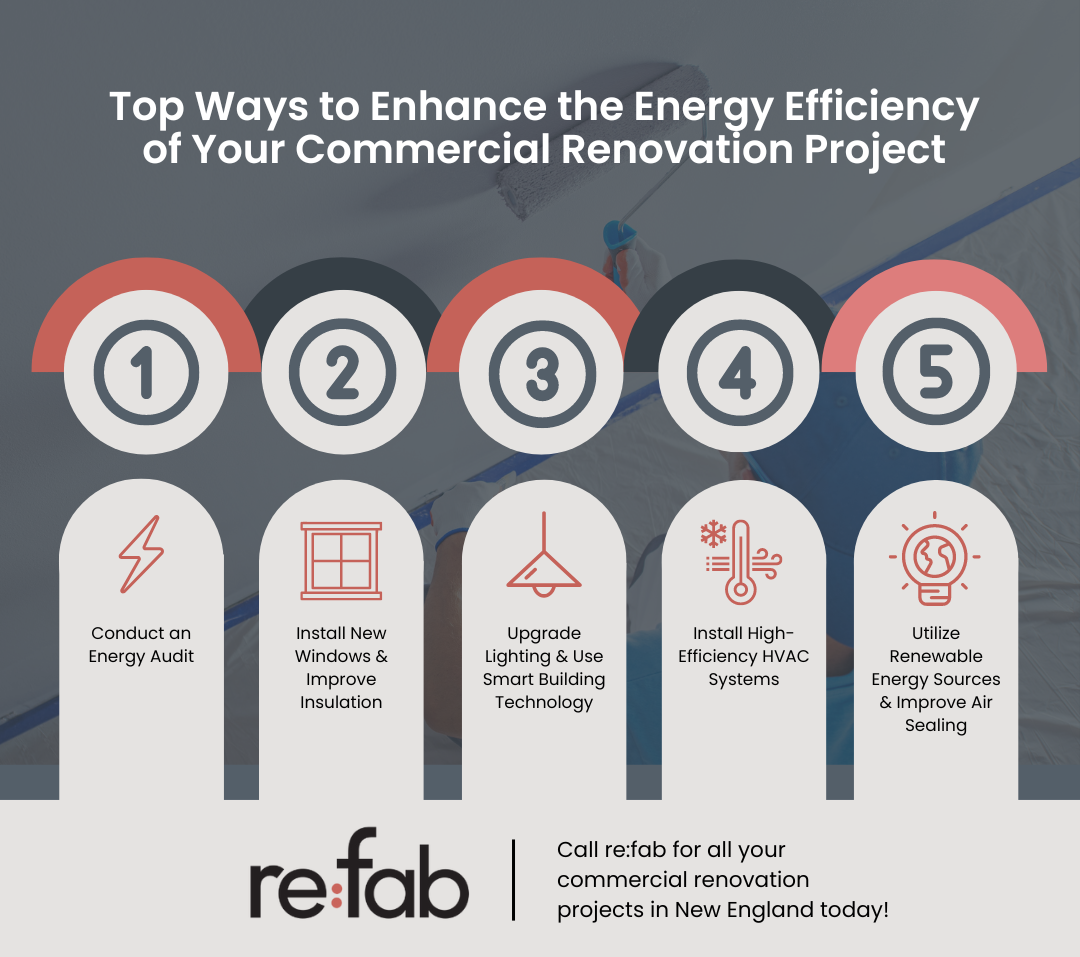 Conduct an Energy Audit
Before you make any commercial renovations, hire a professional energy auditor to evaluate your building's current energy performance. This will help you identify areas where you can improve energy efficiency and prioritize your renovation plans.

Install New Windows
Windows are major culprits when it comes to energy loss. Upgrading to energy-efficient windows can significantly reduce heating and cooling costs, while also improving comfort and indoor air quality.

Improve Insulation
Insufficient insulation can lead to significant energy loss. Upgrade your building's insulation to optimize your heating and cooling systems, reducing energy usage and improving indoor comfort.

Upgrade Lighting
Lighting accounts for a significant portion of a commercial building's energy use. Upgrading to energy-efficient LED light bulbs or fixtures can help you save significantly on your energy bills.

Use Smart Building Technology
Implementing smart building technology can help you monitor and control your energy usage, including lighting, heating, and cooling. This can lead to significant savings on your energy bills over time.

Install High-Efficiency HVAC Systems
HVAC systems are major energy consumers. Replacing old, inefficient systems with modern, high-efficiency models can significantly reduce energy usage and costs.

Utilize Renewable Energy Source
Consider integrating renewable energy sources, such as solar panels or wind turbines, to supplement your building's energy needs. This can lead to significant energy savings over time while reducing your carbon footprint.

Improve Air Sealing
Sealing your building to minimize air leaks can prevent both heating and cooling loss and improve indoor air quality. Your commercial renovation project can include measures like new doors, airlocks, and other measures
Choose Energy Star Rated Product
 Integrate Energy Star rated products, such as appliances or lighting, into your commercial renovation project. This can lead to significant energy savings while ensuring that these products maintain quality.
CALL FOR A FREE QUOTE TODAY
These are just a few of the many ways you can enhance the energy efficiency of your commercial renovation project. Not only will these upgrades save you money over time, but they will also make your building more comfortable and environmentally friendly. Work with our commercial renovation company, re:fab, for your next New England building renovation project today!