We repainted two large buildings in just one week!
Our crews recently finished a large re:paint project in Billerica, MA. We painted TWO industrial buildings, totaling 132,600 SQFT, in just ONE WEEK! How did we do it? We utilized our 150+ years of combined painting and project management skills, to get it done, on time and on budget! Though it might seem like we were just repainting a concrete building, it was more than just that. In order to cause minimal disruption to their businesses, we continued our work week into the weekend.  Our team worked with all the tenants from both buildings to get their trucks moved in order to repaint the shipping and receiving bays.
We also had to deal with the use of multiple colors. So, we used Sherwin-Williams SuperPaint®, in 4 different colors, and a whole lot of painter's tape!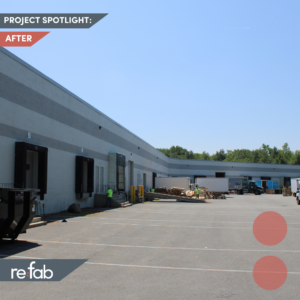 We think this was a smooth and much-needed glow-up! Lucky for us, we're not the only ones who think that. Here is what our client Matt Hutter from Berkeley Partners has to say about it:
"re:fab's entire team handled this project quickly and professionally from the bid process through project completion. I was very happy with the level of communication and oversight on my projects"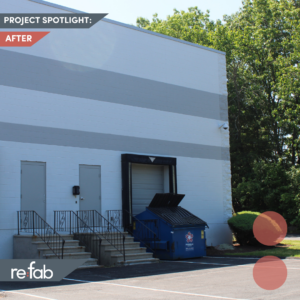 Check out this transformation!
That's how we got two buildings repainted in one week!
Thank you to Matt, his Berkeley Partners team and to the entire re:fab team, for doing such great work!
Need a re:paint, re:model, or re:fresh soon? Contact us now to get a free quote! We're able to start your project in 2 weeks, and finished on time and on budget!