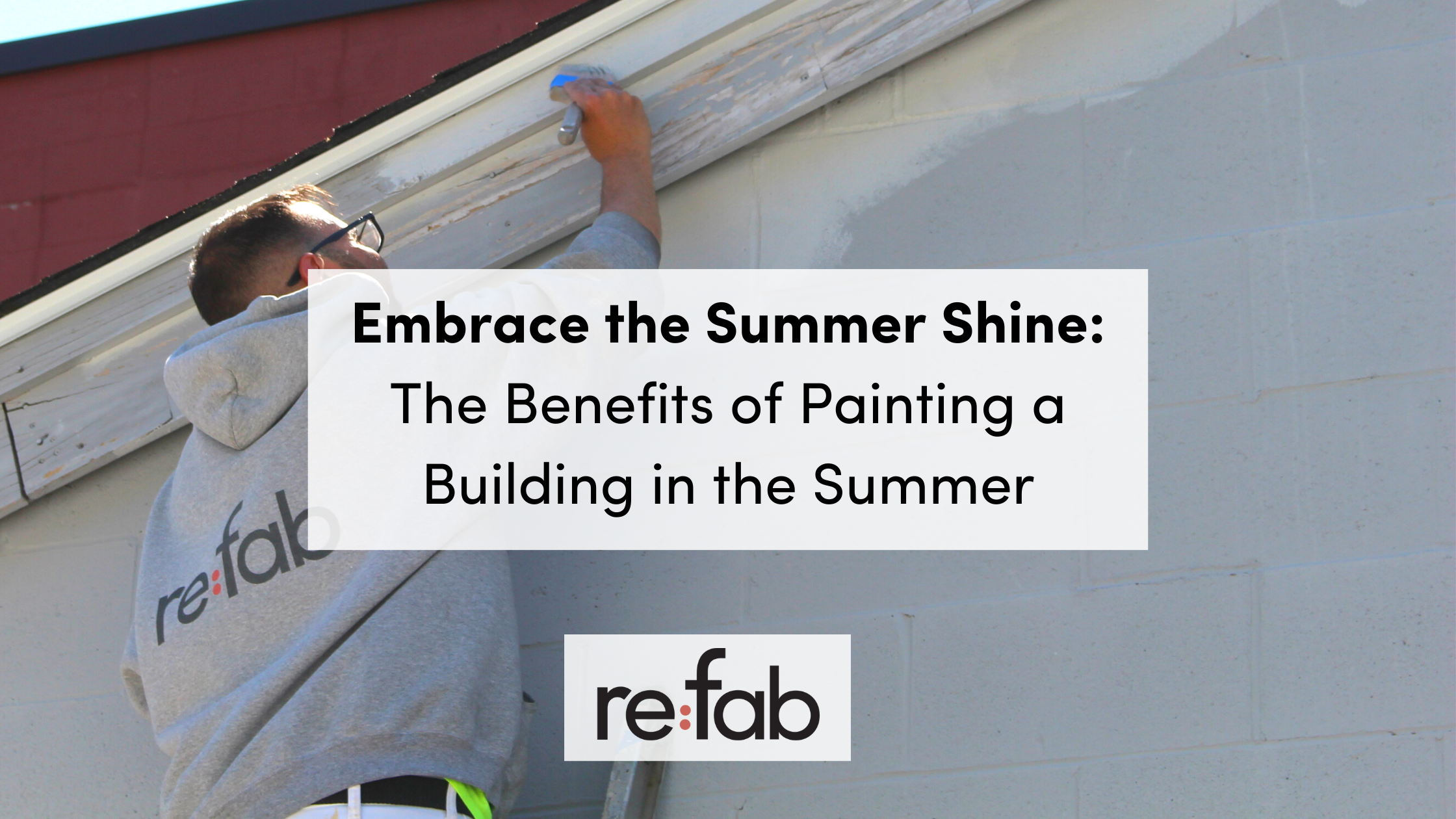 The Benefits of Painting a Building in the Summer
As the sun's warm rays blanket the world during the summer months, it's an opportune time to embark on painting projects, whether for residential or commercial buildings. While exterior painting can be done anytime from spring to fall in New England, there are distinct advantages to tackling this task in the summer season. In this blog, we'll explore the numerous benefits of painting a building during the summer months and why it's the perfect time to transform your space with a fresh coat of paint.
1. Ideal Weather Conditions: One of the primary advantages of painting a building in the summer is the favorable weather conditions. With longer daylight hours and generally drier weather, summer provides an optimal environment for the painting process. The moderate temperatures and lower humidity levels allow paint to dry and cure properly, ensuring a smooth and even finish. Moreover, the absence of rain showers reduces the risk of moisture-related issues and allows the paint to adhere effectively.
2. Efficient Drying Time: The warm temperatures and ample sunlight of summer accelerate the drying time of paint significantly. Compared to cooler seasons, when paint may take longer to dry and cure, summer provides an excellent opportunity to expedite the process. The quick drying time means less waiting between coats, allowing you to complete the project more efficiently. Additionally, faster drying times reduce the chances of dirt or debris sticking to wet paint, resulting in a cleaner and smoother final appearance.
3. Enhanced Adhesion and Durability: The heat and sunlight of summer contribute to enhanced paint adhesion and durability. As the paint dries and cures more quickly in warmer temperatures, it forms a stronger bond with the surface, leading to improved longevity. The combination of proper adhesion and durability ensures that your building's fresh coat of paint will withstand the test of time. It will also protect the exterior from environmental elements and maintaining its vibrant appearance for years to come.
4. Increased Productivity: Summer's longer daylight hours and comfortable working conditions boost productivity during painting projects. Contractors and painters can maximize their work time each day, taking advantage of the extended daylight to accomplish more tasks. The pleasant weather also fosters a more positive and energetic work environment, allowing painters to focus and complete the job efficiently. This increased productivity means a shorter overall project duration, minimizing disruptions to occupants or business operations.
5. Time for Exterior Repairs: Painting a building often goes hand-in-hand with necessary exterior repairs or maintenance. The summer season offers an ideal opportunity to address any underlying issues before applying a fresh coat of paint. Whether it's repairing cracks, filling gaps, or replacing damaged siding, the warm and dry weather provides optimal conditions for conducting repairs effectively. By taking care of these tasks during the summer, you ensure a solid foundation for the paint job. This will result in a more seamless and long-lasting finish.
6. Aesthetically Pleasing Results: Summer painting projects allow buildings to showcase their best appearance. The vibrant colors of summer, coupled with the bright natural light, highlight the freshly painted exterior. Thus, giving the building an inviting and attractive appeal. Whether it's a residential property looking to enhance its curb appeal or a commercial space aiming to make a positive first impression, painting during the summer season ensures a visually stunning result that will leave a lasting impact.
Painting a building during the summer offers numerous benefits, from ideal weather conditions and efficient drying times, to enhanced adhesion and increased productivity. The warm and dry climate of the summer season sets the stage for a successful painting project. This results in a durable, aesthetically pleasing and long-lasting finish. Embrace the summer shine and transform your building into a vibrant, welcoming space with a fresh coat of paint.
We are in the middle of summer, but there is still time to repaint & refresh your property before the fall! At re:fab, have the capacity to start your painting project within TWO WEEKS of a signed contract. So, get your free estimate, today!
Have another quote from a local contractor? Meet with us and we'll beat any competitor's painting proposal pricing by up to 7%!*