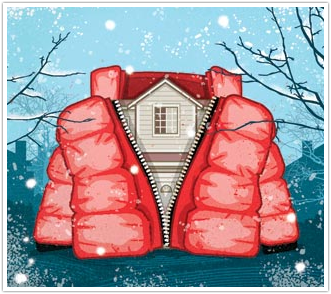 It's that time of year again. The time of year we need to prepare for the long winter ahead of us. Winterizing your home can make the winter months easier and low home maintenance. So you worry about shoveling and not, can your heater keep up, or you gutters hold up. Here are our top 10 easy winterizing tips that you can do now, that can save you thousands later.
Once the leaves fall, remove them and other debris from your gutters. This will ensure rain and melting snow can drain. Be sure to check for leaks with a hose and ensure water is being carried away from the building's foundation.
The average American home has leaks that add up to a nine-square-foot hole in the wall. Find leaks by using a lit candle on a breezy day and check the most common drafty areas. Purchase door sweeps and use caulk to fill gaps where cold air enters.
Check your attic insulation. It is recommended that you have a minimum of 12 inches of insulation for it to be working effectively.
Turn on and check your furnace before the cold descends. A short-lasting smell is common, but if this persists, contact a professional. Also be sure to change your filters regularly.
While ducts are not always easy to see, explore the basement, attic and crawlspaces to ensure ducts are not damaged or leaking. Gaps can be fixed with a metal-backed tape, while places where pipes are pinched should be repaired
Now is the time to take down window screens and put up storm windows, which provide an extra layer of warmth.
Have your chimney inspected and consider installing a protective cap to prevent foreign objects from entering and from rain mixing with ash to eat away at fireplace walls.
Prevent a burst pipe by turning off hose bibs inside with the shutoff valve and check to make sure lines are drained before freezing nights hit.
Reverse your ceiling fan so it is turning clockwise during the winter months. This will push the warm air downward and force it to re-circulate.
Check your home's smoke and carbon monoxide detectors and replace the batteries. If they are more than 10 years old, it's time for new ones.
Our team of residential painting and commercial painting experts at re:fab encourage all homeowners to follow these simple steps to ensure the safety of your family and home this holiday season. For more information or to inquire about our services including residential and commercial painting, power washing, dry wall and EIFS repairs and epoxy applications, please feel free to contact us here. We look forward to hearing from you soon and wish you and your family Happy Holidays.