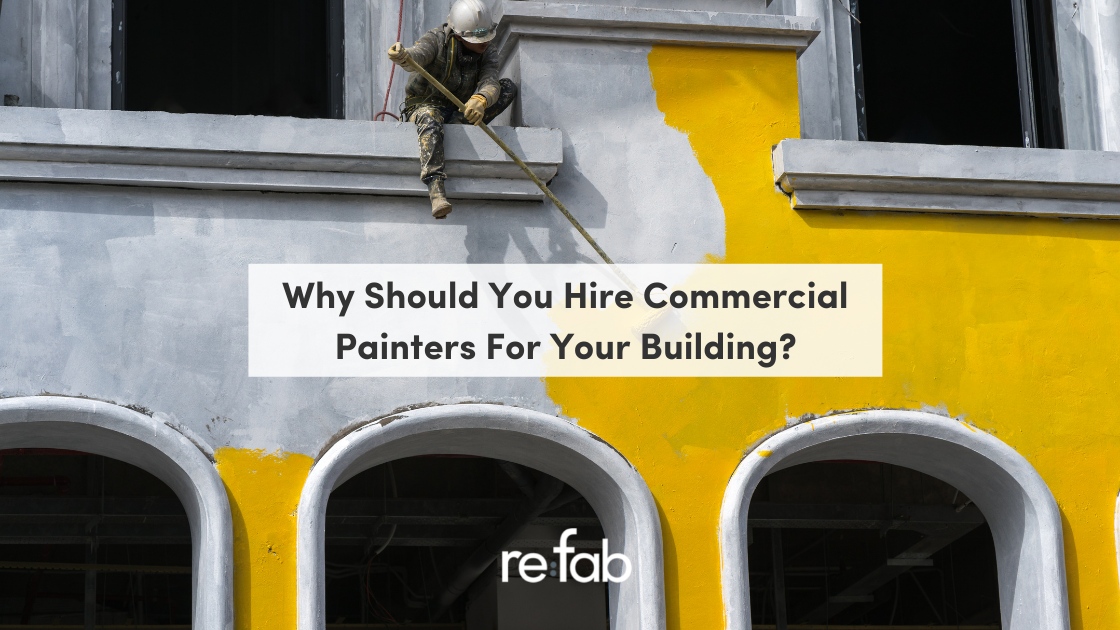 The moment someone steps inside your home or office, what is the first thing they'll notice about the place? Any number of stuff. But we can bet that the wall paint will always crack its way in the top 10.
Colors define us…
Our wall paint sends a message to our visitors, even when we haven't opened our mouths to speak.
If you fancy a certain shade and are dying to see how it will look like on the wall, then there's no need to delay things any further. Let's get painting. Sure, the neighbor's boy can take care of the whole thing. After all, he has his own brush!
Or can he?
Can he bring the same value and perfection to your painting project as a professional would? Of course not. So, isn't it time we sit down and ponder why you should hook up only with commercial paint services companies for whatever it is that you've planned up?
An Unskilled Painter Will Not Get Quality Work Done
Getting back to painting walls: is it that simple? From an onlooker's perspective, anyone with a paint can and brush can get your project done – after all, it's just painting, how hard can it be? You'd only think so because you lack the technical knowledge needed in this business.
The painting services business is very serious, wall painting is an art, and unskilled laborers can ruin it.
Don't trust us?
Ask anyone who's had this sort of work done by a 'guy-with-a-brush.'
How did things turn out for them?
Horrible. That's our best guess.
Why horrible?
Because unskilled laborers will only manage to get paint on your wall – hardly artistic or uniform. The painting business is much more complex than what catches the eye, and that's why you need to work only with true professionals.
Addressing The Financial Question For Your Project
The only argument that most people scramble up when debating whether to call in professionals for a painting project is the financial debate.
Just for argument's sake: how costly can it be to hire a commercial painter?
You'd be surprised, but hiring a professional is more cost-effective than getting stuff done by unskilled workers in the long run.
Shocked?
Don't be. While a commercial painter is more costly to hire, it is a long-term investment: the fine finish will maintain its perfect looks for years to come. The same cannot be said for a residential or office project done by a non-professional worker.
With the economic question is out of the line, let's move on and explore how commercial painters can add value to your project.
7 Reasons To Assign Your Work Only To Commercial Painters
Now you see that not anyone with a paintbrush and paint can handle professional-grade jobs. Even though hiring professionals may be costly in the present, it is more cost-effective in the long run. Let's see why you should hire commercial painters for your project.
Despite their apparent (and misleading) simplicity, painting services are part of a very serious business. Here are seven reasons why you should always hire only commercial painters to do your job:
1.     They Possess A Thorough Knowledge Of The Whole Business
You know how they say that knowledge is power – well, it applies in this case too. Knowing the paint business well, commercial painters can unleash their creativity in your residential and commercial projects, adding great value to the whole thing.
They can and may exceed your expectations for quality.
Being well-informed themselves, commercial painters can guide you better through the process and help you get what you need for your project. Color contrasts, paint brand selection, patterns, effects, and personalization are all aspects you can get right only with expert help.
With an expert by your side, you don't have anything to worry about. Just sit back and watch the magic happen!
2.     They Adopt A Calculated Approach To Your Project
When you hire commercial painters, they can deliver a uniform and thorough result for your project. They ensure this by using a calculated approach that they master over the years of completing jobs up to the customer's expectations and even exceeding them.
The result: you won't feel any difference between one wall and the other, and no part of the building will escape their attention.
This surgical precision is one of the main reasons for hiring professionals. In the long run, a well-executed paint job will prove to be very cost-effective.
3.     They Have Proper Equipment
As with any other profession, having the proper equipment is imperative for success in the painting field. You may think that a roller or brush is pretty much all there is to a painter's arsenal, but you are missing several other crucial items.
One example is the paint itself – no two cans are the same. Each brand boasts unique properties, and then there are different product lines to be aware of. Not all paints are appropriate for a said job, and the selection will make a huge difference in defining the results.
Then there's the painter's tape, which most unskilled handymen may not even have heard of (or at least they won't make any use of it). This fine non-residue strip is all that stands between the fine creases of a professional painting job and barbarism.
The point is: a commercial painter will have all the required equipment for your job.
4.     They Will Save Your Time
The best part of commercial paint services providers is that they guarantee quick results. Quick does not mean hastily wound up work. No, it means effective time management and quality results delivered sooner than anticipated.
This also means less hassle for you. They will take care of all the prep work, setting up the stuff, and the painting, while you dedicate that time to something you love doing. If that isn't valuing your time, then we don't know what is.
Need to get your home in shape urgently? Or, perhaps you have a limited window for getting your office clean and furnished and can't wait too long for a decent paint job? Commercial paint services understand such situations well and are well equipped for them.
Since a team of painting professionals will be working in unison, the contractor will meet your deadlines (if they are reasonable). After all, painters are only human.
5.     They Offer Premium-Quality Work
This is where most people draw the line. If you want your house or office to look visually stunning, then you can't inch back on quality. Nothing below the premium level will do. Fortunately, high-end commercial paint services, such as ours, assure you of uncompromising quality standards.
A premium-level commercial painting job will last you years before needing any replacement.
Detailing is very important in most painting jobs as it directly affects the aesthetics of the whole project. Commercial services providers ensure that the result is always stunning and that no detail is left untouched. This also means that every wall of your house will look the best it can.
Fine finishing sets the difference between the work of an unskilled laborer and a commercial painter.  And, we, at re:fab, pride ourselves on the supreme standards that we've set up to ensure that our clients are thoroughly impressed every time, without fail.
6.     They Are Licensed & Insured
Are you worried about things going south during the painting job?
Don't be because when you hire commercial painters they licensed and insured. If something goes wrong, the insurance will take care of it. There are some terms and conditions, of course, but the bottom line is: if it isn't your fault, you won't be paying for it.
Licensed professionals also impart a degree of confidence about the whole process, making you more open to discussions about what you want from your house painting project.
7.     They Will Clean-Up The Mess
Your painting project is bound to leave a mess behind. You will want to safeguard all of your personal effects, especially the stuff you can't move around. These concerns are nothing to worry about. The pros have got your back here too.
When you hire commercial painters, they will cover up all of your immovable stuff beforehand and ensure that there is no mess once they're ready to leave.
ProGroup Offers Highly Capable & Experienced Painting Professionals
Lastly, if you're spending more with commercial painting services contractors, you get more in return.
Satisfaction is guaranteed for all of our clients at re:fab.
We have served the community for well over two decades now, 25 years to be exact. re:fab is eager to satisfy more client needs, and we are confident that our work will please you. For us, quality is everything, and we will not step back one inch in this area.
We'll help you with the color and brand selection, prep work, cleaning up, and pretty much everything related to our painting project. Our workers carry the finest equipment in the business, and we pride ourselves on our standards of excellence.
All you have to do is contact us and then sit back and relax. We do the stuff that defines us and deliver you results exceeding your expectations.
You can get a quote online and then we'll start painting those dull walls!