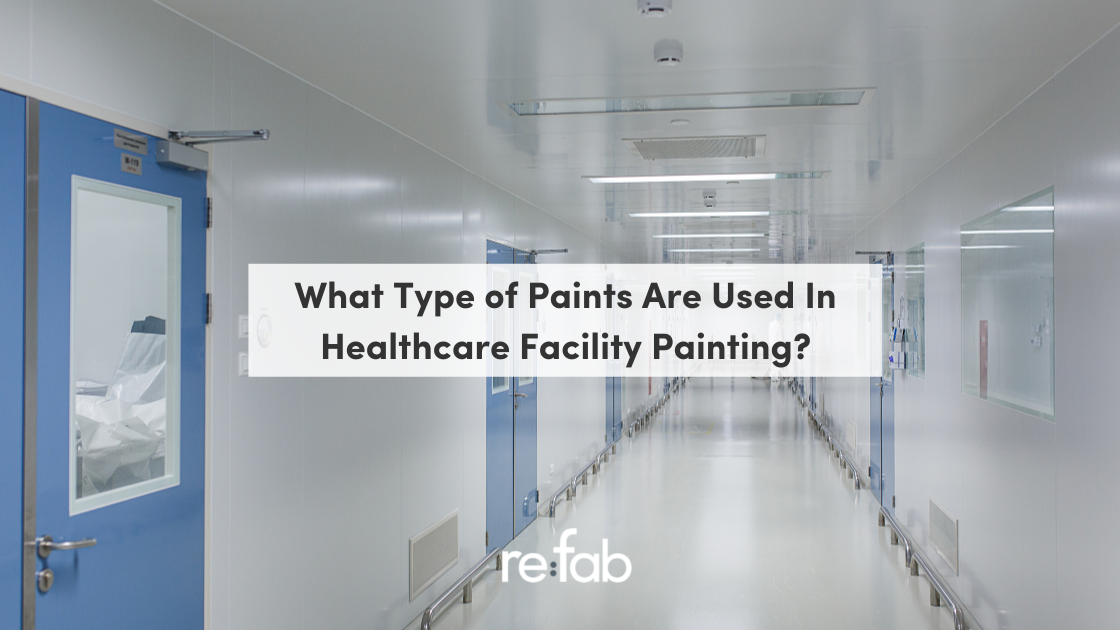 Colors have a language of their own, so what color do you pick for healthcare facility painting?
Before you break the ice with a conversation starter, your patients will already be under the spell of your healthcare center's walls. The color selection is important for creating a serene and welcoming sight for those who have sought your help.
But with hospitals and clinics, a painting project is never as simple as setting up pleasant aesthetics – it goes beyond that. Commercial painters are aware of the health-safety concerns for your visitors, and they put emphasis on the smart selection of paint brand and type in such projects.
This article will share our insights about the parameters that make paints suitable for healthcare facilities and much more, so let's get the rollers rolling!
How Can Fresh Paint Coatings Help Your Healthcare Facility
Before exploring the types and colors of paints, let's consider why you would need to get some painting done in the first place.
The role of interior designing and the clinical environment's serenity is becoming increasingly important in determining the adhesion to medical ethics in the modern clinical environment. The Patient Protection and Affordable Care Act (PPACA) dictates that hospitals and clinics are responsible for ensuring their patients' satisfaction.
This also includes the peace of mind.
Apart from the stress of disease, nothing can ruin the serenity of your patient's minds, like the sight of dirty walls with paint chipping off. To ensure your adhesion to the standards set forward by PPACA, you need to get your healthcare center fresh paint coatings whenever necessary.
Things To Lookout For When Choosing A Paint For Your Healthcare Facility
Let's get started on the properties that you should never neglect when searching for appropriate paint coatings for use in your clinic:
Say Yes To Antimicrobial Paints
Believe it or not, paint coatings can help counter the spread of pathogens!
Certain antimicrobial paints are designed to kill even the toughest drug-resistant microbes, including bacteria, fungi, and viruses (in the last case, it is more of incapacitation rather than killing – viruses are already dead).
As they are often called in scientific language, microbicidal paints are perfect for ensuring a safe environment in your healthcare center. Of course, when it comes to clinics, we cannot completely eradicate pathogens, but such paints will keep the population to a minimum.
On average, one out of 25 hospital visitors will contract a nosocomial infection – let's help minimize this ratio using such health-friendly paint coatings.
Minimize The VOC
Volatile organic compounds, shortened as VOC, are highly unstable molecules found in some paints that may exude toxic gasses, posing an immediate health risk. Having such elements in your hospital may compromise the goal of your services.
Fortunately, there is a workaround.
Several low-VOC and zero-VOC paints have hit the shelves, and their demand is higher than ever, especially for clinics. The first variety contains only a small (safe) fraction of VOCs, and they don't produce harmful gases.
Of course, the label "low" is only arbitrary and is not defined by a certain level. VOCs are low only in comparison to some other paints.
While the no-VOC options are not completely toxic-free (technically, no paint is), but with VOCs out of the picture, you've got one less thing to worry about!
How to Determine Colors for Your Facility
On to the most important part: the color.
Colors can communicate different messages based on the social conventions predominant in an area. While these associations may seem synthetic to some, they do work, and that's all that matters. Pleasant shades have been shown to help patients stay calm and not give in to despair.
However, if you choose the wrong color, the message may be reversed, and subconsciously, a visitor will feel the aftershocks of this bad decision. Any assault on the patient's mental peace is bound to manifest itself in compromised immunity or other health problems.
Color choice matters, so let's explore how we can make an informed decision here:
The Purpose Of The Room/Area Matters
The purpose of your room or area will have a huge impact on the color selection process.
Judge by who you expect to be in the room and why.
For instance, a child specialist's quarters will have to have some lively colors. Normally, the waiting area has dull walls, but you can make a difference by adding some stimulating shades like blue shades or turquoise. These are sure to lift the spirits of your patients.
Consider The Ensemble
If you're getting a paint job and can't decide which color will be perfect, or worse if you're caught between a couple of choices, there is a simple trick that may work for you: consider the ensemble.
You won't be changing all of the stuff you have in the room, so why not go for something that suits the color of whatever you already have in the room.
It does not have to be a perfect fit, just something to make the coupling more meaningful.
Build A Business Identity With Colors
Does your practice have a logo? If yes, then we need not lecture you about brand awareness. The idea is to associate your services with a business identity to help you flourish by being better able to market your brand. Just pull off some colors from your logo design if you're having trouble with the choice.
The odds are that your logo already consists of shades that inspire calmness and serenity.
Go The Extra Mile With Biophilic Designs
Biophilia translates into love for life or living things, and biophilic designs have gained much acclaim and popularity in recent years.
These nature-inspired designs have been proven to alleviate tension and help patients relax. They also create a better working environment for the medical staff as the visual stimulus is both inspiring and provokes creativity.
If you don't have many open windows channeling in the warm embrace of nature from outside (make good use of those you do have), you can still create a stimulating mix with shades of green and white coupled with indoor plants.
Getting a nice mix of colors is the first step here, and we can help you with it!
re:fab Offers Top-Rated Commercial Painters For Clinical Environments
With over 30 years of experience in the painting business and in healthcare facility painting plus an endless list of satisfied clients, re:fab is more than ready for whatever project you have for us.
As a commercial painting services company, we ensure our work's top-notch quality and stand by it. Your satisfaction is guaranteed because our goal is not to deliver up to your expectations but to exceed them and deliver something visually stunning and perfectly safe. Contact us today for a free quote!