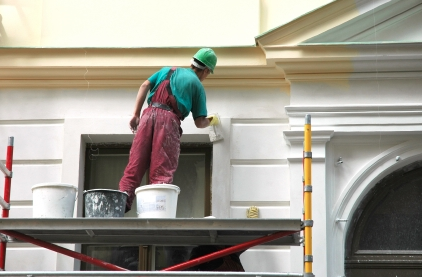 Are you looking for a commercial painter for your business, and your lost on what to ask them? Here is what to ask a commercial painter.
You have a lot of different options when you have a painting job that needs to be done. But if you want to ensure that the painting job is done right and looks great, you will want to look into professional painting companies in Massachusetts. Professional painters can offer you convenience, security and piece of mind. However, even after deciding to go with pros, you will still want to make sure that the company you hire is the ideal one. With that in mind, we at re:fab would like to offer you the following questions to ask a commercial painting company that you are considering hiring.
Are you a licensed and insured painter? 
This is a big one in the painting world because it is so easy to find someone claiming to be a painter in the newspaper, yellow pages or online. An amateur painter would have no liability or proper training and in turn, you have no assurance that you are going to get anything near even a mediocre job. This would not be an issue with a licensed and insured painter.
What other services do you specialize in? 
You know what you're looking for in your paint job. It could be the interior walls or the floor in your office, or it could be the exterior of an entire building. Whatever it is, you'll want to know the specialties of the painting companies you are thinking of hiring. If they match up with your needs, then you're starting off in good shape.
What type of equipment do you use? 
Especially for more complicated or dangerous projects, the equipment the painting company you choose is very important. The painting company should have equipment that is up-to-date and workers that are trained to use them. This also goes for the actual paint they use as well. You will want them to offer you the best materials, so you don't end up with a job that doesn't last.
How many projects have you completed this year? Do you have any testimonials?
If a painting company is busy and has already completed numerous projects during the year, this is a good sign. This implies that they have a hard work ethic and are a trusted company. This can be even further proved, if they can offer you some testimonials or references from previous customers.
Do you offer maintenance contracts?
 A maintenance contract is a great addition to the services provided by a professional painting company. The company will do necessary work to the initial paint job so it continues to look good for the duration of the contract. This essentially will give your property an on going like-new look.
Now that you are more prepared to begin your search into painting companies in New England, we hope you'll give re:fab a look. re:fab has the answers you're seeking for these questions and any others you might have regarding your paint job. Feel free to check out our website or just give us a call or email.