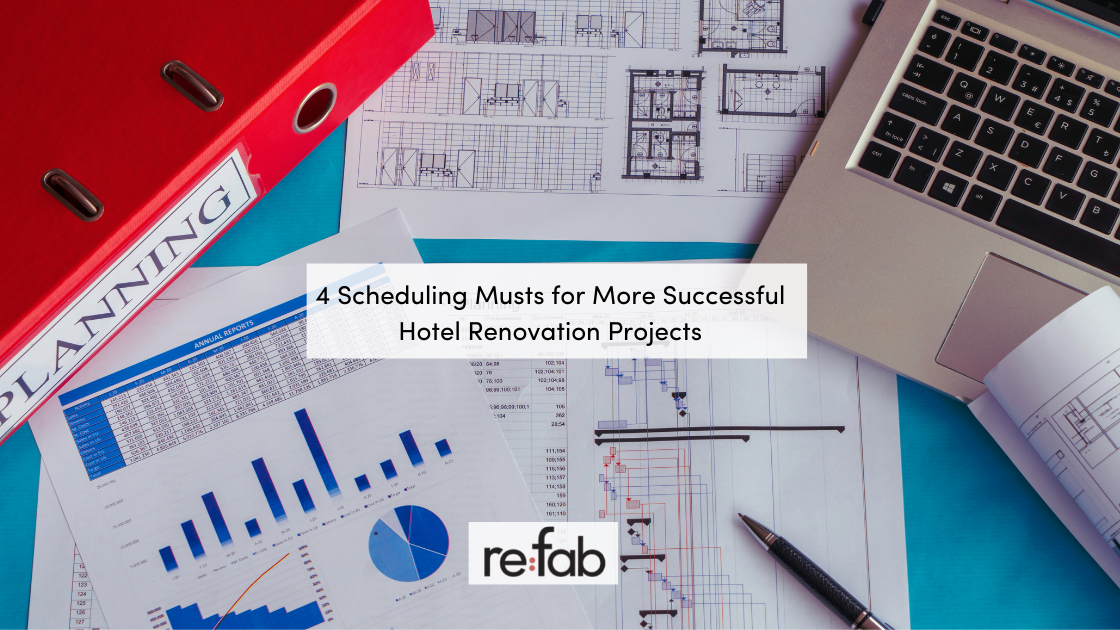 Managing a successful hotel renovation comes with a lot of responsibilities, one of them being the schedule to be followed during the renovation. Whatever the reason, hotel owners are strict about staying in business even during the renovation period. Therefore, project managers need to complete the project as fast as possible with minimal impact on hotel operations.
To help you better schedule the hotel renovation, we have compiled a list of 4 scheduling musts that are guaranteed to make your life as a hotel manager a whole lot easier.
1. Open Communication
Communication is key when it comes to completing hotel renovation projects smoothly. Having the latest communication technologies at your disposal always helps, but there is a fair chance that you still may miss out on some details, compromising the project's timely completion. Follow through with the construction team and conduct weekly follow-up surveys and draft progress reports to help you keep track of the project schedule. If the completion pace is above average, then you are good to go. But if the progress is slower than expected, then it is better that you reconsider the overall work of the renovation. You may have to stop for a bit and check for loopholes and make necessary changes in the renovation schedule so that task achievement can accelerate. If you notice any issues coming your way, it is recommended you resolve each issue without delay.
A renovation can be as quick as a few weeks or can take as long as several months. Therefore, open communication will help you draft a strategic schedule while keeping everyone updated. You will also be able to cope with the challenges of an active team that is present during the entire process. So, ensuring effective communication through a channelized approach will help you in formulating and following the hotel renovation schedule with efficiency.
2. Identify unexpected issues beforehand
A pre-renovation study of the entire property to analyze possible issues will help streamline the entire process. This way, it will be easier to schedule the project based on the breakdown of tasks. In case you come across issues on your way, stopping construction will affect the schedule, and you will delay project completion. You will have to add more days to the schedule, and in case of serious issues, weeks may have to be added to resolve them. This disturbs the entire schedule, leading to struggling communication and coordination between contractors to devise a revised schedule that is feasible to all.
To avoid coming across unexpected issues, an extensive initial assessment must be planned strategically. The assessment team must visit each floor and each part of the property and identify any prevailing issues. The project supervisor must also accompany the team and visit the site to ensure that the assessment is being conducted fairly. Focus on every minute detail when diagnosing issues, exterior walls, bathroom door, bathtubs, balcony, room ceiling, etc.  Evaluate all phases of the renovation project so that you can calculate the expected time of completion for each stage.
This proactive approach towards renovation will determine the practical factors of devising the hotel renovation schedule. Any factors, such as last-minute changes in the project scope, budget constraints, and material inventory problems, tend to command time delays. Manage these issues with responsibility so that you can control their negative impact on the schedule.
3. Pre-inventory check
Inventory management involves overseeing and controlling the hotel's inventory. This includes items like wallpaper, rugs, shower mats, and more bulky items like furniture and décor. Running out of the required items during the renovation process can jeopardize the entire project. So, before proceeding with the renovation schedule for the hotel, map out what items that are low on stock in the inventory. Prepare to buy more items if necessary, so that you know the expected date of delivery. This way, you will be able to organize the schedule better. In case you fail to keep track of the inventory, both your budget and the schedule will be affected.
4. Revisit your plans
Once the renovation plan is fully structured and in the final phase of approval, before execution starts, it's good to revisit each part of the project individually. Evaluate the plan in detail so that you can understand the difficulty of each phase. This way, you will have a thorough understanding of how the hotel renovation will proceed, making it easy for you to schedule the project. The time frame allotted for each task must have a buffer in case construction gets delayed. Analyze each component of the plan thoroughly and assign time slots accordingly, leading to a schedule that dictates all terms precisely.
Preparing a hotel renovation schedule is often seen as a tedious task. But for the project to reach its completion with success and without disrupting the on-going business operations, planning for a tight schedule is needed. From knowing when and how to schedule inspection appointments to deciding construction hours, the schedule answers all questions. Therefore, take the scheduling process slowly regardless of the size of the renovation project planned for your hotel.  This will ensure that all essential yet crucial elements of the project are incorporated for timely execution. 
Contact re:fab today for a free quote!