Looking to hire a hotel painting contractor? While you may think you can hire any painter to repaint the interior or exterior of your hotel, this type of job requires skill and experience. You need someone who has experience painting hotels and who has the expertise to get the job done right. And, this isn't just any painter; This type of job requires a commercial painting contractor. It's essential to take your time researching commercial painting companies and only hire those that have hotel painting services. This article will delve into why a professional hotel painting company will give you the best finish that will impress your guests.
Check out our infographic to find out how a hotel painting contractor will make your hotel stand out.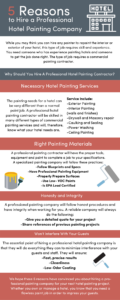 With over 30 years of experience in commercial painting, re:fab knows a thing or two about how to paint a commercial property. Every commercial property holds a unique challenge. Painting a Hospital? Then how to you paint with out getting in the way of the patients trying to heal, or the normal operations of the hospital? When painting a retail store, how do you paint so the store can stay open, and not lose important revenue? When painting restaurants how do you paint so not only it doesn't effect your daily operations, but so it still keeps a safe environment for the food, staff and guest?
Re:fab can help answer all these questions and more. We've literally painted everything! We are experts in working around what is best for your commercial property and business.
Like our Graphic and looking to hire a hotel painting contractor? Contact us for a free quote today!