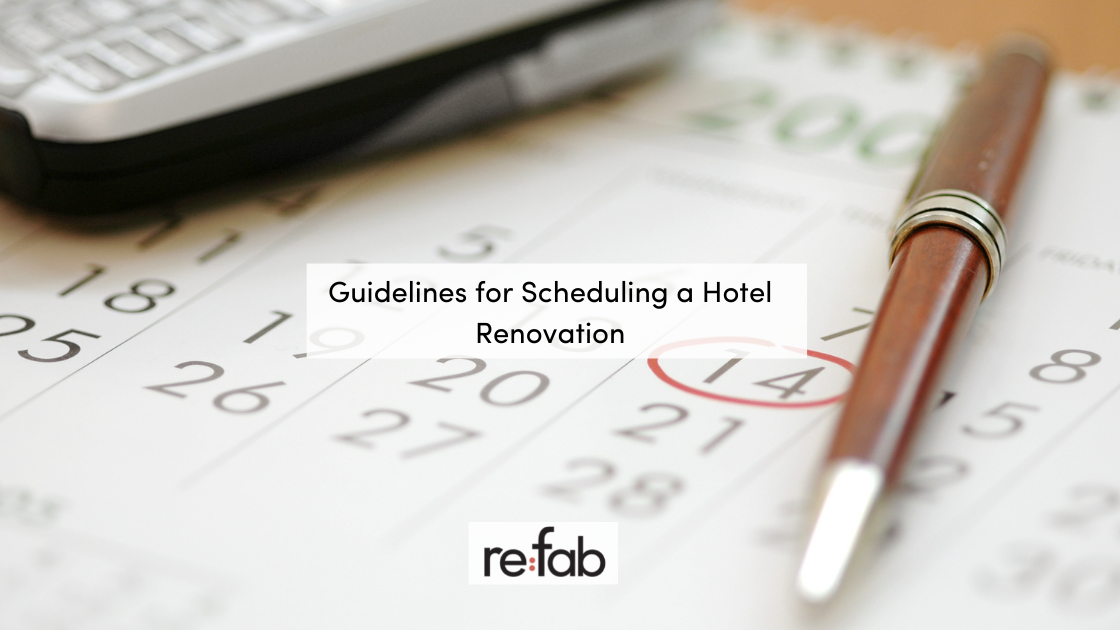 A hotel renovation is a multi-layered, challenging process. A hotel renovation schedule may be one of the most significant challenges. It completely revitalizes your hotel, which will eventually result in greater profits. Most hotels tend to stay open during renovations as they don't want to lose out on business. Therefore, follow your hotel renovation schedule down to a T, and there are zero hiccups along the line. What you need for this is a well-thought-out plan so that your project finishes on a budget and on time.
Areas where people usually fail in hospitality renovation are predicting the complexities, which eventually leads to frequent schedule breaks. Schedule breaks have a domino effect, and just like that, the hotel renovation schedule may come to a halt. But don't worry, these problems may be avoidable. With a few changes and tweaks to the hotel renovation schedule, you can get your project done in record time. This will give the hotel a new and fresh look, with minimal impact on regular hotel operations.
Selecting the Company
Before we formally delve into hotel renovation, you must do some research. The first task is selecting and searching for an appropriate company that you can get your renovations done. The best option is hiring a renovation contracting company since it will save you time and money. A renovation contractor is essentially the person-in-charge of your hospitality renovation project. Having the right renovation contractor company will not only make communications easier for you but will also allow you to continue to concentrate on your business and not worry about spending time supervising the contractor.
Subsequently, another important factor in hiring the right contractor is that your renovations will run smoother and hopefully with fewer breaks. Always remember to hire a contractor from a reliable and trustworthy company.
Now that you've selected the renovation contractor company, it's time to plan out your hospitality renovation. Meet with your contractor to discuss your initial thoughts about the hotel design, concept, project scope, and budget in mind, and plan out a hotel renovation schedule.
Make sure this schedule is realistic. Planning with your contractor will also help as the contractor understands your goals and expectations.  However, even the most thought-out plans can cause unexpected delays in hotel renovation. To avoid that, we have the four scheduling musts that you need to make your hotel renovation project a success, without interrupting your business.
Pre-Inventory Check
Hotel renovation involves a ton of shifting, removing, and sometimes even uprooting things from their spots. In such conditions, it's easy for materials such as carpets, curtains, furniture, and wallpapers to go missing.
To avoid misplacing things, be smart, and do a pre-inventory check. Pre-inventory check means you produce a complete and detailed listing of items available at hand including furniture, number of curtains, chairs, and raw materials. A pre-inventory checklist will help you keep track of your inventory.
Having a pre-inventory checklist will help you make better decisions regarding what materials may be needed so you can order them in advance to avoid halting the renovation operations.
Communicate, Communicate, Communicate
The first three rules of the hotel renovation should be: communicate, communicate, and communicate. Even though it is possible to be connected 24/7, small details can be lost.  The loss of these little details may amount to bigger things and halt your renovation schedule. Ultimately negatively effecting your hotel business operations.
To avoid such disruptions, make use of weekly check-ins and progress reports of all ongoing renovation operations. Make sure these reports are being correctly read and followed up with, i.e., immediately address issues that arise.
If you feel the work progress is at an average level and on-track, you're moving in the right direction. However, if you think the renovation is severely falling behind, you should contact the company and make any necessary amends to the renovation schedule.
Expect the Unexpected
Doing thorough research before your hotel renovation will help you analyze your problem areas and make possible solutions. Your research will ensure the renovation process is as streamlined as possible. Don't be afraid of any problem areas and ugly situations, if you've found it in time, you'll manage it in time.
Check Your Plans
You might have your plans ready, but it's always a wise decision to re-check them. Quite often, the drawings show all rooms being of the same size and layout, which isn't the case. Considering your materials and everything will be based on these plans; it's important to check and re-check them again, so nothing is left out or miscommunicated.
Cross-checking your plans with your pre-inventory check will help you better prepare for the materials needed, preventing any unnecessary delays that may harm the hotel renovation project.
Preparing a Hotel Renovation Plan is most definitely a difficult task. It requires a lot of planning. Planning may seem tedious; however, it is of utmost importance as it can either make or break your hotel's renovation. Remember that communication, planning, and hiring the right company is important for any successful hotel renovation. 
Contact re:fab for a free quote today!