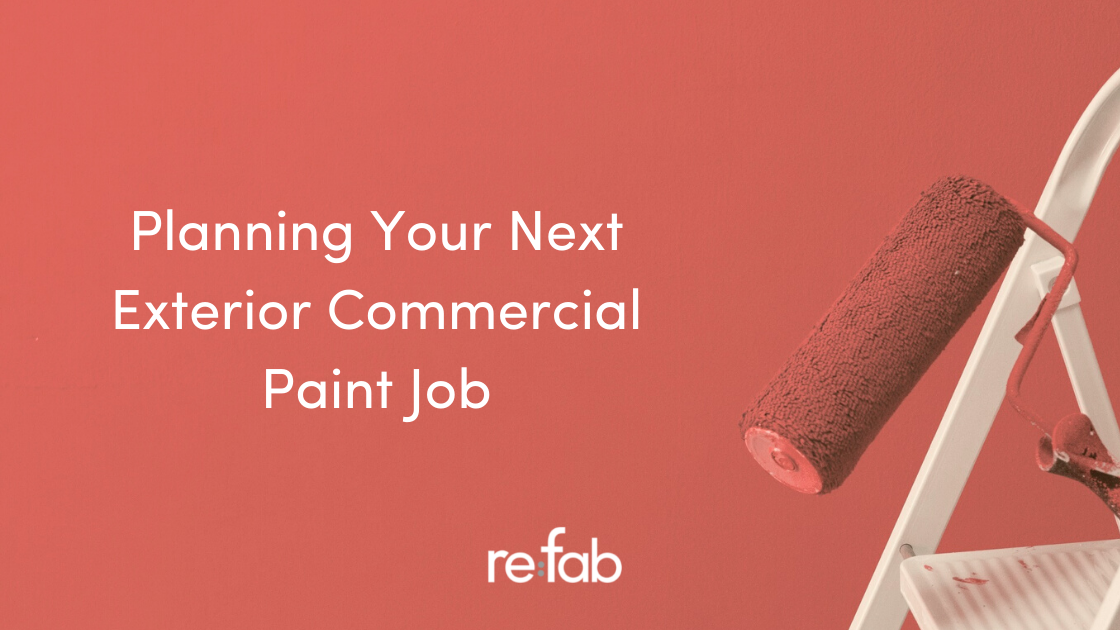 Planning an exterior painting job for your commercial structure can be an intimidating task, from finding a good contractor who can finish the project at the right time to budgeting and choosing a color. When it comes to exterior painting projects, what many people are not aware of is the amount of required work before the paint touches the brush. A lot of effort goes into planning and prepping to get the desired results. Planning is crucial to ensure a long-lasting, seamless paint job.
We have listed how you can begin planning your next exterior commercial paint job to get the best possible results below.
Consult a Commercial Painting Contractor
Selecting the right commercial painting contractor for the project is essential to ensure the job is done efficiently and correctly. When planning your next exterior commercial paint job, the first thing you need to do is consult a contractor. They will evaluate what kind of work you want and guide you accordingly regarding priming, repairs, paint types, color selection, prep, pricing, and scheduling.
When looking for a suitable contractor, make sure you ask them questions about their guarantees, experience, insurance, and every detail about your commercial painting project. Ask them if they can ensure the results you desire. There are certain things your contractor should plan and inspect before starting with the project. They should develop a schedule by evaluating what times and days would be good to work on the project.
Check the Weather
When it comes to exterior painting, the weather matters. High wind or rain can slow down the progress of the task. Moreover, paint should be applied when it is not raining or humid to allow the paint to dry fully and properly. So, it is better to apply it in dry conditions. Your contractor will also consider which days might have above average humidity and avoid painting on those days or compensate for it. Both oil-based and latex paint require a specific amount of time to dry and set. Unexpected weather changes can disrupt the setting process.
Check the Structure
Next, the contractor will inspect the structure to see if any repairs are required. They might look for some common repairs, such as loose shingles, damaged siding, exposed wood, doors that do not close correctly, leaky windows, loose gutters, etc. These check-ups may seem too much, but an expert contractor is trained to identify problems like these before they turn into major, expensive repairs. So, it can help you save both money and time in the long term.
Lastly, the contractor will identify the most suitable spots for placing their scaffolding or ladders safely. Many factors determine how they will set up scaffolding and ladders, including space between your building and the neighboring structure. Either way, a professional contractor will ensure that the scaffolding or ladders are placed in a safe and convenient place.
Set a Budget
After consulting a contractor, set a realistic financial budget and time for the painting project. Make sure to discuss the budget with your contractor since the project's complete scope will significantly impact how much the labor and paint will cost you. Labor costs might include repairing certain parts of the exterior before starting or getting rid of an old paint layer, influencing the overall cost. Before hiring a contractor, being aware of all the work parameters that need to be done can ensure the costs do not go over budget.
Selecting a Color
If you're painting the exterior, it is essential to consider certain elements such as trim, stonework, and roof shingles. As these elements will remain the color that they are, it is necessary to consider them in choosing your paint colors to ensure the paint colors you choose go well with the existing colors on your structure.
Moreover, you will want the paint colors to go with your business's color scheme when it comes to commercial painting. If the structure is a high-rise office building or a warehouse, you may go with more neutral tones, such as brown, white, or grey. You can select a bolder palette with colors like orange, green, or blue if the building is a local restaurant or a fitness studio. As you decide on a new color for your building's exterior, make sure to ask your contractor for advice.
Decide on When to Start the Project
If your project is interior, or you live in a year-round warm climate, consider scheduling your project in the winter months to avoid the painting contractor's busy season. Avoiding the Summer busy season typically allows for a more flexible schedule, as well as potential savings. Exterior painting cannot commence in colder temperatures as the paint will not adhere to the substrate properly, causing paint failure down the road.
The kind of structure that needs to be painted also determines when it would be a good time to start work. A warehouse, a retail building, or an office building all have different purposes. So, painting each type comes with its own specific set of requirements and circumstances. For instance, painting a retail business's exterior may involve many interruptions because of the flow of individuals entering and leaving the premises throughout the day. On the other hand, a warehouse has less traffic during the day, but higher in the morning and closing time. Knowing when there will be fewer people entering and leaving the building will help determine when the property can be painted. Consider the schedule of your company and identify the best times of day to paint the building. Also, notify your customers or employees about the painting project so they can make plans accordingly.
So there you have it, our list on how to plan your next commercial paint job. We hope it's been helpful and will help you consider hiring a professional painting contractor for your next project. It will make your life so much easier.
 
Did you know that re:fab is a professional commercial painting company? If you're looking for interior or exterior painting services, we have over 25 years of experience. We know how to get the job done fast and done right. Contact our excellent customer service team at 1-800-690-2539 for inquiries or click here!