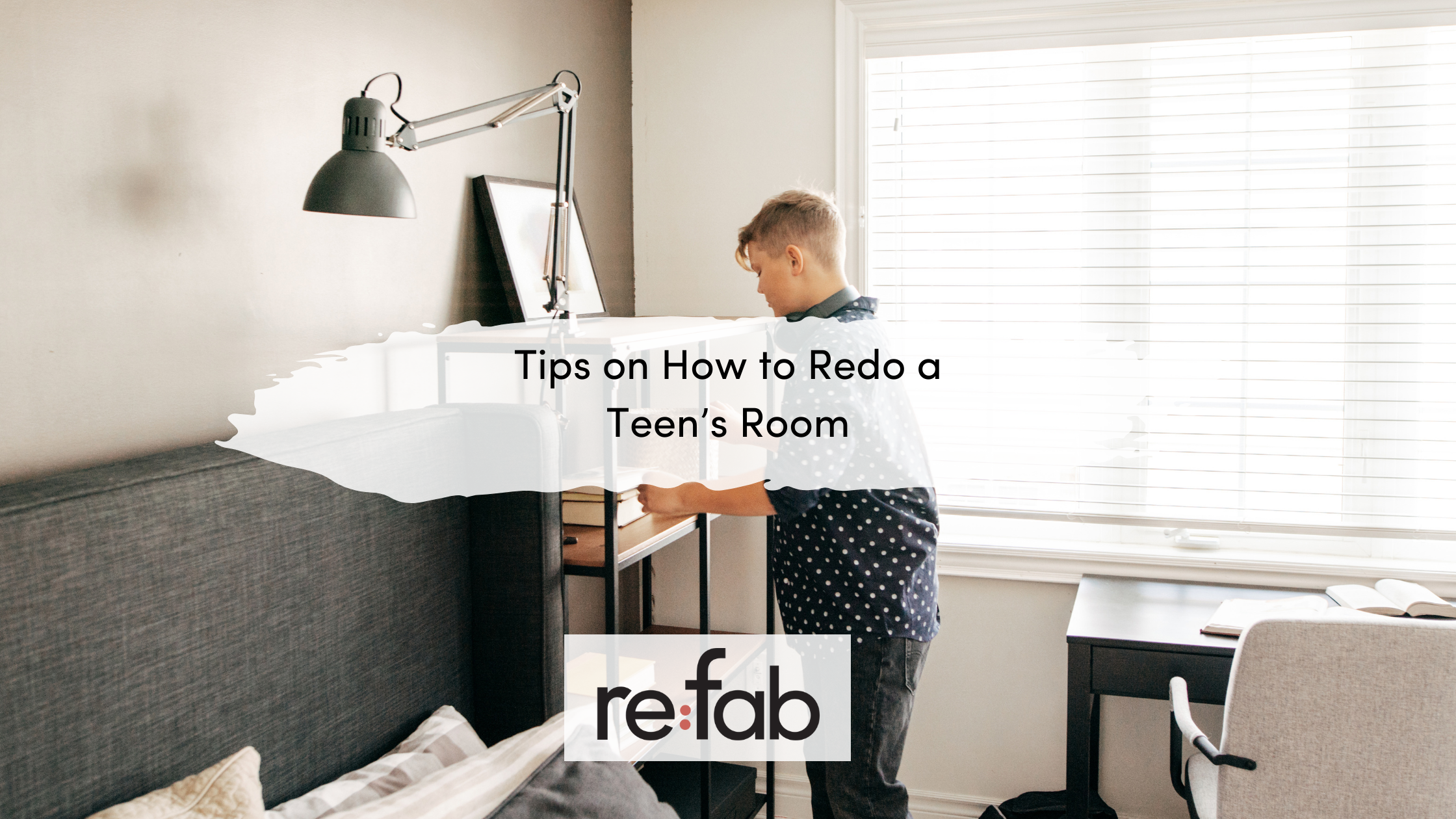 Sadly, we all grow up, and your kids are no exemption to that rule. Once they enter teenhood, they probably no longer want to have a Thomas the Tank Engine or Barbie themed spaces. So, it might be time for some updates. This can be tricky. In a few years they will be moving on to adulthood, maybe moving out, or even going to college. Would you really want to redo their room again then? So, here are some tips to make your teen's room is functional, easy to transform and fits their style now and later.
Tip 1: K.I.S.S. – Keep it Simple & Swappable
Don't go overboard on the more permanent parts of the design – things like murals and crazy patterned wallpapers. If you're going with themes, go with colors that support the theme so it's easier to change later. Think more basic colors for the walls, such as tan, gray and blue. These colors can go with anything.
If you or your teen wants to go crazy with bold patterns or even colors, use things that can be easier to swap out. Like curtains, bedding, rugs, décor, etc. Painting a huge mural or buying expensive wallpaper that fits the vibe your teen wants now, may not be worth it in a year when your teen doesn't like it anymore.
Tip 2: Organize
Sadly, the toy boxes are probably just collecting dust. Have your teen go through any toys or décor they may not be using or want anymore. Then, either donate or sell the unwanted items. If they – or you – decide to keep things for sentimental reasons, find a better place to put them. In storage boxes in the basement/attic, a storage unit or even the back of the closet. So, it's kept and could be passed down once they have kids, but out of the way.
Tip 3: Think of the tomorrow
If it's in your budget, do smaller things to the room that will last after they move out and add value to your house – things like updating or getting moulding around doors, windows, ceiling and baseboards. Or, installing new windows, new ceiling lights/ceiling fan, new light switch covers, new flooring… the list goes on and on. However, keep in mind that your teen is still a teen. If they still tend to leave a path of destruction, then some of these updates may be better to make later.
Tip 4: Update their furniture
This can be expensive, so it might be easier to do over time. However, get furniture that's going to last. They are almost adults now and the kid's bureau from IKEA might be too small and in rough shape. Consider upgrading their childhood pieces to adult items, so they can either take them when they move out or you can keep it for when you may repurpose their room.
Tip 5: Make it for them
Make the space fit them. Chances are they will be spending most of their time in there.  If there is room, consider creating a comfy seating area for them and their friends. Or, more important – a study area. They'll need a comfy place to study, do homework and get ready for college – which might be around the corner. If they're into gaming, make it the best gaming room ever with comfy gaming chairs and a nice entertainment center with lots of room for their growing gaming collection. There are many other things you can do and the best person to ask is your teen. Of course, due to the size of the room and budget, you may not be able to do it all, but there are ways you can make it work!
Tip 6: Let them lead the way
This can be a learning experience for them. Tell them what budget you have for this project and have them be involved in picking things out within that budget. If they really want something, but it's going to make them go over budget, then have them pay for it or save it for a birthday/holiday gift. If they manage to stay under budget, then consider rewarding them so they can learn more about budgeting. Having them pick things out with you guiding them towards the tips above, helps them feel like it's truly theirs and make them want to take it all with them when they move out.
Tip 7: Keep it transformable
Pinterest a kid's room and you'll find a whole lot of build-ins. Build-in bed, desk, seating, storage, bookcases, etc. Unless it's something that you know will be used later, try to avoid build-ins. In a few years, your teen may not be even using the space as much. And, once they officially move out, do you really want to have to take that all down or have some wasted space? Plus, teens always change their mind, so the less build-ins, the more rearranging they can do themselves. So, the space can transform depending on your teen's mood or the space's use.
With any home, or business, renovation and painting projects, re:fab can help! With over 30 years of experience, we know what to do. We can re:paint your teen's room, and even the rest of your house! Contact us here for a free quote!
Source and Inspo:
20 Inspiring Teen Bedroom Ideas & Decor Solutions – Décor Aid (decoraid.com)