Choosing an interior paint color can be difficult at best. As a residential and commercial painting company that has worked with hundreds of homeowners and business owners over our twenty plus years, we have seen countless families and individuals agonize over choosing the right colors. With a little bit of help though, everyone can find the colors that perfectly fit the style and function of the home. We've compiled a few tips to help you with the decision and to help you feel satisfied and comfortable with the colors you choose.
First, browse magazines and online websites such as Pinterest for inspiration. 
Magazines like Country Living, House & Garden, Coastal Living, and Interior Design Magazine can be wonderful resources for helping you find the colors that inspire you. When you see something you like, cut it out and save it. If you find a color you like this way, you have two options. You can take the swatch to a paint store and match it as closely as you can to their stock colors, or you can have them match the color by scanning the sample into their computers. It is important to remember that if you have them match the sample by scanning it into the computer, it can be quite difficult to reproduce the colors if you ever lose the formula. On the other hand, matching it to a stock color ensures the paint is always easily attainable.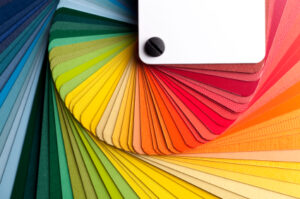 Another way to explore the colors you may like for the interior of your home is to browse the paint section at local hardware or paint stores. Each store has different brochures, photos and samples of colors it has used in homes. Design experts put these marketing materials together and they often have great examples of color schemes. When you go shopping, you'll need to refer to your fabric, carpet, tile, wallpaper, and trim, so having samples of those or a style board with those colors handy will be really helpful when it comes time to match paint with your current color scheme. Not sure your color will work? A residential and commercial painting company like our team at re:fab can help you make the decision.
Two other places that folks don't always think of when it comes to choosing an interior paint color is your closet and your furniture. You already have a certain style and your closet and furniture are both indicators. Browse through your clothes – what are your favorite outfits? Matching clothes is very similar to matching paint colors in your home. Additionally, your furniture is a reflection of your personal style. Be sure to take into consideration your drapes, couches, accent features and other furniture to ensure continuity.
It is important to remember that choosing paint colors and changing the paint in your living and workspaces can be an exciting way to breathe new life into your surroundings. The paint should be a reflection of your personal style. If you're considering painting your home or office and need the expert advice of a trusted and respected commercial and residential painting company, contact us today at re:fab. We look forward to hearing from you and to helping you with all your painting needs – big and small. Let's get started today!