Often underappreciated, spray paint has come a long way in recent years. In fact, companies such as Krylon offer a myriad of different spray paint products for a number of great applications. In fact, specialty paints are made to adhere to surfaces such as plastic or metal and can even be textured to create visual interest. Did you know there is even such a thing as chalkboard paint?
As a residential and commercial painting company with more than 30 years of experience helping families and businesses with all their painting needs, we've seen our fair share of spray paint success stories and blunders. In fact, we also offer a wonderful product called Anti-Graffiti Paint, which creates a non-stick surface that repels graffiti and allows you to simply rinse away unwanted spray paint with water – so, we'd say we know a thing or two about spray paint. While some uses are practical and some are more for fun, we've put together a quick list of some of our favorite uses for spray paint.
1.  Look Up: Have a cheap ceiling fan that drags down the room? It is very easy to remove the fan blades and paint them. The metal brackets can be painted as well using a specialty metallic paint. This is a great way to turn those small white ceiling fans in your children's room into something unique, or to change a plain white fan into something customized for your family room.
2.   Do a Little Yard Work: Transform old plastic yard furniture with unexpected color for a unique twist on a basic outdoor accessory by using a spray paint specifically for plastic. You can also transform terra cotta flowerpots into beautiful yard art by using an indoor/outdoor primer and a spray paint such as Krylon Outdoor Spaces Satin Finish. Terra cotta pots also come in variety of sizes and can be used for table centerpieces at a party or with a beautiful plant as a present to a friend.
3.    Spring Cleaning: There are many uses for spray paint throughout your home that will also give a fresh new look and feel for spring. Outdoor and indoor fixtures can be spray painted, picture frames and mirrors can be re-vamped, outlet covers can be given new life, and much, much more. Be sure to match the material with the spray paint specifically for that application.
4.    Shabby-Chic Furniture: There is a huge trend right now in distressing furniture pieces, and often in vivid or "beachy" colors such as teal, blue, yellow and more. Apply a base color on any surface you want to peek through like corners or raised areas, after it dries, use Vaseline on the areas you'd like to show through your topcoat – the Vaseline will keep your topcoat from sticking. Once it is completely dry, use sandpaper to distress the areas you've used the Vaseline on and you'll have a beautiful, distressed furniture piece!
5.    Stop Rust: From outdoor fire pits to lawn furniture and exposed metal, there are a number of great uses for rust preventing spray paints. While this may be more useful than fun, it sure will be fun to enjoy that fire pit for years to come.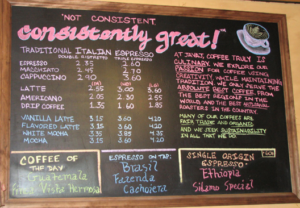 6.    Grab the Chalk: Yes, chalkboard spray paint exists! From making chalkboard menus to hang in your kitchen, to painting an old tabletop with chalkboard paint for keeping score during board games, or painting terracotta planters with chalkboard paint to keep track of your garden, the options are endless!
These are just a few fun suggestions for using spray paint around your home. For more great tips and painting ideas, be sure to follow us on Facebook @gorefab. From commercial power washing to residential and commercial painting, epoxy applications, EIFS repairs and more, our team at re:fab would be happy to speak with you regarding your specific needs. Connect with us today to learn more or to receive a free estimate for your next project. We look forward to hearing from you soon!