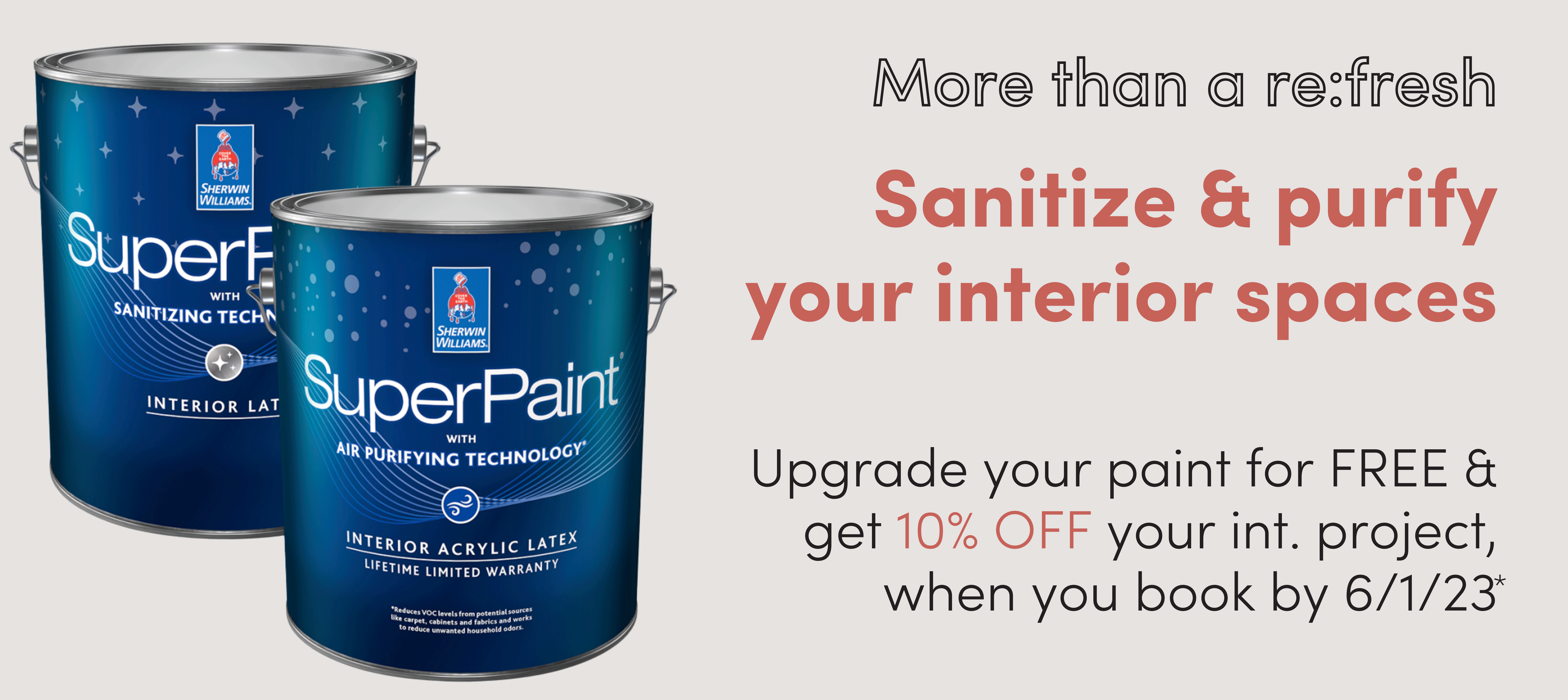 The Living Well™ collection by Sherwin-Williams, combines innovative coatings with comforting color palettes. Sherwin-Williams enhanced their high-quality, interior latex paint, SuperPaint®, by creating two unique, antimicrobial formulas:
From commercial properties to residential homes, we understand the importance of creating and maintaining sanitary, refreshed environments.

SuperPaint® with Sanitizing Technology
Painted surfaces deliver ongoing antibacterial action, remaining effective in killing 90% of certain bacteria even after repeated contamination
EPA-registered microbicidal paint that kills 99.9% of staph, E. coli and more**, on painted surfaces within 2 hours of exposure
Available in 540 beautiful hues from the Living Well™ collection
CLICK HERE TO VIEW PRODUCT PAGE

SuperPaint® with Air Purifying Technology
Contributes to cleaner indoor air quality by reducing VOCs
Reduces common household odors, such as those from cooking, smoke and pets
Features anti-microbial agents to inhibit the growth of mold and mildew on the painted surface
Available in a wide variety of colors, including 540 inspired hues from the Living Well™ collection
CLICK HERE TO VIEW PRODUCT PAGE
Our regional buying power means we can upgrade your upcoming interior project's paint to sanitizing or purifying tech, for free. And, we are offering 10% OFF* for clients that request an interior painting project estimate with this upgrade and book by 6/1/23.
Ready to re:fresh?
Our expert teams can start your interior painting project within TWO weeks! Give us a call at 833-255-6062, visit refabpro.com or click the quote link below to request your FREE project estimate.
Our Services
Interior & Exterior Painting
Power Washing
EIFS & Stucco
Drywall & Carpentry
Epoxy & Specialty Coatings
Exterior Envelope Projects
Fit-Outs
Roofing & Siding
Windows & Doors
& more!
*Must book project by 6/1/23 and mention 10% off with free sanitizing/purifying upgrade promotion. Estimate must be for an interior painting project with either SuperPaint® with Sanitizing Technology or SuperPaint® with Air Purifying Technology. Cannot be combined with other promotions/discounts. If you have an existing estimate and would like to qualify for this interior painting promotion, please reach out to your sales rep to have us re-estimate the project.
**EPA registered paint that kills 99.9% of Staph (Staphylococcus aureus), E. coli (Escherichia coli), MRSA (Methicillin-resistant Staphylococcus aureus), VRE (Vancomycin-resistant Enterococcus faecalis) and Enterobacter aerogenes on painted surfaces within two hours of exposure and continues to kill 90% of bacteria for up to four years when the integrity of the surface is maintained.