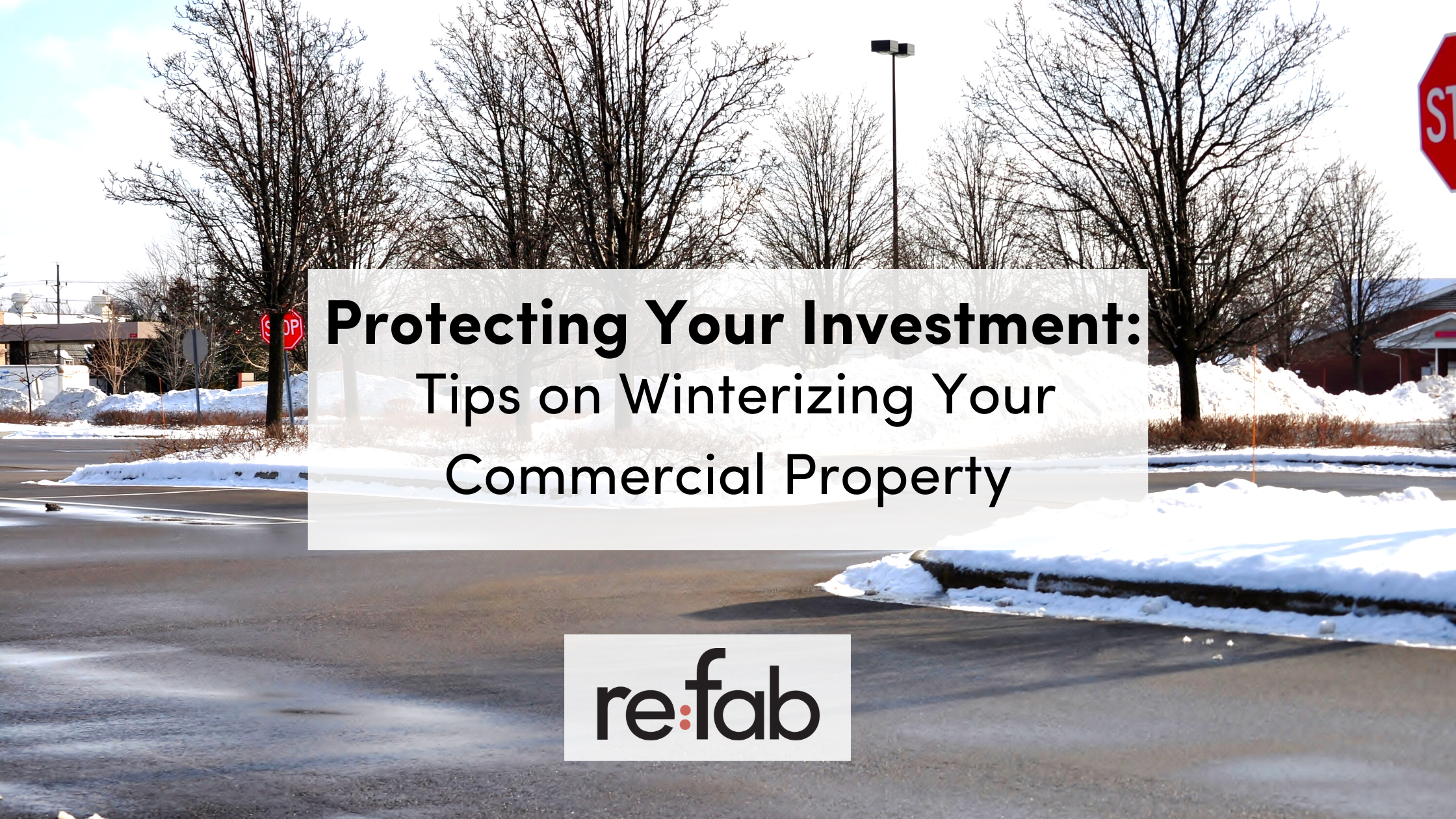 As the temperature drops and the days get shorter, it's time to start thinking about preparing your commercial property for the winter season. Winterizing your commercial property is not only essential for maintaining the comfort and safety of your tenants and employees, but it's also crucial for protecting your investment. Read on to explore the steps you need to take to winterize your commercial property and ensure a smooth transition into the colder months.
Inspect Your Roof
One of the most critical aspects of winterizing your commercial property is ensuring that your roof is in good condition. The weight of snow and ice can cause significant damage to a weak or compromised roof, leading to leaks and structural issues. re:fab can help you fix any weak spots now before winter comes. From UNIFLEX® Applied Roofing Systems to traditional shingles, our team is able to install and repair several types of roofs. Prepare now so you don't have to worry about major and costly roof repairs in the spring!
Check and Seal Windows and Doors
Drafts from poorly sealed windows and doors can lead to higher energy bills during the winter months. Check all windows and doors for gaps and seal them with weatherstripping or caulk. This will help keep the cold air out and the warm air in, making your property more energy-efficient.
Protect Your Plumbing
Frozen pipes are a common winter woe that can lead to costly water damage. Insulate your pipes in areas where they may be exposed to freezing temperatures. If your property will be vacant for an extended period, consider draining the plumbing system or leaving faucets to drip to prevent frozen pipes. If a pipe bursts during the winter, you will not only have to repair the pipe, but also repair the walls, floors, ceiling and more, that were affected by water damage.
Tenant Communication
Check in with your tenants. See if they notice anything that will need repair before winter. Make sure they are comfortable with their space for the long winter months ahead of us!
Check for Intruders
When the weather gets cold, humans are not the only ones running to get inside. Check to see if there is any way for little unwelcomed guests can get it. Holes in the foundation and walls are common entry points and should be fixed and patched, before it's too late.
Make Your Parking Lot Safer
re:paint curbs and lights in safety yellow and place reflectors on the edges of your parking lot. This will help drivers see during hard winter conditions, and will help plow drivers know where to plow, and what not to hit!
Inspect
Once you've done all of the above plus more, you are still going to want to keep an eye on your property. It may be ready for winter, but things happen. Unwelcomed guests still find a way in, tenants leave on the heat while away on cold days, and so much more. Knowing what is happening and fixing it right away is important all year long, but even more so in the winter!
Winterizing your commercial property is not just about keeping your tenants comfortable, but also protecting your investment from costly repairs and liabilities. By taking these proactive steps to prepare your property for the winter season, you can mitigate potential risks, keep your property in top condition, and ensure the safety and satisfaction of your tenants and employees. Don't wait until the first snowfall; start your winterization process now to stay ahead of the winter weather. Contact re:fab today to get your free quote to help winterize your property!
Source: