We repainted a large ammonia tank in less than a week!
Our crews had to suit up for this project at a combined-cycle plant in North Weymouth, MA! Painting the inside of an ammonia tank can be challenging. You need plenty of safety personnel on site, plus the air must be tested for ammonia levels before entering. This can lead to delays if levels are too high. With lots of planning and safety training, re:fab was able to get this tank painted inside and out, in just 4 days!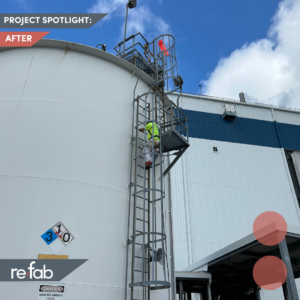 Painting the inside of the tank is important because the paint protects the tank from highly concentrated ammonia damage. We had to ensure that the paint we used worked under this kind of pressure. That's why we went with RD Coatings USA.
We used RD-Elastometal and RD-Monoguard Coatings. These two working as a team together help keep the tank safe from the ammonia, and the ammonia safe from rust and paint. When repainting a tank, you have to use specialty coatings in order to keep everyone, and the tank, safe. The ammonia can eat up at the paint and the tank causing rust, leaks and holes, making an unsafe environment for all.
At the beginning of this project, we had to prep and prime the exterior tank chime area and roof. Once we were able to enter the tank with full face respirators, while closely monitoring air quality, we prepared the interstitial space for coating. We completed a full cleaning with solvent wipes and hand-grinded roughly 100lbs of surface rust. We spot primed the heaviest rusted areas with a rust converter primer and applied the two-component urethane coatings mentioned above on the walls up to 4ft in elevation.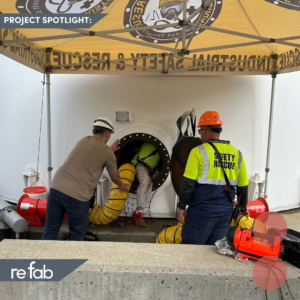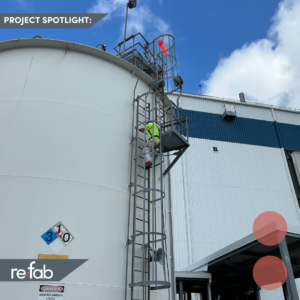 This project was complex, however we delivered! Repainting any kind of tank has more than the normal challenges to it. You need to be able to change your timeline on the fly to keep your crew and everyone safe!
re:fab has been painting all over New England for over 30 years! From tanks like this, apartment complexes, storage units, retail complexes, factories and so much more, re:fab has and can paint it all!
This job was a challenge, but a success in the end! Does your industrial property or tanks need some repainting? If you're looking for commercial, industrial or even residential painting, call or click here to get your free quote today!