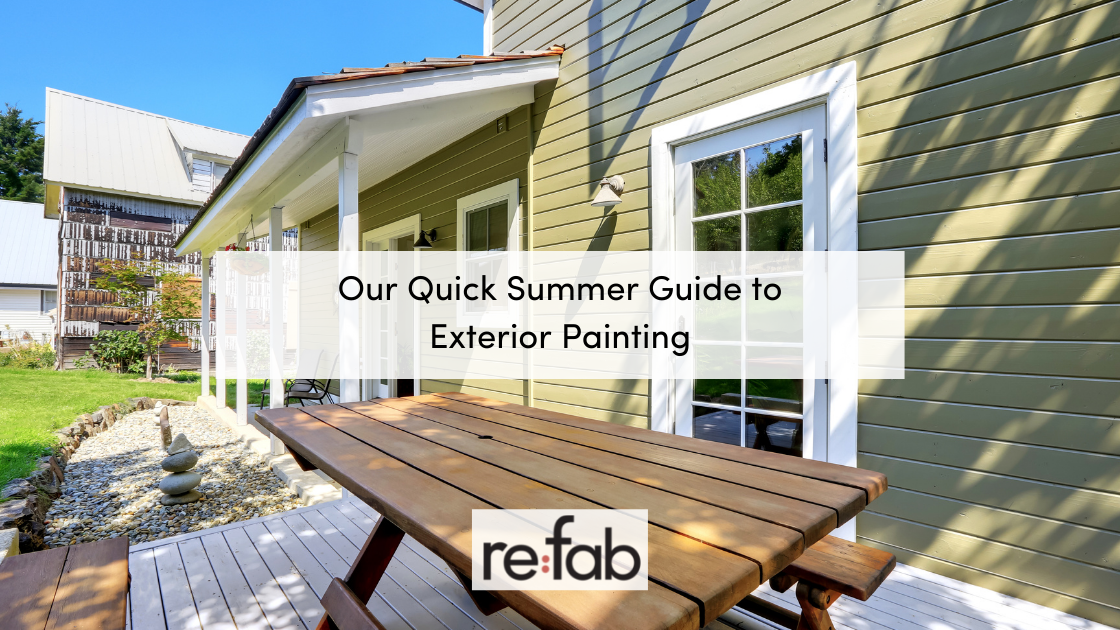 Exterior painting is no small feat, especially if it is an entire home or commercial property. Here's a short list of steps to help you along the way. From pressure washing to staining, these tips will cover the major moments in exterior painting.
Setting up ladders in the blistering heat and trying to navigate your way around an enormous structure isn't what most people consider summer fun. But at re:fab we love every second of it. We've been doing this work for decades and are always eager to apply our expertise to new projects. Whether it's a hotel or a residential condo, summertime is painting time and we're here to help.
Pressure Washing

Before painting the outside of a house or commercial facility, it is always a good idea to pressure wash. Pressure washing is one of the most important pre-painting steps for many reasons. Exterior walls are usually covered in more grime than you think. Pressure washing gets rid of mold and protects surfaces against future buildup. By removing dust and dirt from your exterior walls, painting will be much more effective, and attractive, to potential buyers and clients.
Repairs

Whether you're planning on painting a suburban home, an office park or an apartment complex, you'll want to repair anything in need of fixing first. Any damaged exterior surface requires attention prior to painting, this especially includes holes or cracks. If not filled correctly, these areas will fill with rainwater and potentially cause damage. Jotting them with paint will prove to be wasteful and inefficient.
Staining
Transforming the exterior of your property involves more than just regular paint. Unfinished and finished wood needs treatment as well. This includes a deck, shingles, trim and railings. Letting natural wood fall by the wayside will detract from the beauty of your soon-to-be painted property. Stain also does wonders for natural wood, like protecting against future mold. By pressure washing and staining your wooden surfaces, you are protecting them from grime and enhancing the texture and grain. Like paint, stains come in a wide variety of colors and opacities, so there are many looks available to suit your vision.

Unless you're a professional, painting the exterior of a home or a commercial property isn't the easiest task. Depending on the size of the structure, it can be time-consuming, dangerous and require a multitude of supplies. To get the job done right, we recommend you hire a trusted contracting company. It is important to approach a job like this with experts who have superior painting techniques, materials and experience. With a trusted contractor, you will be promised a good price, proper safety and overall efficiency.
re:fab offers a full list of painting services, including the ones mentioned above. Have fun this summer and rest easy knowing a skilled and friendly group will take care of your next big paint job.
If you are interested in painting your property this summer, inside or out, check in with re:fab for some advice. Understand the benefits of hiring a contractor for a job done right.