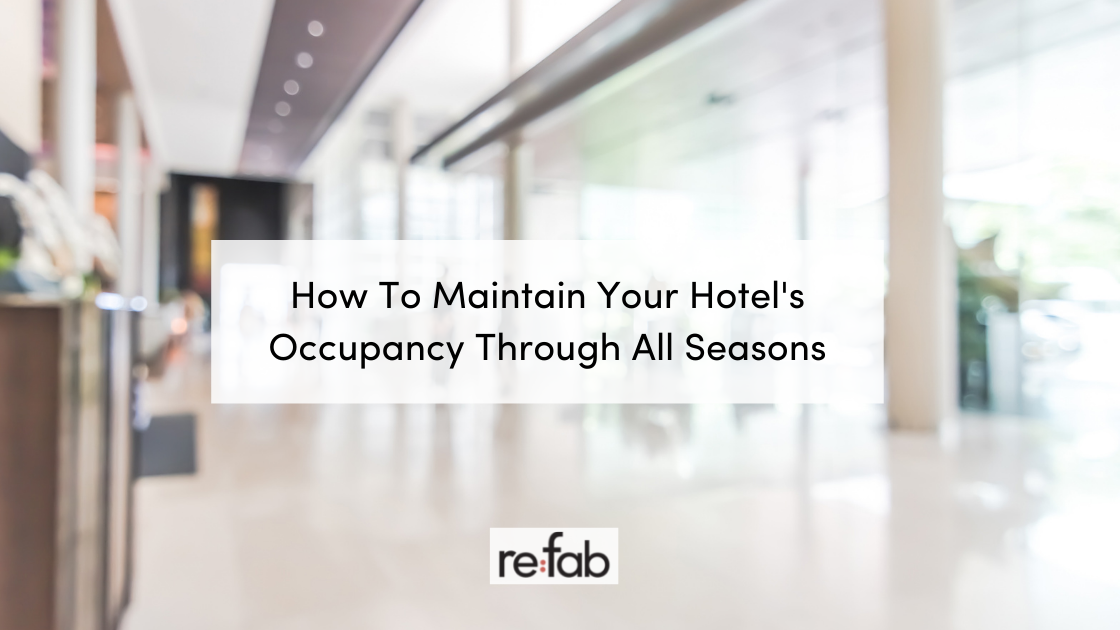 Maintain your hotel's occupancy through all seasons with renovation
If you're in the hospitality business, you know the industry comes with seasonal ups and downs. As a hotel manager, you want to keep your hotel occupied at all times. And, there is an easy way to help keep your hotel occupied throughout all the seasons: renovation. You need to invest in cost-efficient renovations to keep your guests satisfied and to keep up with the competition. Find out more about how renovations can help your hotel stand out, obtain a constant flow of business through the year and helping you increase your revenue.
Read more about the top renovation ideas you can use to keep your hotel busy through all seasons
Fix up your lobby entrance
The first place you want to focus on when renovating your hotel is your entrance. This is the first glimpse guests get of your hotel and it must be a good one. First impressions are crucial and are the ones that last the most.  Therefore, your entrance needs to be original and unique. The way to do this is by creating a dynamic, multi-use space in your lobby area. Your lobby should be multi-use because it can also serve as a space to have casual and intimate zones. This means you can create segmentation in the space, providing a space for socialization, as well as comfortable and functional working areas.
Pick the design
After you create the different zones, you should decide on what you want this area to look like. What will be the design of the area? You can have an extravagant entrance and wow your guests as soon as they walk in, including water features and interesting colors like greens and blues. This way, people feel connected to the outdoors and nature and you can create a peaceful space that inspires relaxation and socializing.
Pick the look
You could also create a sophisticated and glamorous look, introducing chandeliers, dark wood flooring and a moody color palette. Decorating with colorful flowers in glass vases also helps add a touch of color in your lobby and invite some romance into the atmosphere. You can also create a vintage feel with a modern twist by introducing antique furniture into a modern interior that will grab the attention of many fans of vintage. Opt for neutral colors to accent the vintage furniture pieces and add plants to create a memorable experience.

Modern dining area
It is important to create a cozy space for dining where your guests will feel at home. This space should not only be practical but can be creative and unique as well. Make sure you steer clear of the old-fashioned practical look and create a space with unique colors and furniture that your guests will remember and keep them coming back. You can even match styles with whatever design you choose for your lobby area.
 
Unique rooms
Having a unique style in your rooms will definitely make your hotel stand out and will make it memorable in your guests' minds, making it easy for them to recommend you or come back themselves. Keep it simple and open up the space using light colors, but play with patterns, textures and materials to create an accent feature. Don't be afraid to play with color. The more creative you get with colors and textures within each room, the more your guests will spread the word.
Eccentric colors
You can turn a plain room into an eccentric, colorful one using colors; a blue TV shelf, a yellow chair, natural nightstands, etc. Place a striped wall behind the headboard! These ideas will help your design stand out and your rooms to be unique. Even placing some plants in the room can help create an eccentric look and inspire your guests. It will also make the space very "Instagrammable," which is never a bad thing. Getting your guests to capture your space on Instagram is a great way to get more people through the doors.

Zen Bathrooms
Bathrooms are a great place to inspire some relaxation. Creating spa-like bathrooms helps to create a Zen environment and will make your guests feel relaxed and at home. Think about the spaces your guests need. Consider installing two sinks, as guests love the extra space and it creates a separation of counter space.
Natural environment
Installing waterfall showers will help accentuate the Zen environment, as well as decorating with natural elements like stones and rocks. Using natural material enhances the spa-feeling and helps bathrooms feel like an oasis. When choosing tiles for example, use ones that are made from stone (or look like stone to give you some cost savings). You can also introduce big bathtubs to complete the look and your guests will love it.

All these little renovation ideas can help you update the look of your hotel and help you create a home away from home for your guests to keep them coming back for more. These tips will help you create a place that is comfortable, very functional and modern and will make it memorable for those who decide to stay with you. The more memorable, the better for business! Get renovating!
 
Did you know re:fab can help you with your hotel renovation remodel? We have 30 years of experience doing hotel renovations and we know how to get the job done fast and done right. Contact our excellent customer service team at 1-800-690-2539 for inquiries and visit our webpage at www.refabpro.com for a FREE Estimate!
Sources
https://www.hotel-online.com/press_releases/release/top-renovation-ideas-that-will-help-your-hotel-stand-out-and-increase-reven/
https://www.cicerosdev.com/single-post/2015/06/17/Renovation-ideas-to-help-your-hotel-stand-out-in-a-competitive-market