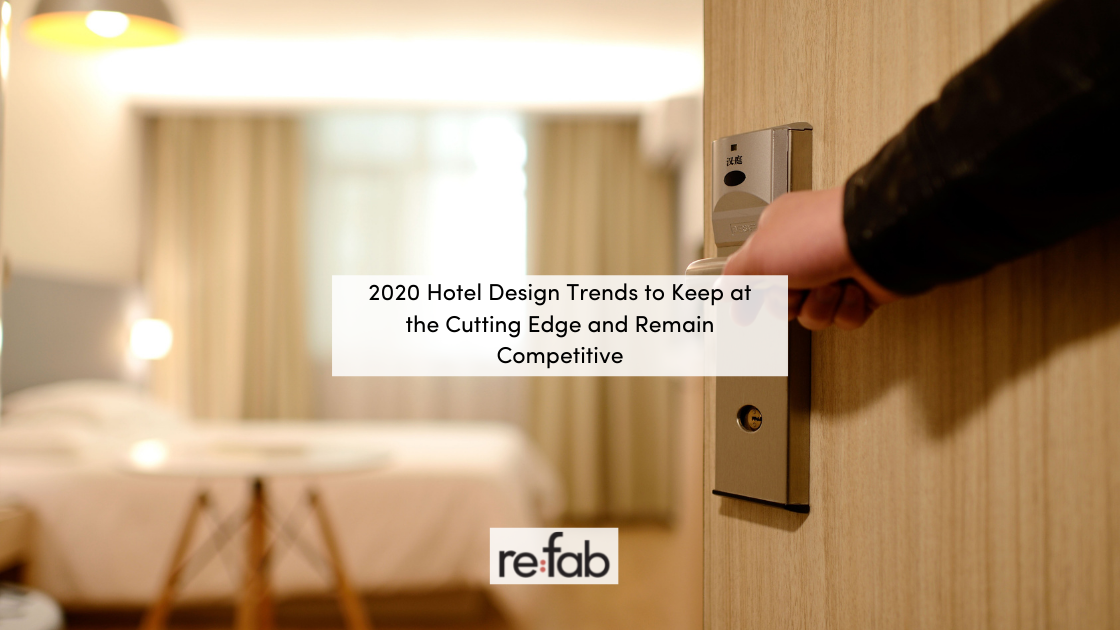 2020 Hotel Design Trends To Remain Competitive
Hotels are now transforming their designs to accommodate travelers looking for great escapes. This includes redesigning guest rooms, communal spaces and providing top services and memorable experiences. The hotel industry is expected to become more tech-driven, to create more Instagram-worthy spaces, as well as green spaces for guests to enjoy and have personalized activities. We will go through all these as we discuss the 2020 design trends every hotel should follow to keep at the cutting edge.
Keep reading to see the biggest hotel design trends of 2020
 
Cultural experiences
In this day and age, travelers are now more interested in local experiences over having commodities and amenities. This means immersing themselves in the culture of the place they are traveling to, rather than having an upscale hotel experience. This means hotels are starting to realize that cultural elements are the way to go when it comes to design. In the coming year, hotels will start to incorporate more locally-made materials, including bedrooms, chairs, and tables as well as lighting fixtures and ceiling treatments. To provide an unforgettable stay, hotels are setting up a local-themed atmosphere and are even including selections of local dishes and local sightseeing experiences.
Instagrammable spaces
Being that Instagram is one of the most effective marketing tools for building brand awareness, hotels need to create spaces that are Instagram-worthy. This means using quirky and playful designs to create unique spaces to become Instagrammable. This can mean anything from using themes, bold colors and textures in their designs, to adding different visual flavors to the ambiance of their spaces. Some examples of this could be interactive walls in the lobby, funky poolside spaces, brightly colored lounges, grand staircases or origami-inspired dining rooms.
 
Bleisure Travel
Bleisure travel means mixing business travel with leisure activities, which is a rising trend in the hotel industry. Did you know travelers who are staying at hotels for business like to extend their stays after their conventions or meetings have ended?  Having spaces that have in-room work stations, accessible power outlets, and well-planned business and conference rooms are appealing to guests. An upcoming trend in the bleisure travel space is integrating meeting rooms and function halls with leisure facilities, including indoor sports or swimming facilities. This makes it attractive for business travelers to bring their families and extend their stay.
 
Shared private and social spaces
Travelers seem to spend more time socializing or working in common areas, such as lobbies or cafés, than being confined in their rooms. This means places for socializing are important. This trend helps to define space planning for hotels in the coming year because it dictates hotels having to create spaces like stylish lounges and multiple bar areas. Many hotels offer events that bring people together, like karaoke sessions, art performances and wellness sessions as a way of sharing social experiences online.
Smart Hotels
The demand for smart hotels is expected to rise in the next year, making it vital for hotels to jump into the trend of the Internet of Things (IoT). Smart hotels bring travelers the benefits of higher personalization; it gives them access to control things like heating, air conditioning, lighting, turning on entertainment systems and even creating a mood from the comfort of their mobile devices.
Sustainability
Sustainability is a trend that is gaining more traction in a world where global warming is an issue. It will be a fundamental aspect of successful brand management for hotels in the upcoming years. Therefore, many hotels will be switching to eco-friendly materials and systems for their décor, electrical, plumbing, HVAC and others. This includes having green walls filled with plants, meditation gardens, indoor plants, waste segregation, recycling and farm top table concepts, helping to introduce sustainability in the hotel organization.
Virtual Reality and Artificial Intelligence
Virtual reality will start to be introduced into hotels in the coming years. This means using images, sounds, and sensations as information tools for marketing, ordering, and booking. Guests can now have 360-degree recreation tours of spaces or examine nearby attractions using VR technology. Artificial Intelligence is also being used in hotels to help anticipate guest habits. This can include having AI-chatbots on websites, robots at hotel check-in desks and for room service purposes. This is all part of a trend of helping move hotels into guest-centric hospitality.
 
In a world that is becoming more experience-oriented, hotels need to redesign to become more customer-centric and attend to their guests every need, including digital and sustainable needs. In an industry where business is competitive and very seasonal, keeping up with the latest design trends is key. This is where these 2020 design trends come in handy. It could mean the difference between hotels being stuck in the past and becoming incredibly forward-looking.  What do you think of these hotel trends? Do you think you can incorporate some in your hotel?
 
Looking to remodel or renovate your hotel to keep up with these new design trends? re:fab can help! We have over 30 years of experience doing hotel renovations and helping keep the hotel at the cutting edge.  We know how to get the job done fast and done right. Contact our excellent customer service team at 1-800-690-2539 for inquiries and visit our webpage at www.refabpro.com for a FREE Estimate!
 
Sources
https://business.inquirer.net/280854/hospitality-design-trends-in-2020