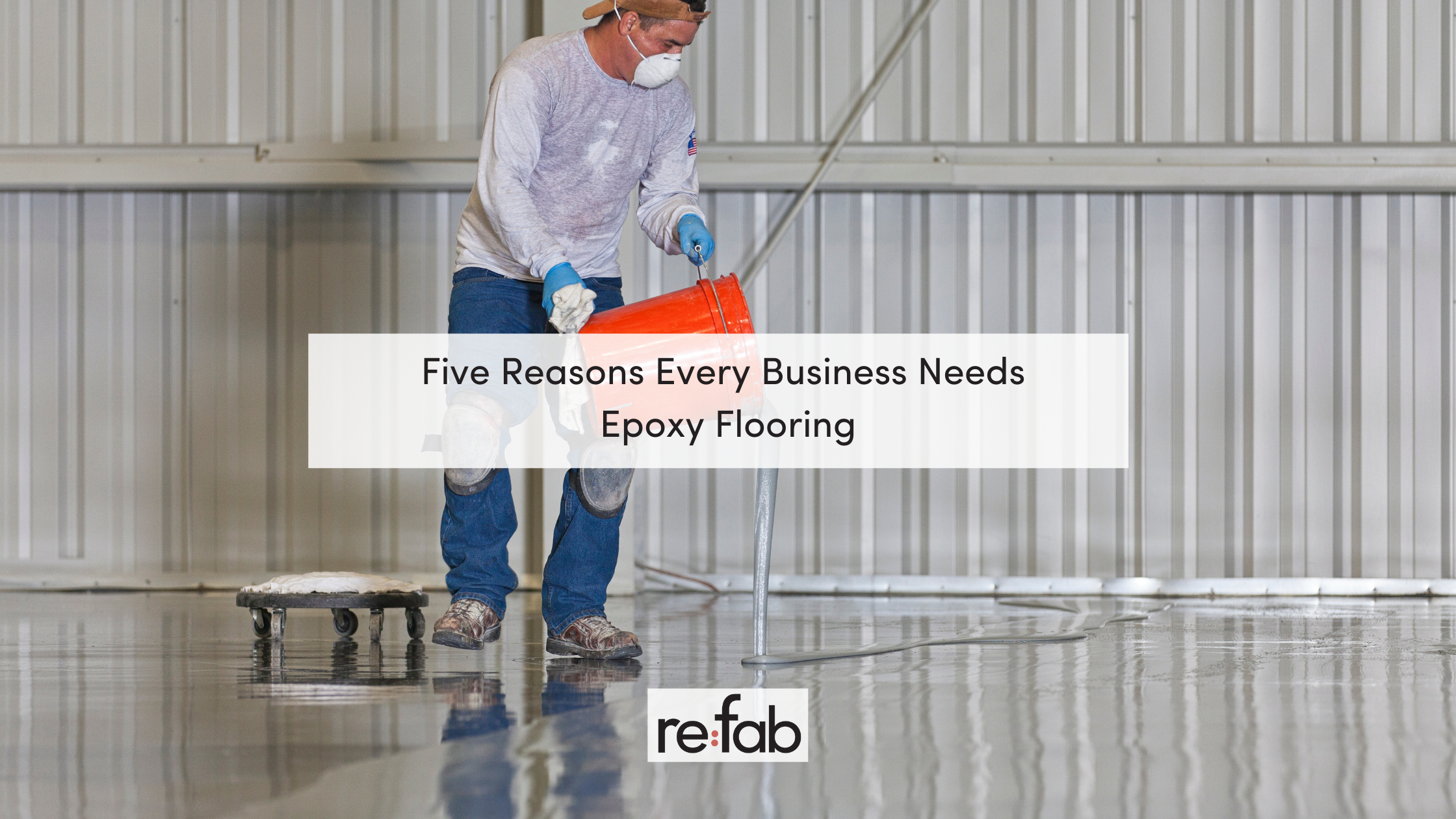 If you had a chemist try to explain epoxies to you, you would be lost in the first few minutes. While understanding epoxies could be challenging, it is very easy to see their many uses. Since it's discovery in 1927 epoxies are present in paints, adhesives and also electrical insulation; however, one of its most popular and possibly greatest application can be applied to flooring. There many reasons to consider epoxy flooring for your business, so to make it easier on you, we at re:fab would like offer you five major reasons why every business needs commercial epoxy flooring.
COST. Sure, applying epoxy flooring costs money. You might look at the floor of your office or warehouse and think it's holding up fine. You might even ask yourself why would you need to go through the trouble of installing commercial epoxy flooring. The answer is found in simply seeing past the present. Epoxy coating offers a protection to floors that extend its life far beyond what it would be without it. Simply put, you save money by not having to replace or make extensive repairs to your floor long before it may be necessary.
SAFETY. Epoxy flooring is so safe it is commonly used in hospitals. Not only is clean up especially easy on epoxy floors, but the flooring is also skid-proof when wet. Also, epoxy floors are more sanitary than concrete and you can actually adjust the hardness of the floor.
CONVENIENCE. It may seem that with all epoxy has to offer, it would be a pain to install, but it's actually quite the opposite. You don't even have to replace your existing floor to apply the coating. It also dries quickly, so your business can be up and running with little down time.
DESIGN. Beyond the practical reasons to install, there are the versatility of styles. You can choose colors and textures to fit your desired ambience. Just because it's the floor doesn't mean it can't look clean and professional.
USES. With all of these reasons it's no wonder it is utilized in so many places. As mentioned above, it's often found in hospitals, but it's certainly not limited there. Epoxy flooring can also be found in factories, manufacturing plants and buildings. Basically any place that can see the benefits of having safe and durable flooring would do well to consider having epoxy flooring installed.
If you're thinking about having commercial epoxy flooring installed in your business than you should give the experts at re:fab a call. We've been in the business of commercial maintenance for over thirty years and offer a wide array of service beyond epoxy flooring installation. For instance, we also serve as a commercial painting company throughout New England. Please feel free to explore our website or just give us a call, we'd be happy to help.