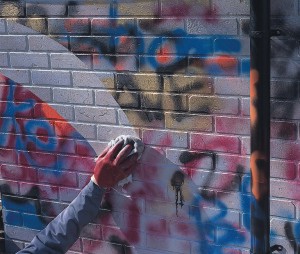 Are you facing a graffiti vandalism problem? Are you tired of painting the same retaining walls, overpasses, railcars and buildings over and over again? Are you worried your customers are being scared away or the value of your home is being diminished? Our expert residential and commercial painters at re:fab understand the frustration that comes from having a graffiti problem and are happy to provide the best solution in the industry: the Anti-Graffiti Coating by Sherwin Williams.
The ideal solution to your graffiti problems, this unique siloxane product creates a non-stick surface that repels graffiti from paint spray cans and permanent markers. Unlike other products that require solvent cleaning or abrasives to remove graffiti, this Anti-Graffiti Coating is a single-component, semi-gloss coating that allows graffiti to be removed with simple pressure washing or hand-wiping with water. Furthermore, the coating is available at a 25 to 40 percent savings compared to existing methods of abrasive cleaning and repainting.
Our Anti-Graffiti Coating, unlike conventional coatings that erode away after a few cleanings, allows graffiti to be removed countless times without reapplication. Our commercial painting company can brush, roll or spray it directly to bare brick and concrete, or to previously painted surfaces such as steel or wood. Other popular features include a one-coat application, excellent adhesion properties, and high resistance to chalking, fading and peeling. In addition, the low VOC formula meets stringent environmental regulations and is ideal for graffiti-prone areas such as transit stations, bridges, railcars, retaining walls, municipal buildings, overpasses, fences, schools, shopping plazas, public restrooms and more!
The annual costs of graffiti in the United States are now estimated to be more than $25 billion, and this does not include the costs incurred by private property or business owners, nor any amount due to loss of business or decreased property value in graffiti prone areas. However, we all know that there are far greater consequences associated with graffiti vandalism. In fact, the National Urban institute has identified five neighborhood impacts from graffiti, which include the intimidation of residents, customers being scared away from businesses due to the perception of decreased safety, discouraged tourism due to this same perception, the attraction of crime, and the promotion of gangs and other vandals.
Simply put, the costs of graffiti in terms of hard numbers and its effect on society are enormous. When you choose to explore our Anti-Graffiti Coating, the next time graffiti affects your business, simply pressure wash it away! When you're ready to fight graffiti head on, connect with our painting specialists at re:fab. Our team will be happy to provide you with a free and comprehensive estimate regarding your painting needs and will be happy to discuss our pressure washing services as well. Connect today to get started! We look forward to hearing from you soon and to helping you put an end to your graffiti vandalism problems.