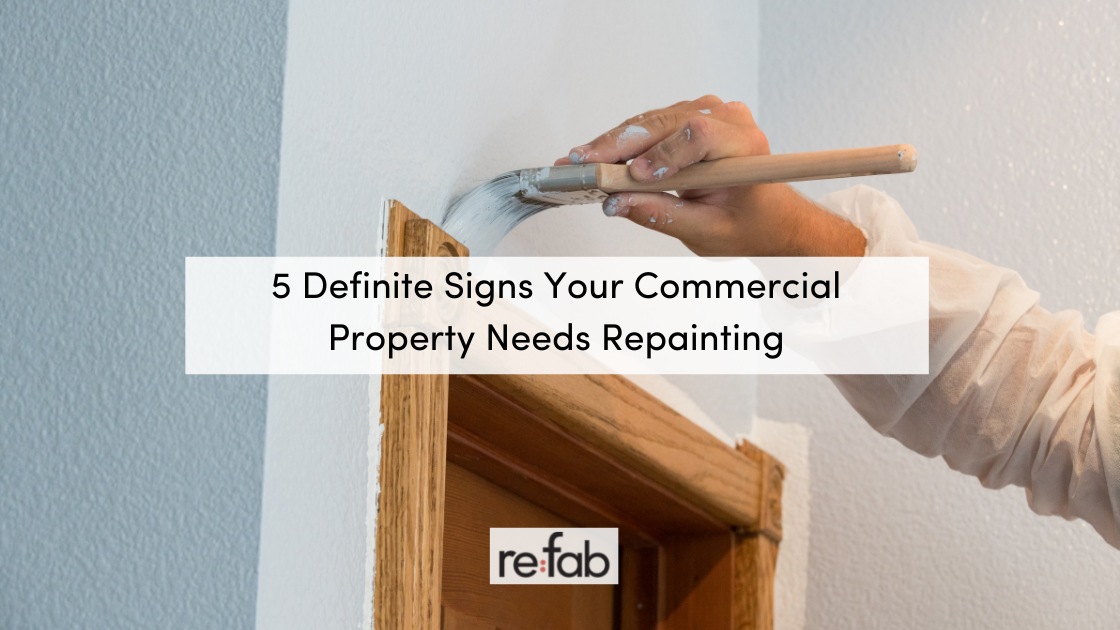 Everything You Need to Know About Spring Commercial Repainting & Rebranding
Commercial property renovations help businesses achieve financial success. You won't be able to optimize your business' success this Spring without first knowing what to look for while inspecting your commercial property. How do you know if your property is in need of repainting or rebranding? In this article, we are providing you with five, definite signs your commercial property is in need of a repaint this Spring.
The old saying rings true, you must spend money in order to make money.

We can't emphasize enough just how important commercial property repainting and rebranding services are to the success of your business.
Before we discover how to tell if your property is in need of Spring repainting, let's imagine the following:
You work for a mid-level company called Paper Rush. It's a dark brown building before a busy intersection. Clients constantly call the receptionist looking for directions to your office. It's actually become a running joke. Your boss finally decides this Spring he will invest in a major property repaint. Over the next two weeks, you watch as the painters change the outside color of your building to a cheerful yellow.
Voilà!
Almost like magic, once the painters have finished, no one seems to call the office anymore looking for your building. In fact, guests are complimenting you about the beautiful, bright new color. You even receive a sales lead from a local company from across the street. It's amazing how just one simple repaint project can change the overall success of your company.
This scenario happens more often than you might believe. Repainting and rebranding your business will not only energize existing clients but also help new clients discover your business.
Spring commercial repainting happens for a variety of reasons, but sometimes the most important reason is to get the public to notice your business. If your commercial business is looking to gain some big exposure, talk to your property manager about possible rebranding services.
We've uncovered why commercial repainting and rebranding is an essential investment for businesses. Do you know whether your property is in need of any Spring repainting?
Spring commercial property improvements are an effective way to stay ahead of costly maintenance repairs. The warming weather allows property managers to inspect their buildings for possible exterior damage.
Let's explore our five telltale signs your commercial property needs repainting:

Caulking
 One of the first things you should check for when accessing Winter damage to your commercial property is caulking. If the exterior levels of paint protection have faded the paint will begin to deteriorate. Checking for signs of caulking is easy, simply run your hands over the exterior boards of your building. If any pigment of paint color wipes off and remain on your hand, you are in need of a commercial repaint job.
Fading
Throughout the seasons, the power of the sun's UV rays takes a toll on industrial buildings. While inspecting your commercial property, if you notice uneven coloring while examining the exterior walls, you should consider repainting your commercial building. Typical commercial industry standards include exterior repainting every 3-5 years, an interior painting once every 5 years and maintenance touch-ups at least once a year. Buildings which are directly exposed to sunlight typically require repainting once every three years.
Mildew
Be sure to check your commercial building's basement for signs of water damage. Mildew looks like small black dots and occurs from the accumulation of water. You will want to powerwash your commercial building before starting your Spring commercial painting project, in order to eliminate any mildew.
Dry Rot
Dry rot is a problem you need to stay ahead of because if left unattended, dry rot will continue to spread. Unattended dry rot will ruin your building's walls and foundation. Dry rot occurs when the fungus is able to grow underneath building walls and floorboards. Choosing a quality paint primer and elastomeric caulk, before repainting your commercial building, will prevent future fungus growth. Placing primer substances between the paint and building allows your property to adjust with outside temperatures. This will prevent unwanted dry rot.
Swollen Boards/Split Boards
You want to stay ahead of exterior, swollen and split boards. If left unattended, this problem will become a more costly problem. As you inspect your property after the long Winter, be sure to check the north side of the building. The bottom edge of masonite siding often swells, blackens and splits on the northside. The area will need to be scraped to remove the loose paint. Historic commercial buildings want to be especially careful of exterior spitting boards. Loose paint chips are dangerous and can become a serious health problem. You can not caulk a piece of masonite which has split across the length of an entire board. Quality repainting work will instead seal off the damaged board and prevent any further exterior maintenance repairs.
Take advantage of the warming weather and inspect exterior walls and surfaces. Often the excessive sun, snow or rain conditions cause industrial surfaces to deteriorate.
Talk to your commercial contractor about possible power washing, priming, painting, rebranding and other property renovation opportunities for this Spring. Inspecting your commercial property for exterior damage after the Winter will help your business save money.
ProGroup has been servicing the commercial property industry for over 25 years. We provide painting and rebranding services for all types of commercial properties including corporate offices, commercial plazas, and commercial buildings.
Visit our website today to learn more about our commercial property renovation services. https://refabpro.com/