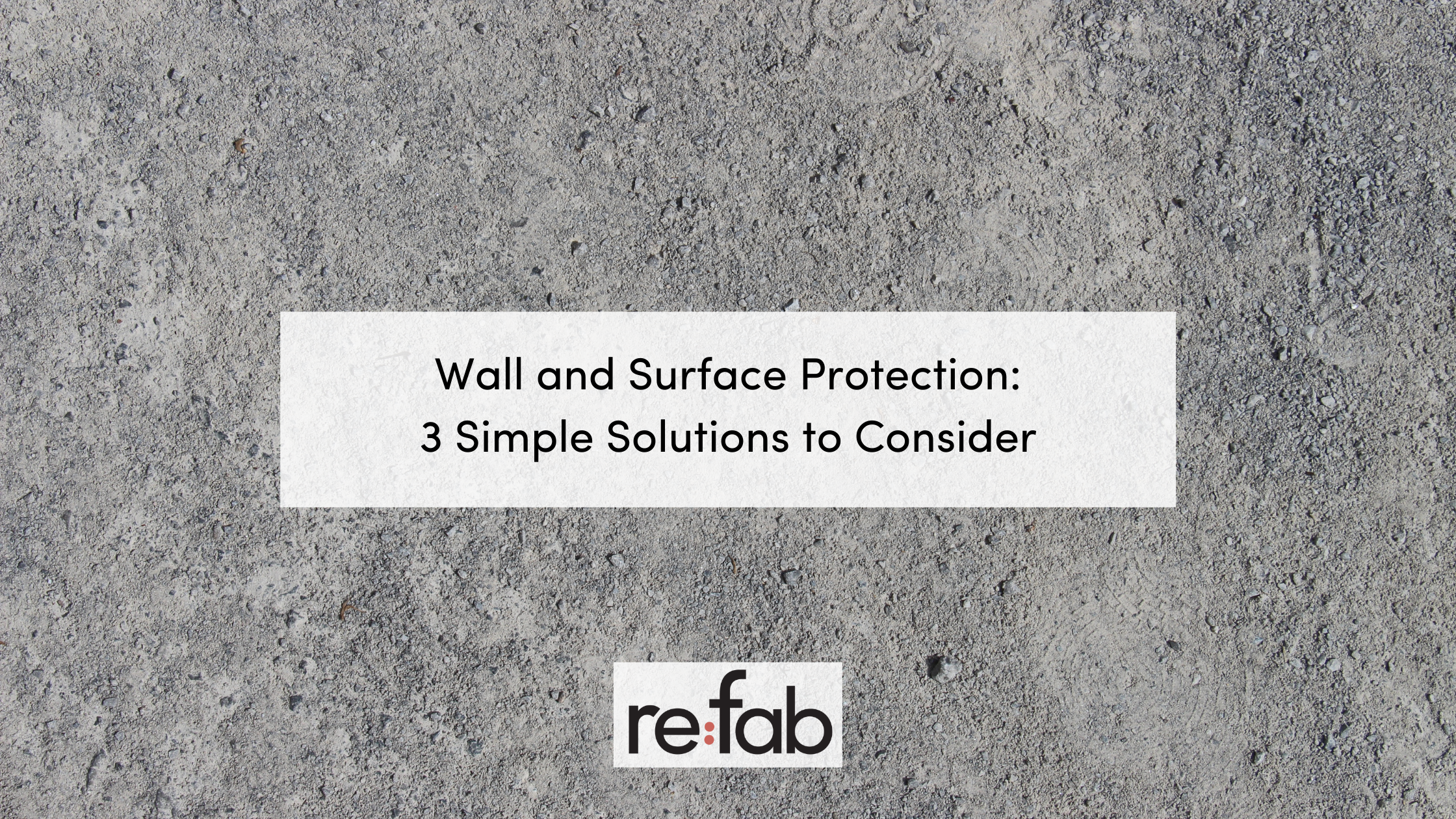 Cracked, scratched or peeling walls? Protect them and your building's structure with durable and aesthetically pleasing solutions!
 Owning a business can be taxing. Over time, damages to the building or unit are bound to pop up and it can take away from you doing your job, whether it be crumbling ceiling tiles or cracks in drywall. To prevent them from happening in the first place, or to fix them quickly with very little hassle. re:fab provides several solutions to make sure your structure stays in great condition, while also looking its best!
FRP- Fiberglass Reinforced Plastic
Choosing the right material for the walls and ceilings of your space can be tricky. There are a few questions you must ask yourself: does it match the aesthetic of your company, and does it meet the requirements you need for your business. Some of the materials you might automatically be leaning toward can be heavy, costly and take a while to install. FRP is the complete opposite: light, cost effective and easy to install. This material is commonly used in healthcare practices such as dentist offices and hospitals, as well as in the food services industry and storage facilities. It's easy to wipe down, scratch and moisture resistant and durable, which makes it a great option for various businesses. Not only does FRP comes in a variety of colors and styles, it can be the perfect solution for front of house areas and classrooms. If your current walls are cracking, FRP can be installed over the foundation. Fiberglass Reinforced Plastic is functional, long lasting and doesn't break the bank; it is definitely worth considering if you are in the market for wall or ceiling materials.
Source
Bollard Covers
Winter in New England means an increased rate of accidents. Because of all the snow, drivers often have a hard time seeing the complete outline of a parking space which can result in them pulling in too far. Accidents can also be cause by ice in parking lots, making it more difficult for drivers to come to a complete stop when they need to. This is where bollards come in! These short posts are a way to mark boundaries or create a barrier to come between a vehicle and a building. They absorb some of the blow, or slows down the vehicle before it gets a chance to touch the building. This is extremely helpful if you live in a snowy climate such as New England and have trucks or plows that often come into your parking lot. They are great visual aids for drivers when it comes to helping them see where it is the parking spot ends and the sidewalk begins, protecting pedestrians, or even preventing access to restricted areas. Bollards can often be unappealing but with a cover they can easily match the landscape or exterior of your establishment. There are many ways to use bollards, such as for bikes or lighting, but whichever way you choose to implement them, take the time to have them match with the appearance of your building.
Source
Korogard
If your business comes with the likelihood of things often jamming into walls, you might want to consider a solution that can stand up to that. Korogard offers just that! With this solution you can get protective wallcoverings, hand and crash rails, bumper and corner guards, wall panels, column protection and more. If you are concerned about how these additions will look, not only are there fifty different colors for you to choose from, you also have the ability to mix and match to fit your brand. This solution will reduce maintenance and replacement costs for walls, doors and door frames, making it a fantastic choice.
Source
Whether you are looking to replace your walls, protect them or keep the outside of your building safe, re:fab has a way to help you out. Visit our
services page
 or 
contact us
 for more information!
---
Sources: