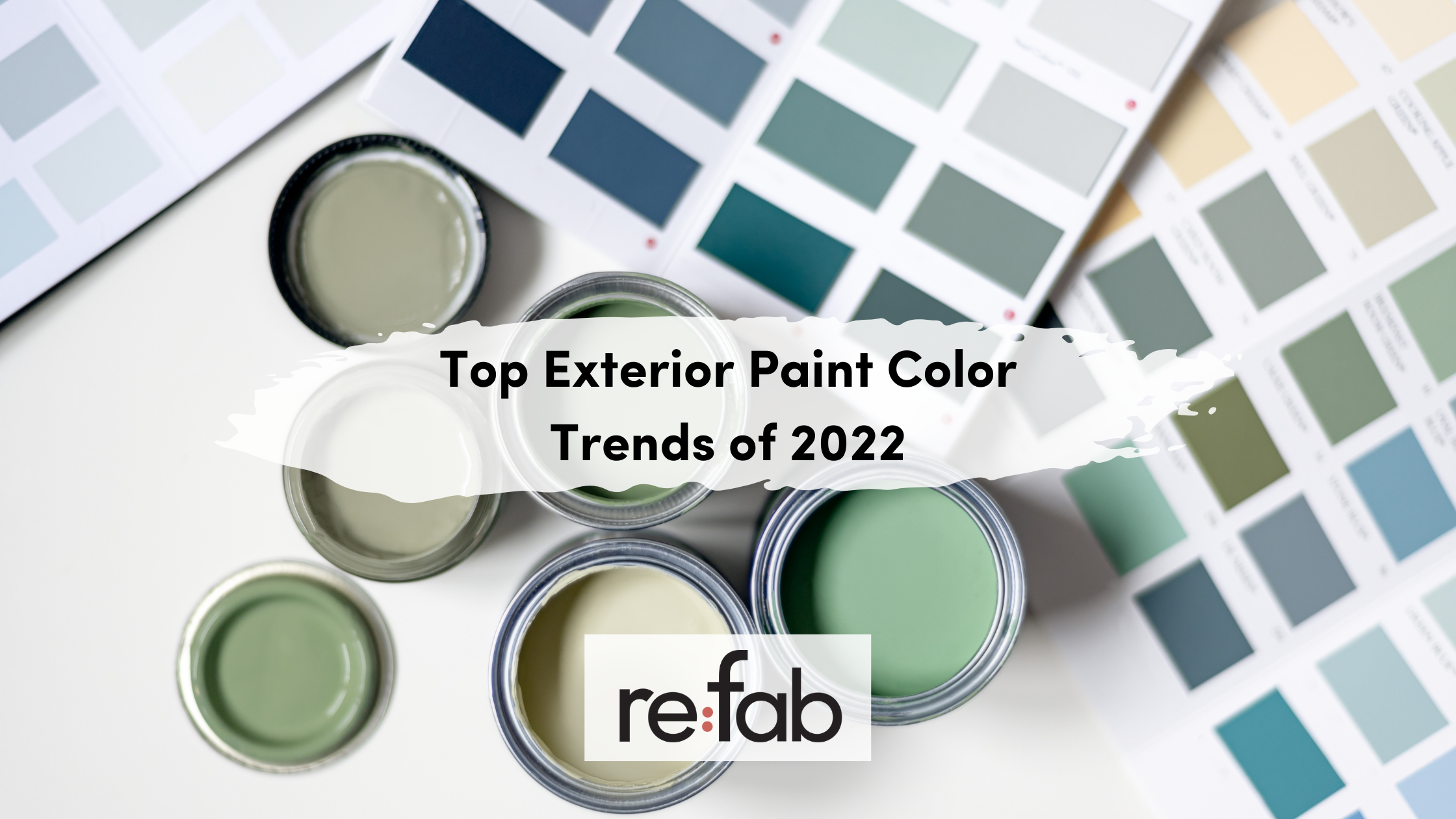 Thinking about painting your home or business exterior? Whether you're selling or staying, a nice re:freshed exterior is always nice to have! If your selling, repainting will help you get those high offers rolling in; if you're staying, then a refresh paint job just makes you happier and comfier. Plus, for a business, it shows that you care, and you can get increased foot traffic to your business. Now, what color are you going to paint your exterior? Well, that can be a hard question. Here are some of the top exterior paint color trends for 2022 that might help you decide!
Warm & Earthy Neutrals
Think of Natural Bark N170-6, Behr. Nice warm browns that make you want to curl up in a blanket and read a book. Why choose this color? If your property is in a lush, wooden area, these colors will complement the greens all around your property. It will stand out; not in a bothersome, way but in a way that is softer on the eyes.
Black
Okay, so this one can be risky. Not everyone is a fan of it, however, it's fan base seems to be growing. One current style trend is an all-black exterior and an all-white interior, to highlight the contrast of the two colors. However, that's still a bold statement that people may not like. Why choose all black? If your home or business has or you're willing to add some accents, then the black will make those pop, like really pop! Some accents you might already have are, wooden windows, light color vinyl windows, columns, a stone accent wall, or a large statement door. Truth is, people will notice your black painted house, but they will be talking about that window trim, or the other bold accents. With other colors, these could just blend in.
Warm Whites and Cream
Love Chip and Joanne? Hated the all black trend I just talked about? Well, this just might be the trend for you! This isn't just white, it's cream or more like a light beige. Colors in this family make your home or business look and feel more inviting. It also stands out in all New England climates, wither you live in the suburbs, the city, the farm or the woods.
Vibrant/moody greens
This is a huge trend for interior paint and even fashion. However, it's making its way to the outside now. Trending greens are darker, more like an olive green. They tend to be way moodier than the other colors listed, and they set a vide for your whole property. If your property is lusher with greenery, then this color will not make it stand out. However, if you're in a more urban or suburban area, it might make your property stand out. Since it is a newer trend, most likely your neighbors' properties are the colors already listed, about to be listed, or the classics such as, white, 50 shades of tan, gray, red, and so on. So, a moody green may stand out more on your block.
Muted Gray-Green
Is it Green or is it Gray? This hybrid color has the best of the long-standing gray trend and the new trend on the block of green. It's easier to match this color with your trim, and even your landscape, since the gray in it goes with everything. This family of colors reminds me of a hazel eye. At first glance, you think it's just another building painted gray. Then once you get closer or look at it long, you realize it's also green. Like the warm whites, this color would look great in any New England climate, but I honestly get more coastal vibes from it.
Navy
Speaking of the coast! Navy is a classic blue color – a timeless color. It looks great on older buildings, typically paired with a white trim. The trick with navy is that traditionally you go bold with the navy and easy with the rest. So again, white trim, doors and windows, or even a classic brown for the doors. However, now that navy is back, it is getting more trendy to experiment with a more muted or bold color door, such as a Rosie red or a muted yellow. With navy, you don't need that to stand out. In any New England climate, this color stands out without clashing with the colors in the environment around it.
Once you're finished picking out the color, it's time to do the painting. Now that's the easy part. All you have to do is contact re:fab for your free estimate today! re:fab has over 30 years of painting experience, fast project turn arounds and great service. Contact us today!
Source:
The Top 10 Exterior Paint Color Trends for 2022 | Better Homes & Gardens (bhg.com)