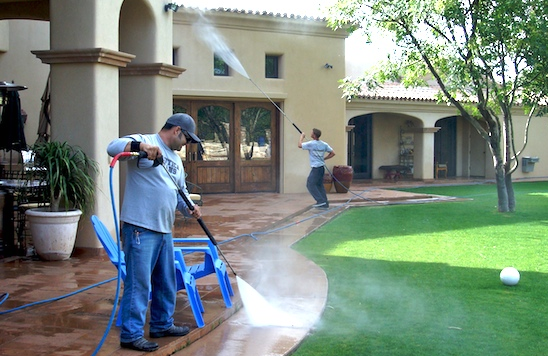 When cold, wet winters give way to spring, families around New England will be writing their spring cleaning list and jumping into action. When people think of spring-cleaning though, they usually concentrate on the inside of their homes or perhaps about mowing the lawn and raking the leaves. While these areas of your property are important, it's also important to think about the exterior of your home, your decks, sidewalks, swimming pools, and more. Including residential or commercial pressure washing in your spring-cleaning routine can mean all the difference as your property takes on the heat of the summer and the cold of the coming winter.
Our team at re:fab, specializing in both residential and commercial pressure washing for more than two decades, has put together this list of the top 5 reasons to include pressure washing in your spring-cleaning routine. Let's take a look:
Pressure Washing Saves Time: Compared to regular cleaning methods, using a pressure washing service saves valuable time. No mixing cleaning solutions, no climbing ladders, no strenuous activity, no endless scrubbing. Hand washing does not have the same power, and it could take hours to get a fraction of the results. When you choose to pressure wash, the filth and grime that has attached to your outdoor surfaces throughout the winter will be cleaned away with little effort.
Pressure Washing Removes Allergens: With the arrival of spring in New England, allergen levels begin to elevate. Homeowners can reduce the level of allergens in and around their home by pressure washing the exterior of their home. This will help lower the allergen levels and can help you and your family live a bit more peacefully this spring without coughing, sneezing and watery eyes.
Pressure Washing Prepares Surfaces: New England winters can be long and cold, and many homeowners use spring-cleaning as the perfect time to tackle that do-it-yourself project that's been put off throughout the winter. Power washing is the perfect way to prepare surfaces for paint or refinishing. Whether you're thinking about re-staining your deck, painting your home, or refinishing your pool, power washing will prepare the surface better than any other cleaning process or solution.
Pressure Washing Prevents Permanent Damage: Winter grime can cause serious damage and stains to your home and exterior surfaces if not properly taken care of and removed in the spring. Letting stain and grime sit on your home or office for very long periods can result in permanent damage. Power washing can remove this grime quickly and easily with little impact on the environment, when compared with traditional cleaning solutions.
Pressure Washing Saves Money: First and foremost, power washing is smart preventative maintenance for all exterior surfaces and can prevent costly repairs to your property. Furthermore, power washing is one of the least expensive cleaning tools or large surfaces such as your home's exterior.
When you're ready to explore the many benefits that come from adding pressure washing into your spring-cleaning routine, our team at re:fab is standing by to assist you. Connect with us today to discuss your specific project and to receive your free, comprehensive estimate. We look forward to hearing from you and to helping you with all your power washing needs. Connect with us today to get started!