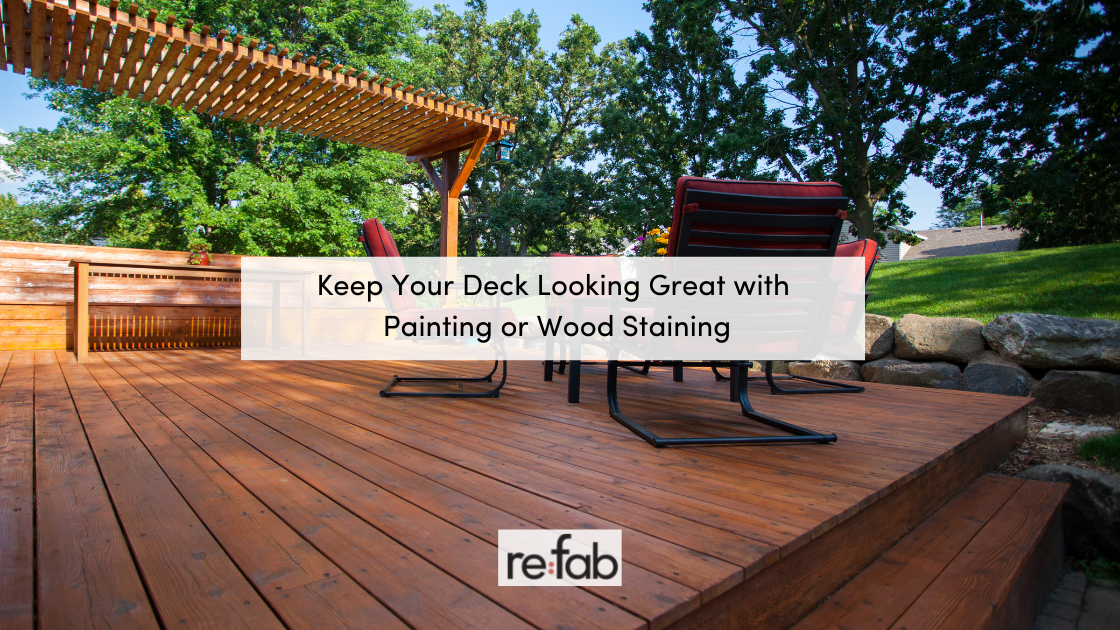 Like many Americans you may have just celebrated Memorial Day at a barbecue on the deck of your home. This is a great way to spend time with the family, enjoy some fresh grilled food and just breathe in nature, languishing in the open space. But if you want to maintain these good times for years, then you need to make sure your deck is well taken care of. Here is how to keep your deck looking great!
An open-air deck is always exposed to the elements and there are plenty of things that can damage your deck, like: the sun's UV Rays and rain and air moisture, not to mention just wear and tear from regular use. Over time this could result in pricey repairs or in the worst-case scenario – complete replacement of your deck. Fortunately, there are a couple of things you can do to protect your deck and extend its life, including painting and wood staining. These simple processes are a great investment and can end up saving you a lot in the future.
Painting and staining not only can give your deck a more vivid visual life, but both offer your deck the protection it so desperately needs. That said there are some differences between the processes to consider before deciding how you would like your deck to be treated. A stain will actually soak into the wood, whereas paint lies in a thin layer on top of the material. The costs are similar, but you'll also need to purchase primer for painting. The primer is important as it adds another layer of protection, which is the point anyway.
Given the consequences of a poorly done job, you'll want to make sure every step is done with the utmost consideration. Utilizing a good quality stain is important, but before applying the paint or stain, you'll need to be sure the deck is thoroughly cleaned. This includes ensuring there are no holes as they can offer an avenue for destruction. You'll also want to make sure to not miss any parts of your deck when applying your coat of paint or stain. Areas that are not protected are still completely vulnerable to the elements. Remember it only takes one crack to ruin a good piece of wood.
The reality is, it is possible to apply paint or stain to your deck yourself but given all of the variables and the potential expense of an imperfect job, you are much better off using a company that specializes in residential and commercial painting in Massachusetts like re:fab. We have the knowledge, the experience and the materials to efficiently give you a great looking deck that you can enjoy for the rest of this summer and many summers to come. Feel free to check out our site or you can reach us by phone.