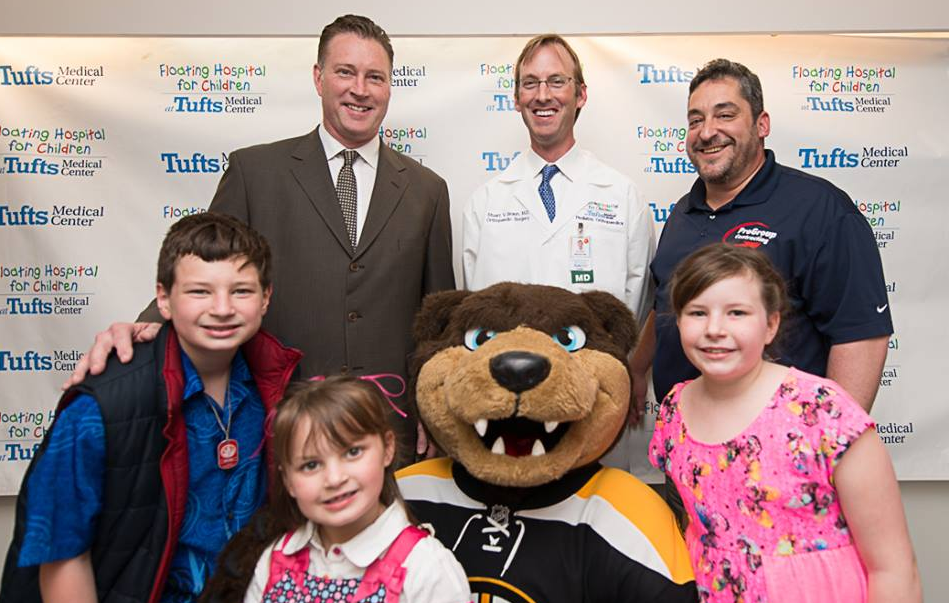 Happy Monday everyone! I thought starting the week off with some inspiring quotes to start your week off right. Recently, I was able to be a part of a cause that really put a smile on my face.
re:fab, and a leading painting contractor in Massachusetts, partnered with the Boston Bruins to decorate a wing of the Floating Hospital for Children at Tufts Medical Center in Boston. While we gave the wing a fresh coat of paint, the Bruins Foundation donated neat memorabilia and toys for the kids. It was inspiring to see the children laughing and enjoying themselves as they admired the new wing and played with all the new goodies. I felt honored to be a part of such a great cause.
While speaking to the crowd at the event, Bob Sweeney, the Bruins Foundation Executive Director, said a great quote that really stuck with me. He stated, "It's always good to have good partners to make something happen." I think he's right on the money. The statement reminded me so much of how my boss, Courtney Tamulevich, Marketing Director at re:fab, taught me and the rest of our team that our best successes come when we work together. She always tells us, "Your success is my success, and my success is your success." We all have something great to bring to the table and sharing it with each other can really make magic happen.
Feeling inspired, I decided to go around my office and collect some of my coworker's favorite quotes that inspire them. I hope you all find some inspiration in them as well!
Eric, our Director of Residential Services' favorite quote is:
"I fear not the man who has practiced 10,000 kicks once, but I fear the man who has
practiced one kick 10,000 times." – Bruce Lee
Sherrie, our CFO's favorite quote is:
"Don't walk behind me; I may not lead. Don't walk in front of me; I may not follow. Just walk beside me and be my friend."
Jay, our VP of Business Development's favorite quote is:
"You miss 100% of the shots you don't take." –Wayne Gretzky
Paul, our Sales and Marketing Specialist's favorite quote is:
"If one advances confidently in the direction of his dreams, and endeavors to live the life which he has imagined, he will meet with a success unexpected in common hours." – Henry David Thoreau
Jenn, our Production Manager's favorite quote is:
"If you fell down yesterday, stand up today." – H. G. Wells
Dave, re:fab's Owner and President's favorite quote is:
"Sometimes, you just have to say what the heck."
Matt Girard, our Field Project Manager's favorite quote is:
"If you're going to be a bear, be a grizzly."
Courtney, our Marketing Director's favorite quote is:
"Lunch is for wimps."
Joann, our VP of Key Accounts and Special Project's favorite quote is:
"Keep a green tree in your heart and perhaps a singing bird will come." – a Chinese proverb
And lastly, my favorite quote is: "Everything happens for a reason." Although it is almost impossible for me to choose a favorite!