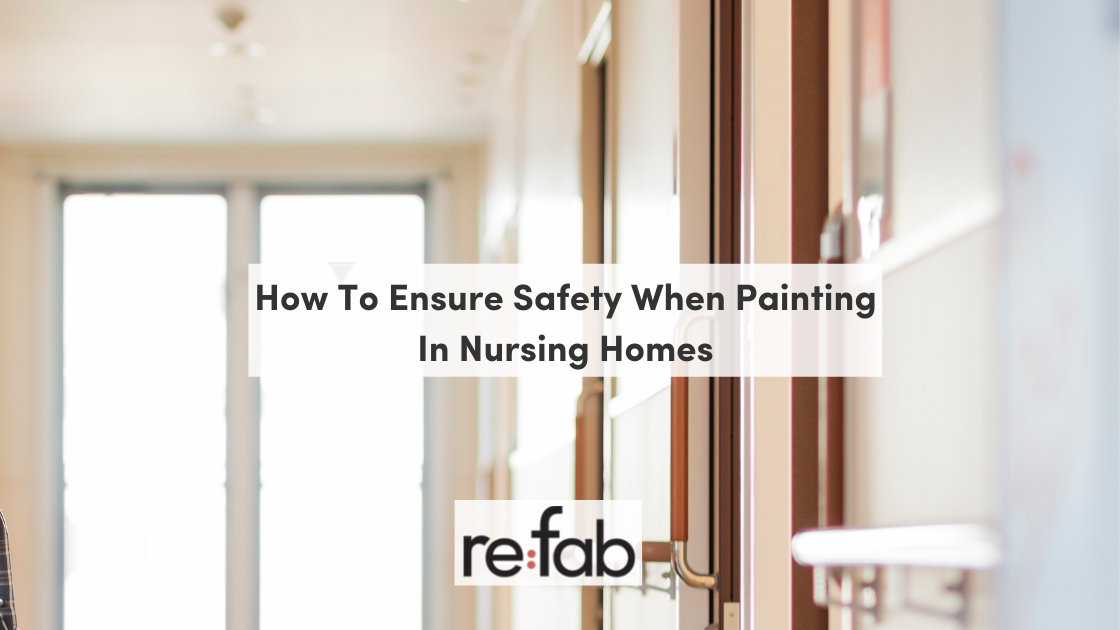 Serving the elderly is extremely important for the community.
Assisted living facilities and nursing homes abound in this great nation of ours and are a testament to how we treat our citizens. Among the things that matter the most for housing our elders comfortably, a nice wall paint is as important as things get.
Commercial painters realize the potential risks associated with certain paint types, the psychological effect of colors, and much more.
There's too much to consider when painting nursing homes, and in this article, we will share insights about maintaining complete safety during (and after) painting such elder patients' housings.
What Are Nursing Homes?
Some residents don't have to stick to their hospital beds but need constant monitoring and medical help. Unfortunately, they don't have anyone to take care of them. Whatever the reason, no person should be left behind, and that's pretty much where nursing homes come into the picture.
These places are equipped with a highly qualified and well-trained medical staff available 24/7. In many ways, they share basic setup similarities with hospitals but have the touch of a 'home' to keep the patients housed comfortably and stress-free.
Some of these healthcare centers are dedicated to patients requiring special care, such as those who have Alzheimer's disease, causing them to have trouble with their memory or act in unsafe ways.
There can be no generalization but one: nursing homes are run like clockwork. Ensuring the physical and mental well-being of the patients.
All of them have to adhere to strict safety standards, and regular visits from OSHA reps (Occupational Safety and Health Administration) will ensure that it is the case.
Fresh Paint Coatings & Effects On Mental Health
So, where does wall painting come into play?
Well, as it so happens, it is more important than what you can fathom.
Vivid colors create a more bright and lively atmosphere for the elderly, which is perfect for keeping them feeling young. This is especially true for those old folks who've lost a lot in life and need a rest from everything.
The serenity of nursing homes is one of the prime factors that make them worth living in. To adhere perfectly to medical ethics, you must ensure that your healthcare facility is as comfortable as possible, including having aesthetically pleasing walls.
We are certain that the visitors from OSHA will note this, among many other things – this extra mile from your side will not fail to impress them.
A fresh paint coat can help you lighten up the residents' mood and provide several other services, as we will discuss shortly.
But before we do, it is important to understand how only professional painters can ensure complete safety during this process.
Commercial Painters Can Guarantee Safety & Professionalism
Before you go on with the whole painting project, consider your goals. Isn't your primary concern about the well-being and comfort of your patients? If so, then you'd want to ensure that the whole process is perfectly safe and non-disturbing for them.
This level of excellence can never be expected from unskilled laborers.
Only true professional painters can help you ace your goals here because:
They Are Undisruptive
The first and foremost rule of creating a safe environment for the elderly is to make it mentally comfortable. Loud noises and blaring music are the last things that you'd want on your hand when caring for patients with serious medical conditions.
Such insensitivity may worsen the health condition of your residents. True professionals know this sort of stuff. You can expect commercial painters to be on their best behavior: totally undisruptive and as low-profile as possible.
And of course, you won't have to worry about cleaning up either, and they'll take care of everything.
They Know Which Products To Use
The product choice for a nursing home is as important as the healthcare services you offer – if you go cheap here, you may end up with something that does more harm than good. Cheap paints exude smelly and strongly toxic gases.
This becomes all the more problematic for the elderly who may be suffering from respiratory complications. Things can worsen beyond control, and that's why a professional will suggest that you opt for health-friendly options to avoid any problems.
Unskilled laborers will have no idea about such fine details, and if they mess things up, good luck explaining it to the OSHA reps.
They Offer Flexibility In The Schedule
Professional painters realize that nursing homes have no off time. The facility is home to many residents. That's why most commercial painters offer flexible scheduling options for nursing homes, allowing you to get projects done at your convenience or when it is not going to bother the patients or staff.
Professionals will always have your back!
They Offer High-End Design Services
Dull colors are not going to be even the least bit stimulating. What you need is a bit of liveliness in the mixture – only vivid colors can provide. You don't have to be obsessed with the design, and a smart color selection will suffice.
The point is to create a welcoming and as nurturing an environment as possible for your patients, and visitors from OSHA will not fail to appreciate you for this.
What Makes Certain Paints Safe For Medical Environments & Healthcare Facilities?
As mentioned earlier, the choice of paint is one parameter that can make or ruin the day for your patients. There is no such thing as toxin-free paint, but you have safe options for your residents, and you should go for those.
Which ones are those? Let's explore:
Microbicidal Paints
Nursing homes and healthcare facilities are bombarded with pathogens. After all, you've got residents who may be suffering from communicable ailments. But you can reduce the chances of infection propagation through various tweaks such as using antimicrobial paints.
Yes, they are real. We didn't make this stuff up!
These paints can hinder some of the most feared and resilient germs, such as antibiotic-resistant bacteria, tough molds, and even those dreaded viruses! By ensuring the suppression of such trouble makers, you can create a much safer haven for your patients.
Germ-free (or at least with reduced levels of germs) nursing home is aces in OSHA's textbook – if they have one.
Low/No-VOC Paints
No one likes foul-smelling cheap wall paint. However, there's much more to this bad smell than what catches the nose – these paints are a health hazard. Cheaper mixtures are loaded with volatile organic compounds, or VOCs in short. VOCs pose serious threats to the well-being of the elderly.
These compounds degrade rapidly and release foul-smelling gases, which can cause respiratory problems. The problem is worse enough on its own, but there's an added risk in nursing homes: the patients are all elderly – they are more susceptible to such threats.
But you can avoid the risk.
The market is booming with many low-VOC products that contain comparatively smaller fractions of this menacing compound – the term low is only arbitrary, but these paints are safe enough. Others have gone the extra mile and dropped the VOC components altogether.
Zero- or low-VOC paints will help you maintain the inside air of your nursing home and ensure that the quality parameters align perfectly with those defined by OSHA.
Finding The Perfect Colors Can Create A Safer Environment
Colors serve much more than adding to the aesthetics of nursing homes. They are associated with your patients' well-being and in creating a safe and nurturing environment for them.
Social conventions may vary, but colors do have stimulating effects, which most of us tend to overlook. A smart choice with the palette can help you make all the difference, and here's how:
Green shades can stimulate a relaxing and serene sensation.
Blue, contrary to its popular association with grief, has been proven effective in countering stress and promoting inner peace.
Eggshell or cream white shades are deeply associated with spirituality and calmness.
Yellow is a cheerful shade and promotes happy thoughts.
The list doesn't end here…
Colors communicate subconsciously and promote healthy thoughts in your patients, leading to better health. You can also employ colors as visual cues to help patients remember stuff, i.e., if they have Alzheimer's disease.
Colors create a safe and serene atmosphere in nursing homes and healthcare facilities.
re:fab Offers Experienced Commercial Painters For All Purposes
Remember how we mentioned that only true professionals could get your work done well and safely?
At re:fab, we have been in the painting business for well over 30 years now. We have consistently appeased our clients with the quality of our work and the attention to safety.
Not only can we make your nursing house facilities shine brighter and become livelier than ever, but we will also make sure that it remains perfectly safe for your patients. Our goal is to create a serene and calming environment in your facilities through the smart use of stimulating colors and contrasts.
With vast knowledge and experience in the field and being true professionals, our painters will be more than ready to cooperate with you on any challenge that you might face during this whole process.
If you feel like doing an overhaul of your nursing home's looks, get a quote online, and we'll get our rollers and brushes ready for action!