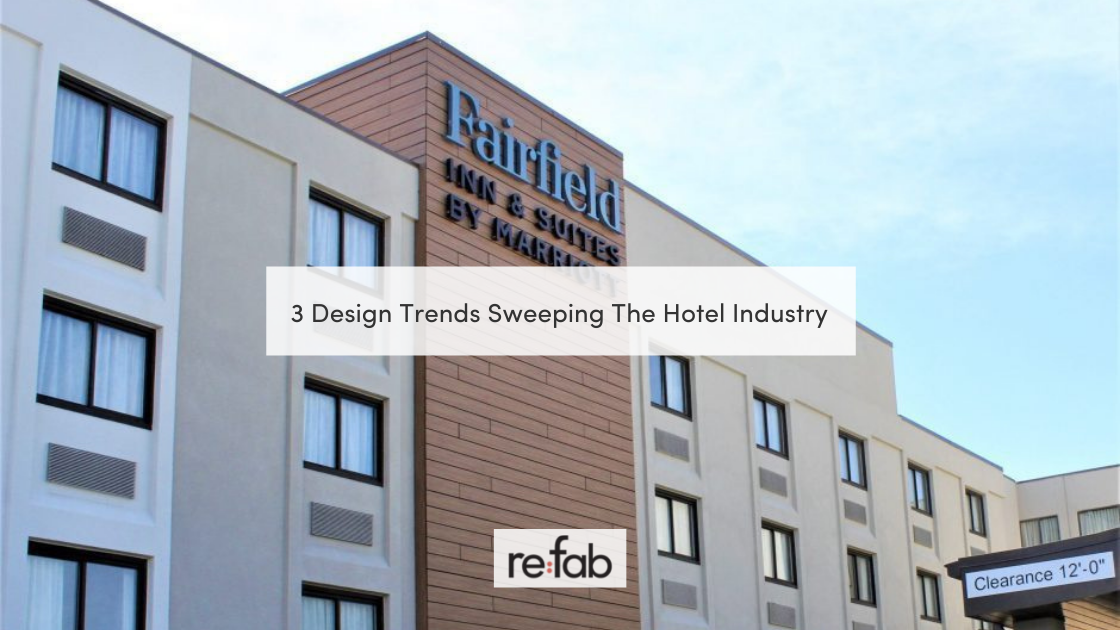 Increasingly, people wish to experience the comfort and convenience of home when they travel. Gen-Xers and Millennials expect access to technology for both work and entertainment, and smart properties are giving them what they need to stay connected. The three hotel trends 2018 outlined in this article will enable guests to have a unique and comfortable experience during their stay at your hotel.
 
A Personal Approach to Lobbies
Designers are rethinking how guests interact with the physical space and hotel personnel in lobbies. Guests are seeking unique experiences when they stay in hotels, beginning the moment they step through the front doors. Your hotel should tell a story about its particular destination, with a design that reflects the location or theme. If you are situated near a beach, historic village or natural area, introduce those elements in the lobby and include them in views. Even if you are located in an urban environment, good design will enable guests to feel that they are having an experience they could only get from your property.

Courtesy of Nantucket Island Resorts
Secondly, hotels are adapting the check-in process to make interacting with guests more personal. More often, front desks are being replaced with smaller concierge desks, where guests can sit down and sip coffee or wine while being checked in by staff using iPads. To further personalize your lobby, consider including a wine bar and coffee cart stocked with regional products; a small library, or gallery with local art. These individual touches open a space for guests to interact with community members and become part of the locale.

Courtesy of Laguna Beach House Hotel
Technology That Feels Like Home
 
We live in a world where we expect all media to be at the tip of our fingers. Guests appreciate having access to their own media (Netflix, Apple TV, Google Play, and YouTube) in rooms thoughtfully designed to accommodate a variety of devices.

Courtesy of Inhabitat
Designers are rethinking the number and placement of media ports and electrical outlets in guest rooms. By incorporating ports and outlets right into headboards and desks, guests can use technology where it is most convenient for them.
Courtesy of Represent Asian News
Designing With Natural Elements
 
Biophilic design is a trend in the design industry, but it's not an entirely new concept. It's a philosophy that explores the connection between humans and the natural environment, and is supported by studies detailing its benefits. Greenery, natural light, organic materials and where possible, expansive views to natural surroundings, all enhance how people experience a space.
Courtesy of WWD
Living walls, water features, furniture made from natural elements, and abundant plants all lend a feeling of well-being and blur the line between indoor and outdoor spaces. Biophilic design adds an element of comfort and individuality to the guest experience.
Thinking about making some exterior changes as well? Check out how you can enhance your hotel's curb appeal to see how you can completely transform your hotel.

About the Authors
As West Coast transplants, Debbie Green and Snowy Eischen met by happenstance in their small Massachusetts town and discovered they had a lot in common, including a vibrant family life, and a mutual love of creating beautiful homes and gardens. The seeds of their blog, New England Home and Garden: Family Life Through the Seasons were planted when they began attending antique fairs, show houses, open gardens, and planning unique and creative parties for families in their village. They're passionate about photography, styling, and home staging, all with New England flair!
Sources and Further Reading:
15 Innovative Hotel Design Trends to Watch for in 2018.
alvarezdiazvillalon.com
https://www.alvarezdiazvillalon.com/11-innovative-hotel-design-trends-to-watch-for-in-2017/
Three Design Trends for 2018
hotelmanagement.net
https://www.hotelmanagement.net/design/3-design-trends-for-2018
Beyond the Bedroom: Hotel Design Trends for 2018
webrezpro.com