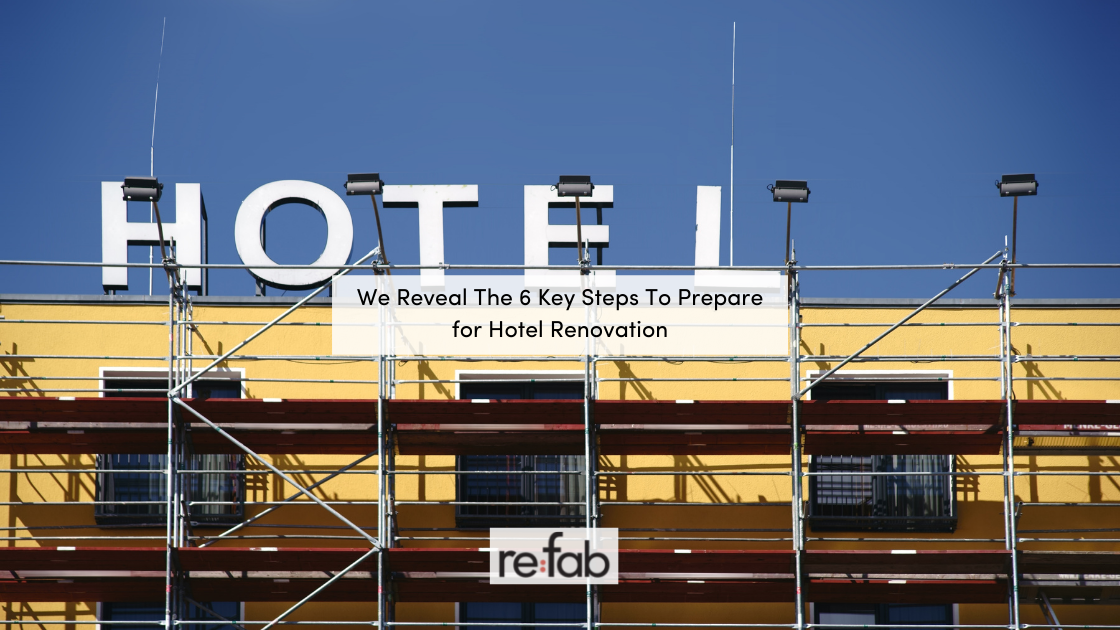 Renovating your hotel can be a challenging process that involves multiple steps, requiring significant investment and time. At the same time, it can revitalize the look of your hotel and be a much-needed creative process that, in the end, will help increase profits.
One of the main problems in renovation projects is a lack of an integrated plan with clear actions that will help save time and money. So, how do you get to a clear plan? What are the steps to follow? In this article, we will go over the 6 main steps of hotel renovations and share some tips to help you get the best experience out of renovating and get the most out of your investment.
 
Keep reading to learn about the 6 key steps to prepare for a hotel renovation.
Before reviewing the steps, it is essential that you select your renovation company. A renovation contractor is your best bet when it comes to renovating because it will help save time and money. Having a renovations contractor in charge of your project means you have 1 point of contact that makes all the arrangements for you, making communications simple. This also means that there is a minimal amount of supervision required, as well as more reliable delivery and completion times. Make sure you pick a well-known renovation company and beware of businesses that do not possess the right expertise.
Now, let's get to those key steps!
Step 1: Think About the Initial Design
Think about the new design of the hotel, not only at the aesthetic level but at the level of guest satisfaction and hotel operations. The first thing hoteliers think about when renovating is about how it will look, but in turn, they forget the essential factors of renovation. After all, remodeling is all about the overall hotel experience, not just its look.
Before renovating, think about the traveler's experience and determine what needs to be improved, both aesthetically and functionally. You must decide whether the existing design will help satisfy your guests. After deciding on the positive and negative points of the design, give clear directions to your contractor to get the best possible results.
Tip: Take a look at your hotel's operational aspect. Staff flow, for example, can really impact the feel and functionality of your spaces. A renovation should also aid in the ease of service.
 
Step 2: Concept of the Hotel
Renovating is a good opportunity for your property to stand out from the competition. Defining what the new concept will be after the renovation will also affect the design and the facilities that your hotel will include. This needs to be taken into account when deciding how best to renovate.
For example, will your hotel be focused on gastronomy? If so, you might want to include decorative elements that allude to this concept, as well as special facilities like a new kitchen space or restaurant. Will your new hotel be focused on fitness? Maybe designing a new gym is necessary.  Is your new hotel focusing on wellness? New spa facilities might be a good idea. In the end, all these elements can lead to new revenue opportunities for your hotel.
Tip: Having a defined concept and operations manual can help decide your design, as it gives insight into your hotel's philosophy and how staff integrates into it.
No hotel renovation can be seamless without planning. Keep reading to find out exactly what you need to take into account.
Step 3: The Key is Planning
Be sure to set up expectations and a realistic project execution plan that goes in hand with the budget, material expenses, and the construction process. Determining your budget is a critical step in defining the success of a renovation, as it affects the entire process. Once your contractor has a clear knowledge of the overall project budget, they can help better manage and allocate money to parts of the renovation that need more attention, like new facilities or extra materials.
Tip: Knowing your renovation budget from the beginning can help for better negotiations with material and suppliers, as well as your "top." This can also help with on-time delivery as most materials will be made to order. Punctual delivery times can significantly affect the projects on-time completion.
Step 4: Try to Limit Inconvenience
It's important to limit the inconvenience you cause to existing guests to the hotel unless you plan on closing completely for a few months. Start by locking off one guest room at a time (if that's what you're renovating) to minimize disruptions. The lobby could be a little trickier. Try to get it done as quickly as possible and work in sections, starting after breakfast and ending before the afternoon check-ins.
Tip: If you're renovating a whole floor, keep it off-limits and make sure your guests never see the construction. This will reduce the impact the renovation has on guests.
You've heard it before: communication is key. This is also true with renovations. Find out how to do that effectively when renovating your hotel.
Step 5: Communication is Key
Good communication helps the construction process be effective and seamless. This, in turn, will help you get the most out of your investment. We know your investment in renovations is not insignificant, so communication is key in keeping the project on time and on budget.
Make sure everyone on your team is aligned and ready for renovations to start. Have a conference call or meeting several weeks prior to renovating and tell your staff what the plans are. This helps keep everyone in the loop and helps in case of inevitable challenges. Discuss progress and timelines with your team and the community that the hotel will be under renovation. The more communication there is, the more organized and structured the process will be, making for a successful renovation.
Step 6: Be Sure to Create Excitement
The renovation should also be communicated to the public. Create expectations for your customers about the new upgrades, reach out to new consumers and communicate your renovation as a unique event. Reach out to old customers and tell them about what you're doing. This will help give you a new competitive advantage and generate more bookings.
Get people visiting your hotel during the renovation by posting design boards where they can see them. When you're near to completion, schedule a grand re-opening event. Host fun giveaway opportunities for your guests and make sure everyone is excited about the upcoming new spaces.
Tip: Think about getting some 3D renders of the new space. Once you have an estimated time of completion, share them with your customers. Create a space on your website for "oncoming" spaces and use the renders on your website, social media accounts and send them out to online platforms you work with or even travel agents. This will help promote your hotel and your new spaces. Make sure to keep updating these platforms until your completion dates and you will likely have bookings to spare.
That's it! We've revealed the 6 key steps to prepare for a hotel renovation, from design to communication and planning. We hope these steps have been helpful to prepare you for the renovation of your hotel. Now all you have to do is… start!
Did you know that re:fab can help you with your hotel renovation?  We have over 30 years of experience doing hotel renovations and remodeling. We know how to get the job done fast and done right. Contact our excellent customer service team at 1-800-690-2539 for inquiries or click here for a FREE Estimate!
 
Sources
Hotelier Academy.org
https://www.hotelieracademy.org/hotel-renovation-tips-the-4-key-steps/
Hotel Management.net
https://www.hotelmanagement.net/5-major-renovation-rules