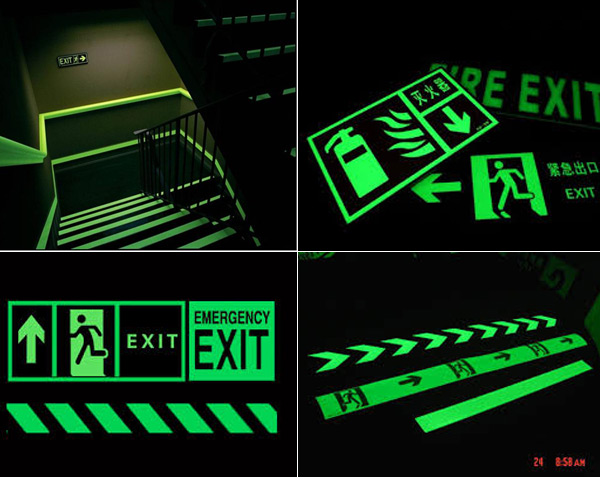 Glow in the dark paint, or luminous paint, has come a long way in the years since its initial development. First introduced as a luminous white or green paint, today you can find luminous paint in a number of different colors, which give more freedom for its use. Primarily used for safety, including road signs, outdoor markings, stairwells, entrance ramps, guardrails, subway platforms and more, even homeowners are getting into the craze, using it around the home and in the yard.
As a commercial painting company in New England, our team at re:fab has helped countless commercial and industrial businesses create and implement safety plans. The uses for luminous paint are only limited by one's imagination, however we've compiled this list of uses to get your mind thinking.
1. Stairwells: Since 9/11, many municipalities require that emergency stairwells have photo-luminescent material to help people exit buildings when the power goes out. Currently, we have several options to help including reflective tape, luminescent guidance strips that can attach to stairs and pathways, and of course luminous paint applied to railings and more.
2. Curbing: To help prevent accidents and reduce liability, curbs and curb cuts for wheelchair ramps can be illuminated. This will help your customers see a night to safely enter your building.
3. Subways: Traditional lighting can be enhanced and safety can be improved using luminous paint applied to the edge of the subway platform, along stairs, on railings and more. This is a great way to keep commuters safe.
4. City and State Projects: The options here are endless including highway and construction projects, where equipment, roads and workers need to be visible at all times.
5. Schools: Children spend a great deal of their day in school. We can protect them in case of an emergency by illuminating dimly lit stairwells, entryways, crosswalks and more.
If you have an application that you'd like to discuss, we'd be happy to speak with you. This reflective technology is great for many traffic and safety applications mentioned above, including fire hydrants, walls, wooden or metal poles and other surfaces that need to reflect light at night. The products and luminous paint used by our team at re:fab takes photo-luminescent technology further than ever before, using cutting edge science to deliver products that promote safety, focus attention and save energy.
Our commercial painting company representatives at re:fab are standing by to assist you and to help you create a safety program tailored to your specific application. Connect with our team today to learn more about the benefits of luminous paint and to explore the many options available. We look forward to hearing from you soon and to helping you with all your commercial and residential painting needs.