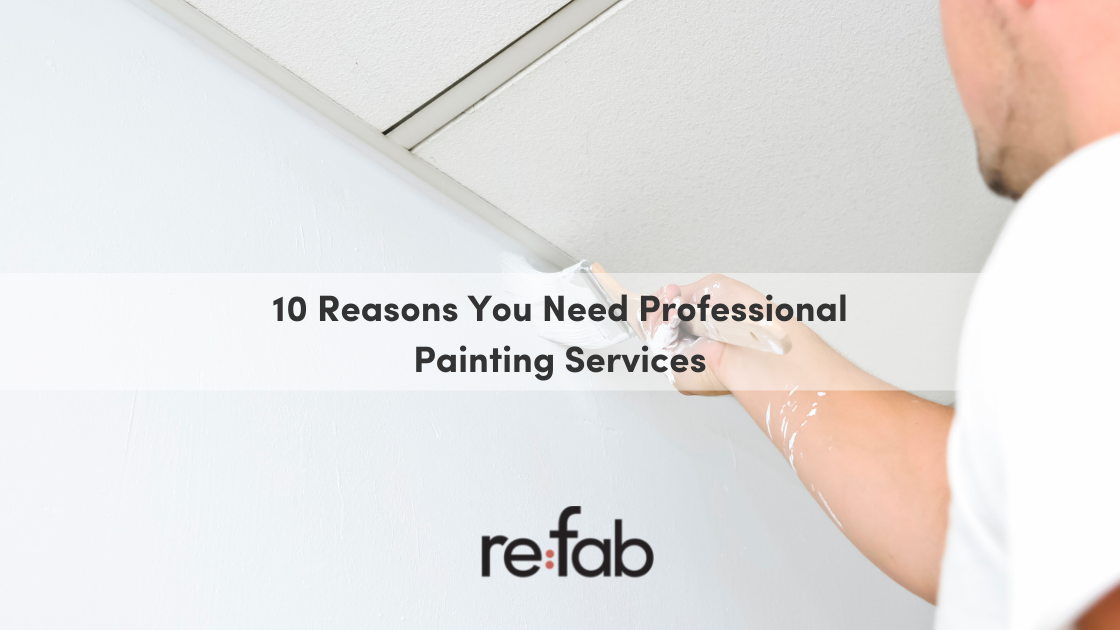 A fresh coat of paint can do a lot for a building. Whether you are changing the interior or exterior color, it is often best for the professionals to do it. Painting a commercial property is not like painting a residence. There is more involved in ensuring that the property is prepared and ready for the painting professionals.
Commercial building owners choose to paint their buildings for all types of reasons. Some of the most common reasons include rebranding, change the mood of the business, eliminating paint damage, meeting regulations, and retaining the building's market value. To save money, it may be tempting to try and do the painting yourself. Unless you were a professional commercial painter in a previous employment situation, you might want to save the money and hire the professionals to begin with.
So, why should you hire these painting professionals from the start?
#1. Professionals Save Time
In a business, downtime means money lost. Depending on the area you need to be painted, you may have to take the day off. Luckily, most professional commercial painters try to work around your schedule to minimize the amount of downtime that occurs.
The right professional painters will work with you to create a painting schedule that fits around your business hours. These painters are also skilled at what they do and will take less time to accomplish the task than if you were trying to do it yourself. The right skills and the right equipment save time when painting the interior or the exterior of a commercial building.
Equipment Used by Commercial Painters
Commercial painters use equipment that novice painters would not use in the painting process. The supplies that are used make an impact on how the job will get done and how quickly. No matter how fine the details are for the paint job, a professional is likely to use the following items:
Pressure Washer – The most important part of any paint job is the preparation. If the area is free of dirt, grease, grime, and other obstructions, the paint will adhere better to the surface. Commercial painters use pressure washers to help get everything off the area to prepare it for the paint.
Drop Cloths – Before a painter can begin painting, they have to protect the areas that are not being painted. Heavy canvas or plastic drop cloths are used to help keep wet paint from ending up where it never should have been.
Scaffolding, Ladders, Lifts – Especially on the outside of a building, the requirement to use scaffolding or lifts becomes obvious to reach those hard to get places. All three can be utilized indoors, too. Large paint jobs may require that scaffolding and lifts be used instead of an extended rod.
Caulk, Compound, Sandpaper, Scrapers – Repairing, and then preparing that prepped area are important to the professional painting process. Holes, cracks, crevices, and other damages can occur to walls and floors, which will require a quick fix before it can be painted. Using sandpaper, creating a rougher area will help the paint adhere to the repaired area.
Industrial Primers and Paints – Not all primers and paints are created equally. Some paints and primers are better for a paint job than others, especially for commercial buildings. The area being painted will also determine the type of paint and primer used too.
Brushes, Rollers, and Spayers – Part of using the right paint for the job is using the right application for the job. Some jobs will be best done with brushes, others with rollers, and the sprayers are often used for buildings' exteriors because they cover a wider area. You are likely to see a professional painter with all three.
#2. Professionals are Well-Equipped
Trying to handle a paint job yourself may leave you running to the store last minute to pick up supplies. Even then, you may realize that you have forgotten to get the right ones. A professional is always equipped with the right equipment for your paint job.
It is highly unlikely that you will have the same type of equipment lying around your business that the professionals use for painting. If you do go out and buy these items, they are likely to lay around until the next time you have a paint job to do. Save yourself the investment in the equipment above and let the professionals bring theirs along for the job.
#3. High-Quality Work with Attention to Detail
One of the biggest appeals to hiring a professional is the quality of the work. Professionals are highly trained and know the ins and outs of painting commercial properties. You wouldn't have called a professional if you weren't looking for the finest work.
The most common mistake that commercial building owners make when trying to obtain a painting professional is making a decision based on the price tag. Any professional painter will tell you that you get what you pay for. If you are trying to get the lowest pricing and the best results, you may be looking for a needle in a haystack.
The quality of the work also depends on the attention paid to the detail. Anyone can put paint on a building, but a professional pays attention to the fine lines and all the other details that go along with the paint job. Don't risk your paint job to someone that is not professional, or you may be spending more money to have it fixed.
#4. Proper Work Area Preparation
The most important part of the painting process does not involve the actual paint. The process that leads up to the painting is what makes for an excellent paint job. If you want to learn a lot about a professional commercial painting company, ask them how they prepare the area they will paint.
Here are some of the things that a professional painting team does before they even think about painting:
Filling in holes
Repairing drywall
Fixing any textures that may be disrupted
Removing wallpaper
Pressure washing the surfaces that require it
Priming the walls
Checking to ensure the paint has been mixed correctly
Professionals begin by inspecting the areas they will be painting very closely. They look for dents, scratches, scuffs, and other unflattering damage to the wall, and they use the right materials to fill them in. The same applies to looking for cracks or other areas where caulking is required. They will also use sandpaper to roughen up the surface to ensure that the paint will adhere to it. After all of the repairs and sanding are done, they have to clean the area to rid it of debris.
Planning is a part of the preparation process that cannot be ignored. Some types of preparation, like epoxy, require other factors to take place. Professionals have to synchronize the preparation, the project, the business hours, and even the weather! Now they can't plan the weather, but they do have to plan around it.
Another part of the preparation that is not only important but guarantees safety is mapping out the ventilation. Proper ventilation while painting prevents hazardous fumes from making people sick. It also cuts down on the odors made by the paint.
#5. A Quality Guarantee
If you try to paint your commercial property and mess up, there is no one else who is accountable – only you. A professional painter's work is guaranteed. This guarantee can provide you with peace of mind when planning to have your property painted.
Even though mistakes are rarely made when hiring a professional painter, there is still the off chance that something can happen. Your chosen professional will be able to provide you with the warranties, policies, and procedures of the company you chose to paint your building. You wouldn't purchase a new car without a warranty or guarantee, and you shouldn't do that with a new paint job either.
#6. Rookie Mistakes Avoided
You aren't a professional painter, so trying to paint a commercial property could result in many rookie-style mistakes being made. Don't let it bother you, though, because you weren't trained to be a professional painter. You were trained for the job you do, so let the professionals do theirs. You may want to watch for these types of mistakes when your painters are painting:
Using the wrong paint color
Painting with an unmixed can of paint
Getting paint on the trim, ceiling, or floor
Obvious brush strokes left on o the surfaces being painted
Lack of primer coat
Disregard for preparation before painting
Applying the wrong kind of paint to the area
Painting on top of wallpaper or putting too many layers of paint on a surface
Whether you are trying to accomplish the paint job yourself or you hire "professionals" that turn out to be amateurs, you now know the signs that you are dealing with the a rookie. The true professionals don't make these rookie mistakes.
#7. Safety is Taken Seriously
There is a right way to climb a ladder, and there is a wrong way. If you have not been trained in the safety protocols that painting professionals use, then you are likely to end up putting yourself in danger. What are the steps that professional painters use when they are working a commercial painting job?
Ventilation – Possibly one of the most important interior commercial painting safety tips on the list is ensuring adequate ventilation. The use of solvent-based paints has a higher risk of hazardous fumes and odors, making ventilation in any situation crucial to not only the painter's wellbeing but anyone in the building. Due to the potential health risks, painters often wear masks to prevent breathing in the fumes.
Personal Protective Equipment – The painting world is full of hazards that you might not be aware of. Painters use personal protective equipment to help keep their bodies safe from hazards. Besides fumes, there are dangers that lurk with the cleaners and stripping agents that can irritate the skin and the eyes. Using masks, eye protection, and skin protection while handling these chemicals and paint can reduce the risk of burns and other problems from the irritants.
Ladder and Climbing Safety – If you don't spend much time climbing ladders or using scaffolding, you may not recognize the immediate dangers they possess. Why would you? You work with your feet planted firmly on the ground. Professional painters know the risk. They practice safety with everything they do on the ladders, scaffolding, and lifts used within their industry.
Clean Up and Tidy Workspace – Being tidy with the work area before, during, and after the job shows fine attention to safety. Paint thinners pose a fire hazard threat if left exposed or in unsafe areas. Fall hazards exist when equipment or materials are left strewn all over the place.
Allow Sufficient Drying Time – You may not think this one would matter much. Just add the "do not touch" sign and be on your way. If only it were that simple. When the paint is wet, the chemicals in them are still active until they have evaporated. The wet paint can pose a threat to children or animals who do not know any better. The "wet paint" and go technique is the ultimate rookie safety mistake.
#8. Professionals Offer Great Customer Service
When you weigh out the pros and cons of doing a paint job yourself, one of the cons is the stress that it puts on you to not only finish the project but to do it right. You miss out on the experience of having the professionals take that stress away and answer all of your questions.
Working with a professional team that will include you in the process can allow you to understand what they do without figuring out how to pull it off yourself. You can have fun in the experience of commercial painting without doing commercial painting. When a problem arises, professionals will swiftly take care of it or ask what you want them to do about it and typically with a smile on their face.
#9. Effortless Clean-Up
Big projects tend to have big messes attached to them. If you have ever painted anything, you know that cleaning up after painting be more time consuming than painting was. There are all the brushes and rollers that have to be cleaned out, not to mention drop cloths to fold. You were already exhausted before the need to clean-up arrived.
Lucky for you, professional commercial painter's clean-up after themselves. They bring in the equipment they use, do the job, and then take their equipment back out and clean it elsewhere. You aren't burdened with dirty sinks full of residual paint residue.
What would it be like if you had to clean-up after a painting job of this size?
#10. The Price is Right – You Just Don't Know It Yet
Whether you want to admit it or not, the pricing of a professional commercial painter is worth it. In the long run, using professional painters means that:
The job was done correctly
You won't have to pay to have the professionals fix your mess
You won't have to pay the professionals to fix another amateur's mess
Professionals handle repairs
They work around schedules
The list does go on. In fact, just look at the previous nine points that were made. You may feel like there is a better deal out there for a painting professional, but the truth is that you get what you pay for. Pay half the price of a professional painter, and you are likely to get half the quality. Then, when you have to pay the professionals to come in and fix the previous paint job, you are now out what you paid both companies. Might we suggest that you just skip the middleman and go with the professional, to begin with?
There is also nothing wrong with talking to multiple companies and getting quotes. That is why the websites usually include a "get a quote" button on them. Professional painting companies are used to competing for job bids, so if you need to get several quotes to compare, they might match a competitor's price or throw in another complementary service.
Why You Need ProGroup's Professional Painting Services
re:fab has over 30 years of experience in commercial interior and exterior painting services. They also have experience with sealing, as well as wall and ceiling applications. Whatever the business needs, re:fab can accommodate it with its various number of skills.
When you choose re:fab to handle your commercial painting needs, you are getting trusted experts for all renovation and painting needs with experience in industry-specific material applications. As a company, we pride ourselves on our excellent project management team. They offer support to clients every day until the project is finished. re:fab won't stop until you are completely satisfied with the work.
If you are looking for an industry leader to handle renovations or commercial painting for your business or property, contact us today! We look forward to working with you.