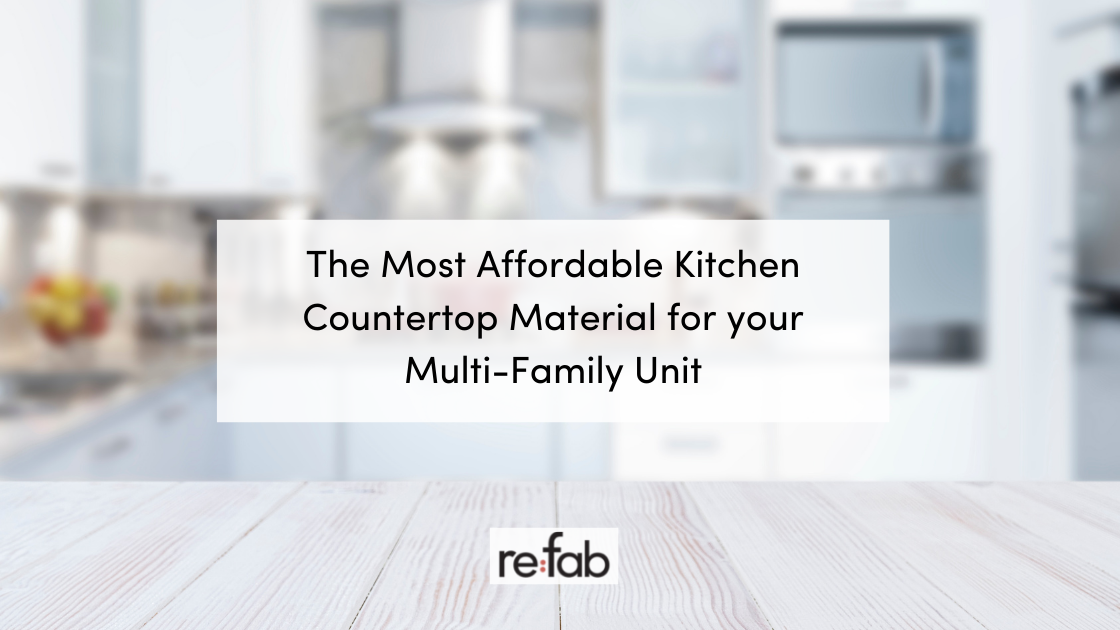 Picking an affordable countertop material for residential spaces can be tricky. As a property manager, you might think perking up kitchens on a multi-family space can drain the bank. There is no doubt that kitchens can be an expensive endeavor, but countertops don't need to break your budget. The three most popular types of countertop materials—granite slabs, concrete and quartz— will break your budget, but there are many affordable materials that can help you achieve a high-end look in your kitchen.
 
Take a look at these recommendations of affordable countertop materials we have made for you. You might just find the perfect material.
Learn to Love Laminate Counters
Learning to love laminates is important on your path to find cheap counters. It is possible to find expensive laminate materials like high-definition laminate, but more often than not, laminate is very cost-effective. The reason  it is so inexpensive is because it is just thin sheets of laminate material glued on top of MDF (medium-density fiberboard).
Many shops and individual contractors can do this with little expense. You can find pre-laminated slabs at stores like Home Depot, Lowe's and other home-improvement stores. You can also find them at IKEA, being much better quality than at big-box stores. You can also decide to laminate it yourself, although this can get tricky.
Ceramic Tile: The Do-It-Yourself Countertop
Ceramic tile is an easy choice for do-it-yourself projects that look really nice. It is also much cheaper than granite. With a backsplash and some corners, kitchens are bound to look nice.
The problem with ceramic tiles are the seams. Many people think seams aren't great for cooking, but newer ceramic and porcelain tiles are available in large sizes, helping to minimize seams.  Modern porcelain types also have diverse options to choose from- porcelain tiles can look like natural wood, real stone and many other materials.
Tile Granite: Get Granite Slab's Feel and Look
There is no denying granite slabs are very pretty and have a polished look. But, most people don't want to pay the high costs associated with granite slabs. This is why the tile granite option is much better. Tile granite comes in 12-inch or 16-inch squares, and is available at any tile store, Lowe's or Home Depot. It is a very easy option to do yourself and can be installed with epoxies rather than mortar. Fitting the tiles close together, you can eliminate the grout lines. Offsetting the labor of installation makes this product inexpensive.
 
Wood: Great Looks, Low Cost
The problem with materials like Quartz is that they must be made in big, expensive factories, therefore costing you an expensive amount. Low-cost materials are controlled by individual stores, which is what makes them inexpensive. And, no material fits this bill more than wood. IKEA sell gorgeous wood counters that aren't expensive.
You can take an extra step and use reclaimed wood for your counters. Barns, flooring, siding and yes, even old wood counters, are repurposed and made into wood counters for an antique and truly unique look. The downside to this material is it requires some upkeep. It must be carefully maintained and sealed, which might scare some from using the material. But, it is a very eco-friendly option.
Modular Engineered Stone: A Granite Slab Alternative
Modular stone counters are dramatically less expensive than the granite slab alternative. Modular granite is bigger than tile, but smaller than slab. It's also engineered stone, not taken directly from the ground, making it a cheaper alternative. It is easy to self-install because it is not as heavy as granite slabs (since it is thinner), therefore you can save some money on installation. It looks almost the same as a granite slab, so you will achieve that high-end look.
Solid Surface: A Cheaper DIY Option
Solid surface is the industry term for materials like Corian and Silestone. It is a manmade material created as an alternative to stone, designed to resemble granite and other natural stone. It is made mostly of synthetic acrylic and polyester materials blended together, with a small amount of natural stone dust blended in. The material is held together with resins and shaped into slabs for use in countertops.
Although considered an expensive material, it is the cheaper option out of the lot and will give you the safest bet on finding the cheaper version.  Hundreds of manufacturers now make solid surface options, making lower prices a possibility. Even online companies like solidsurface.com make this material available for purchase online at inexpensive prices, sourcing it from clearances and close-outs.
 
When considering what material to install on your multi-family, residential space, make sure to think of these materials. They are sure to bring a whole new level to the space and not break the bank. And if you need some extra help, re:fab can help you with these changes and many others, offering services from Power Washing to Painting with over 30 years of experience. We know how to get the job done fast and done right. Contact our excellent customer service team at 1.800.690.2539 for inquiries and visit our webpage at www.refabpro.com for a FREE Estimate!
Sources
https://www.thespruce.com/how-to-find-affordable-countertops-1822069
https://www.hgtv.com/design/rooms/kitchens/budget-kitchen-countertops-that-look-like-a-million-bucks-pictures
https://www.thespruce.com/kitchen-countertops-cheat-sheet-1822100