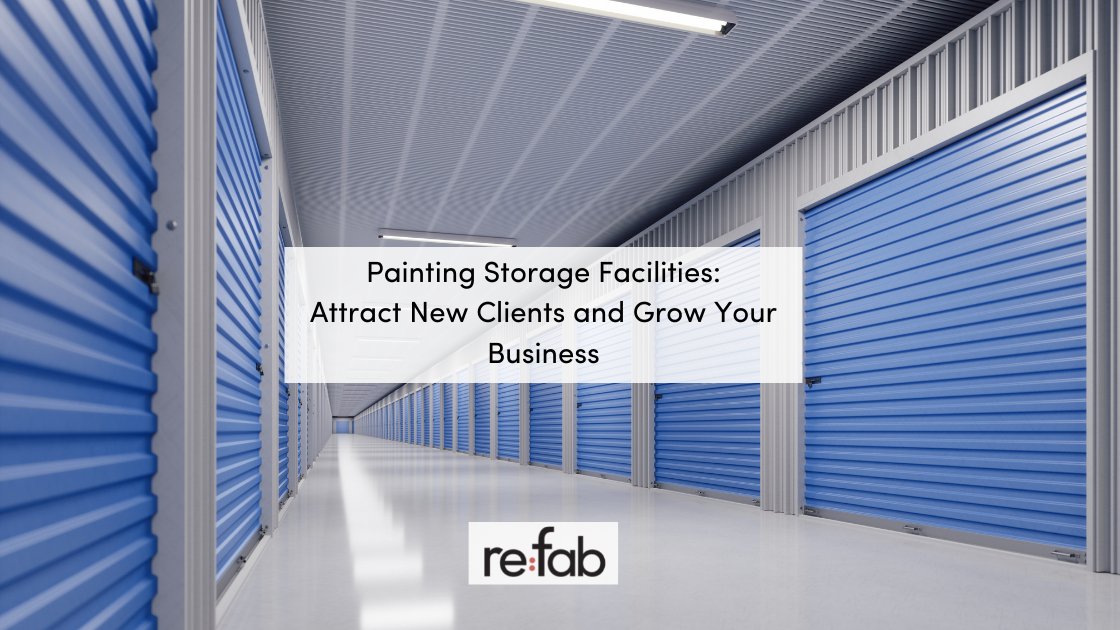 Storage facilities are a staple for a variety of industries. If you manage or run a storage facility, it is essential to ensure regular interior maintenance to prevent it from corroding over time and ensuring all operations run smoothly. Painting storage facilities is a crucial aspect of the commercial maintenance process. This article will discuss how important it is for businesses to upkeep and maintain their storage facilities to grow and attract new customers.
Storage Facility Painting
When it comes to maintenance plans, paint is generally the first consideration. Did you know, that businesses can face significant monetary losses due to poor paint maintenance? Therefore, it is crucial to regularly inspect and take care of paint problems before things get worse. It is recommended to conduct inspections twice annually so you can deal with any issues as they occur.
How to Inspect Your Storage Facility?
Your storage facility's paint inspection should include a check for chalking, loose paint, cracks, nail stains, mildew, dirt, or weathered areas. Surfaces contract and expand with the temperature every season, resulting in defects like cracks in mortar or caulking. Keeping up a constant inspection like this will ensure your maintenance costs are minimal.
Generally, it is common to repaint or recoat the surface when the old application starts to show deterioration before it loses the ability to protect your structure. Paint that is set on metal lasts 8-10 years before it requires refinishing. However, paint on block, stucco, or wood may require repainting after 3-5 years.
Exterior Maintenance
For buildings or metal doors, wipe a wet sponge or cloth over a small area to check the finish. If the color changes, it means the protective finish is no longer there. You need to apply a clear, quality protective finish to protect the paint from oxidizing and chalking.
When paint loses the protective finish, the chalking increases, which can be very messy, especially on clothing. The last thing you want is business customers leaving with white chalk on their suits.
If your storage facility is near the coast, check if there is any salt corrosion. Run your hands over doors on the east or north side of the structure. This is whether it takes longer for the salt air to dry. Salt corrosion is bumpy and rough. If you own a cold storage facility and use salt for snow or ice control, be sure to inspect the door bottoms for corrosion. You can protect the doors from corrosion using a clear, quality protective resin coating.
Another thing that can damage paint is acid rain. Even if your facility is located miles away from power plants, factories, or refineries, acid rain can ruin and etch metal surfaces. It leaves permanent, dark-streaked etchings.
Interior Maintenance
While interior metal like hallway panels and inside doors cannot chalk from U.V. exposure, it can still get grunge, marks, and handprints on the surfaces. Storage facilities near railroads or freeways accumulate stubborn, greasy dirt on surfaces like doors. However, cleaning interior hallways with water can be risky. Storage facilities often have cardboard boxes, so any water spillage in the hallway can damage belongings. A one-step quality waterless wax and wash can help easily remove grimy handprints. Some waxes can also remove permanent graffiti.
Keep the bathroom and office in mind—first impressions matter. Dirty walls or cracked paint will make people think that maybe the entire storage facility is not well maintained and dirty. Fix any cracks and paint them. Bathrooms need to be painted using washable paint, so it is possible to wipe the walls/ceilings down periodically. High-moisture areas need to be painted with mildew and moisture-resistance paints.
Benefits to Painting Your Storage Facility
Giving your storage facility a fresh coat of paint both inside and outside can be transformative for businesses. It is an easy way to grow your business and increase revenue.
Increased Property Value and Appeal
A clean paint job on a storage facility leaves a good and positive impression. It encourages clients and customers to buy from your business. If the painting is done right, it can also improve the facility's appearance. Moreover, painting the storage facility every year can help maintain or even increase its value. A well-maintained structure always has a greater market value as compared to one that is not maintained.
Invites New Clients and Customers
Your commercial structure's appearance physically reflects what the business means to you. It should attract and encourage partners and customers to do business with you.
Boosts Employee Satisfaction
Your employees are going to be the ones spending time near your storage facility inside the offices. So giving the interiors a brand new look can boost the morale of your employees. It will ensure improved focus, productivity, and creativity.
Increases The Lifespan of Your Property
If you want to make your property last longer, you need to pay attention to the paintwork. If you repaint your storage facility annually, you will protect it from natural elements like snow, rain, etc. that could negatively impact your commercial structure's exteriors.
There are paints available that prevent water from seeping into walls and causing damage. Some even provide U.V. protection to some extent. It will save the money you would otherwise be spending on repairing the damages.
Industry Regulations
Painting your storage facility allows you to fulfill industry regulations. It will ensure the health and safety of your employees. It is important to also be sure that both your clients and workers are aware of the painting work and use line striping to avoid accidents.
Hiring The Right Storage Facility Painting Company
Painting a storage facility has its challenges. It is drastically different than normal painting projects. Therefore, it would be best to hire an experienced professional with the right resources and knowledge to handle the task. Get a Free quote from re:fab by clicking here!