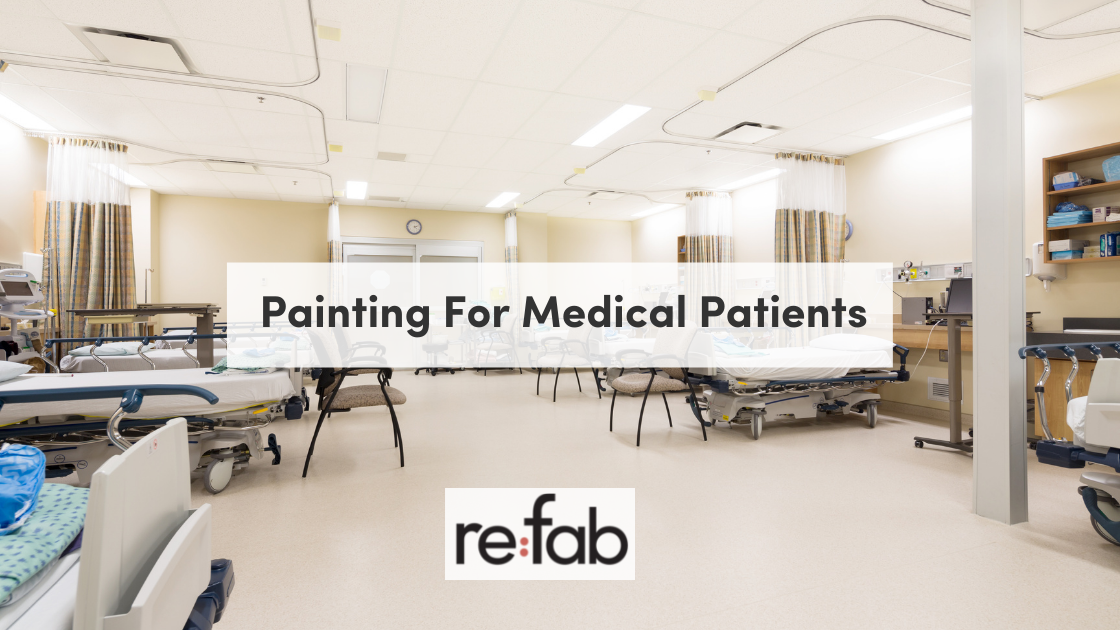 It is common knowledge for medical professionals that the ambiance of any room will have a huge impact on the mental wellbeing of the patients, directly affecting their ability to self-heal and feel better sooner. The bond between physical and mental health needs no proving, it is accepted as a fact.
And, the effect of colors on lightening up the mood, lifting the spirit, and promoting happiness is also well understood. This is only one side of the whole picture, painting the environment to house patients, be it a clinic, hospital, nursing home, assisted living facility, or even a small dispensary, can make all the difference in the type of vibes that the place emits.
Then there is the question of making the interior safe and improving the quality of air.
With so many products in the market, and tons of non-professional workers vying for a steal at the opportunity you have to offer, it becomes very hard to know what to do with your painting job for medical patients.
This article will help clear up things.
Seek Out Professional Painting Services, No Matter What
You may be tempted into going for one of the unskilled laborers offering to do the job for less, but this will be a huge mistake. While nonprofessional painters are cheaper, their work is not even half as cost-effective as you'd get from commercial painting services because the latter painting job can withstand the challenge of time and will not need to be redone due to an inadequate finish.
It has become common knowledge among people even remotely connected with the painting business that only dedicated and professional painters can get the work done well. The uniformity, consistency, personalized feeling, and fineness of their painting coats are unparalleled by those of unskilled workers.
But that's not all. As mentioned earlier, the market is filled with different types of paints and you don't want to end up with a cheap paint that emits foul smells or one with an uninspiring shade. Thus paint selection and color choice are also areas where professionals will prove their worth in a way that unskilled workers can't hope to.
Thus, you can never go wrong with hiring painting professionals for your job.
Color Selection Is More Important Than You Think
How do you associate colors with healing? For most, having a nice ambiance is a treat for the eyes. Let's admit it, we are all impressed by bright and vibrant displays of shades on walls, whether we're young or old. Colors have a language of their own, in a way.
For some, this association is only arbitrary. Critics have constantly bombarded their views on such associations drawn between colors and the mental state by saying that these links are arbitrarily defined and associated with culture.
While we can't deny these statements, the ground realities don't change: colors affect our behavior. We all cheer up at the sight of lively shades and the last thing we need when we're feeling down and low is to surround ourselves with drab and dull colors.
Our minds have developed an involuntary link with colors and we can't control feeling better or worse based on the shades around us. This association also extends to our physical well-being, as it is well established that a sound mind creates a stronger body.
The positive emotions, once evoked, unleash a cascade of biochemical processes which can facilitate healing and strengthen our immunity. Researchers have also found the opposite to be true for negative emotions which can be brought to the surface by dull and uninspiring colors.
Thus painting professionals make it a point to offer their input on smart color selection. This way, your painting project will look and feel the best it can. Colors for wall painting have meaning associated with them, so you need to ensure that you send an appropriate message, because the human response to this form of communication is involuntary.
Nice colors equal a nicer, more welcoming environment.
Shades like yellow, light blue, green, and pink have been shown to evoke positive feelings, and in case you don't feel like going so bold, try out something like eggshell white. Of course, there can't be any generalizations here, the shade selection depends on the purpose that the said room serves.
Thus it is important to seek expert opinion here.
Fresh Painting Coats Can Check The Growth Of Microbes
The presence of microbes in a medical setting frequented by patients is always high enough to be risky. Hospital-borne infections are quite prevalent for this reason. Despite the vehement efforts from the healthcare staff to clean up and keep things sanitized properly, pathogens and microbes can still linger.
Walls are a common hot spot of microbial presence because no one can mop them like floors. However, fresh coatings are a perfect way to rid the walls from infectious microbes and create a clean look at the same time – two birds with one stone, won't you say?
And, things don't end here.
Several paints have an inherent antimicrobial ability – they are designed specifically to counter the growth of microbes, and instead killing them before they become a problem. This also applies to some of the most resistant and die-hard of the lot such as VRE, Staphylococcus, Enterobacter, and E coli.
Hospital-borne infections put a burden of billions and billions of dollars on the US healthcare framework, such efforts can go a long way in alleviating the stress and creating a breathing space for healthcare workers nationwide – we owe this to them.
Microbicidal paints may cost a bit more than the normal ones but they do reward infinitely more and offer a great return on investment by creating a safer and more welcoming atmosphere. All in all, they are worth it.
Paint Technologies & A Safer Interior
With microbes out of the picture, let's take a look at another problem associated with painting an enclosure meant to house medical patients: toxicity. By nature, all paints are toxic to some extent, especially their fumes.
The fumes emitted by most paints are a result of certain chemical fractions present inside them known as volatile organic compounds, or VOC for short, which decay easily and give off such gases. These gases, when inhaled, can create complications in breathing and may even worsen the medical condition of the patient.
Some people can exhibit allergic responses to such fumes, and such allergies can become life-threatening too, for some.
But there are ways to deal with this problem.
Some paints have a low VOC content which makes them safer than most. Others go the extra mile and eliminate VOC from the equation altogether. Both of these are a bit pricier than the baseline options but do help create a safer and more serene environment for your patients.
Not only will this help you improve the standard of care that you offer but such a painting project which leaves no undesirable odor will make the patients feel more at home and thus more likely to come back for further treatments.
Compliance With The Patient Protection and Affordable Care Act (PPACA)
The patient protection and affordable care act has put certain quality and affordability duties on every medical care facility. This law has created a set of standards that every clinic, hospital, and other healthcare facilities must adhere to – the goal is to create a safer and more serene environment for the patients.
The aforementioned tips can help you better adhere to PPACA standards in the following ways:
Professional painters will ensure minimal disturbance for the patients and will create zero mess.
Livelier colors will create a positive healing environment for the patients.
Antimicrobial paints will help keep bacteria and other microbes in check.
Low/zero VOC paints will improve the interior air quality drastically.
re:fab Offers Premium-Quality Painting Services For Medical Settings
Patients need a safe and inspiring interior if you wish to uplift their spirits and let the healing begin before anything has been said and done. For this, people turn to professional painting contractors such as re:fab to get their work done with perfection.
We have served the community for over three decades and have evolved with every project, staying completely up to date with the shifting trends and expectations, thus ensuring that we deliver exactly what the client needs from us, and that too, in the best way possible.
Our commitment and passion are excelled only by our professional code of conduct, flexible working protocol, and customer-oriented service. We will help transform your dull and uninspiring interior into something much livelier, all the while ensuring that we use the safest products available, and deliver the smoothest and most flawless finishing.
Get a free quote from our website, and we'll handle the rest!