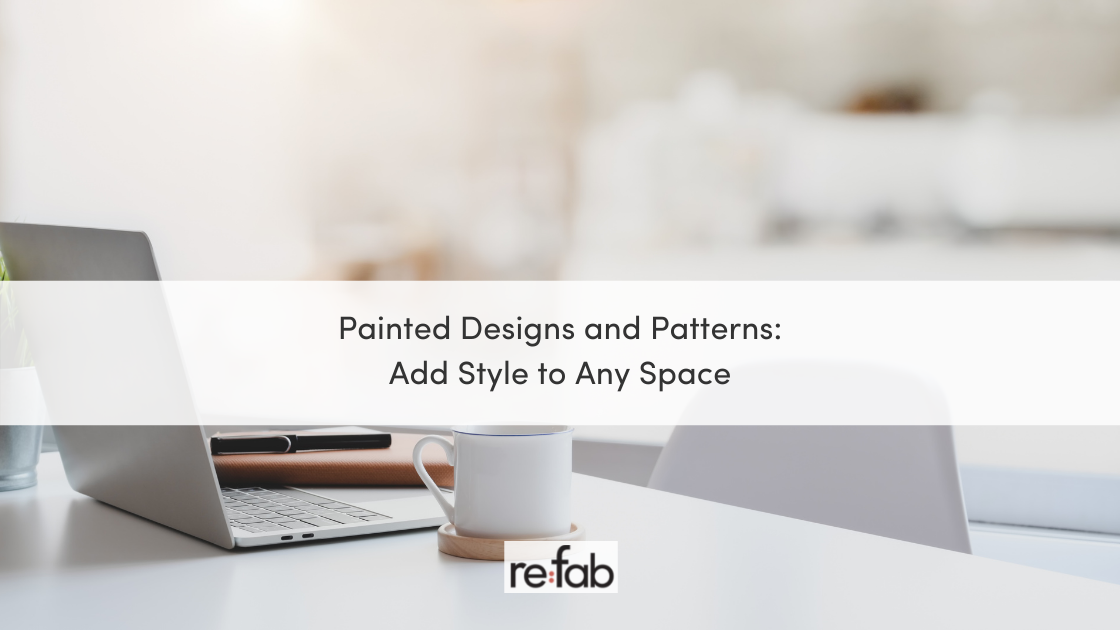 Need a way to spruce up your office? Try adding a painted designs or patterns to your walls! Here are the designs that you need to try out ASAP.
Contrary to popular belief, patterns and designs on walls don't always overwhelm a space. When executed the right way, they can be a simplistic and elegant focal point in either your home or office. To help you imagine how this idea can enhance your space, we have put together a list of our favorite statement walls:
Define the Space
Typography can be a cool tool when utilized correctly. For instance, it can help define the space. When potential clients, employees or visitors step off the elevator, tell them where they are and who they can find on that particular level. Consider painting the number of the floor and departments located on it, right across from the elevator bank. Keep it clean; use a simple brand font, maybe a shade lighter or darker than the wall color itself. If you want to go a step further, you could also use arrows to indicate where each department is, making it even easier for visitors to figure out where to go.
Another way to employ typography is with quotes or sayings. Does your company have a business motto it lives by? Are the founders known for their words of wisdom? Share these quotes by placing them on walls in workspaces and conference rooms to remind employees and visitors of a greater brand message.
Create Art
While adding art into the space is a noble idea, it might not always fit your brand voice, colors, etc. Incorporate brand colors with a thick-line mural. A combination of intersecting and unorganized lines is a fun way to break up a room with blank spaces. Have you been looking for a way to incorporate another color? This is a great solution!
If you wanted to get more detailed, there are many other things you can do. One of our favorites is to represent your city with its skyline draped across a prominent wall in the office. Or, if your company is located in several cities, paint each skyline in a different conference room. Show your city some love!
Design, Erase and Repeat
Is your business built around creativity? If so, use your walls to express that by using chalkboard paint. In a co-working environment or brainstorming room, coat one wall in chalkboard paint to allow employees to express their ideas. In a reception area, task them with showing the company's current values, upcoming events, a day at work or even drawing one another! This will give anyone who walks into the office a clear idea of the culture.
Shape Up
Small, large, intricate and simple- there are a lot of options when it comes to using shapes to decorate your office walls. One option is to utilize graphic shapes, giving your facility a cool, modern vibe.
Another idea is to fill up a wall with giant slabs of random shapes. By implementing different colors, it will look like it is layered, but using different shades of the same color will keep it from getting too busy.
Go freehand! Have people in your office draw little doodles and enlarge a couple of these images for your wall. Adding a few of these elements can make the space more fun, lively and even make people feel more connected to the area. Another fun idea is to place a shape in a corner. This will give it the illusion of being three-dimensional.
Show Your True Colors
Using color blocking to add a pop of color to your space can completely change how your office feels. If your walls are painted in neutral colors, this gives you the perfect opportunity to tie-in your brand colors. Paint a thick line in the place of your choosing. We suggest three-quarters of the way down the wall and have it flow from wall to wall. If you like how it looks, consider changing the color from room to room- maybe even have certain colors to represent different departments. The possibilities are endless! Color blocking will create contrast in the office, and the addition of this new color might even change the overall mood or productivity.
There you have it, how to completely change a room with the addition of a new pattern or design. Want to get started on your office transformation? Call re:fab today to get your free estimate!
Sources:
Cool Painting Ideas that Turn Walls and Ceilings into a Statement: https://bit.ly/1pJHjtV
48 Eye-Catching Wall Murals to Buy or DIY: https://go.brit.co/2uUL6zd