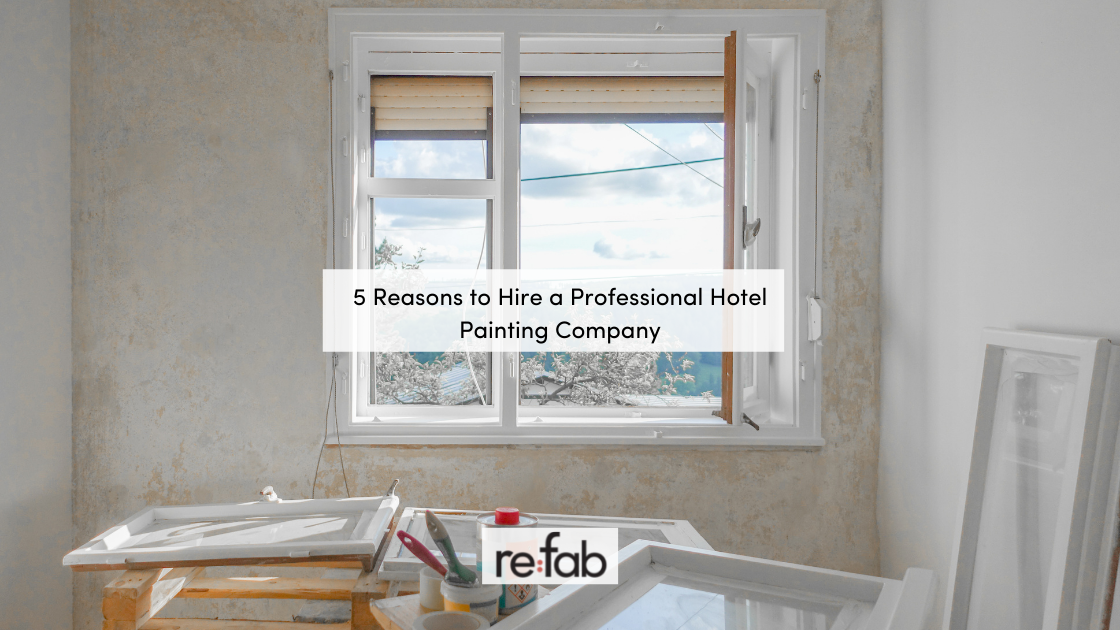 While you may think you can hire any painter to repaint the interior or exterior of your hotel, this type of job requires skill and experience. You need someone who has experience painting hotels and who has the expertise to get the job done right. And, this isn't just any painter; This type of job requires a commercial painting contractor. It's essential to take your time researching commercial painting companies and only hire those that have hotel painting services. This article will delve into why a professional hotel painting company will give you the best finish that will impress your guests.
Read on to find out how a hotel painting contractor will make your hotel stand out. 
Why should you hire a professional hotel painting contractor?
Necessary Hotel Painting Services
The painting needs for a hotel can be very different from a regular painting job. While some hotels may just need an interior or exterior paint refresh, others may need painting to their restaurants or shops. A professional hotel painting contractor will be skilled in many different types of commercial painting services and will, therefore, know what your hotel needs are. They will know that the exterior of your hotel is the face of your brand and that the interior needs to match your brand aesthetic. A professional painter will ensure that the painting plan is reviewed with you beforehand and followed through until it's up to your standards. Some services that only professionals will offer are: 
Exterior Painting

Interior Painting (walls and finishes)

Drywall and Masonry repair

Caulking and Sealing

Power Washing

Door and Window TrimPainting

Wood Painting and Staining

Ceiling Painting
Right Painting Materials
A professional painting contractor will have the proper tools, equipment and paint to complete a job to your specifications. A specialized painting company will follow these practices:
Follow Blueprints and Specs:

Your hotel painting team should only start a painting project when all the specifications, blueprints and paint colors are agreed on

Have Professional Painting Equipment:

Your painters will always have professional painting equipment like lifts, paint sprayers, large rollers and exercise safety first if you are working with a professional painting company.

Properly Prepare Surfaces:

A professional painting company will always properly prepare your surfaces for painting to ensure good quality, long-lasting paint job. They will know how to prepare surfaces like interior and exterior walls properly, as well as repair drywall before painting, sanding, wood repair and caulking and sealing.

Use Low- VOC Paints:

  Volatile Organic Compounds (VOC) are carbon-containing substances that quickly become vapors or gases. A professional painting contractor will be sure to use Low- VOC paints to ensure that gases released from the paint aren't harmful to guests, hotel staff and their own painters.

Is EPA Lead Certified:

A professional hotel painting company will be lead-safe certified by the Environmental Protection Agency (EPA), so if your building previously had lead paint, it will be contained and removed properly, and any new paint used during your project will be lead-safe. This way, you can have peace of mind that you, your guests and staff are protected during the painting process.
Professional Licenses, Liability Insurance, and Warranties
A high quality, professional painting company will always have professional licenses, insurance, and warranties available. Make sure the painting company you hire has all of the following:
The proper lifts, scaffolding, and ladders to be able to reach any height at your hotel safely.

A license issued by your state.

Safety certifications, including fall protection and aerial lift operation. 

General liability insurance coverage. 

Full-workers compensation. 

A warranty covering labor and materials provided at the time of your quote. 
Honesty and Integrity
A professional painting company will follow honest procedures and have integrity when working for you. This will not only save you money and time but will give you peace of mind. A reliable company will always do the following:
Give you a detailed quote for your project:

A professional company will always give you an exact quote for your project, that will give you no financial surprises once your project is completed. They will also adhere to the budget and timeline. 

Will share references of previous painting projects:

This is one of the easiest ways to tell if a hotel painting company is honest. If they are hesitant to share previous results or don't have any, it's better to look for a new company. This might mean they don't have the necessary experience or don't have good previous results, which should be a red flag.
Won't Interfere With Your Guests
The essential point of hiring a professional hotel painting company is that they will do everything they can to minimize interference with your guests or even your staff. You won't have to think about putting off hotel painting due to affecting guests or shutting down operations entirely for a painting refresh.  Professional painting contractors will know just what to do, ensuring the following points: 
Fast, precise results:

 Hotel painting requires precision and speed, including working on a night schedule or on off-season times to complete your project on time without interruption to your guests. 

Cleanliness:

Professional hotel painters will use precaution to ensure that your floors, furniture, and other items are protected during the painting process. They will always use drop cloths and additional protection to ensure the paint is contained. They will also know how to maneuver around fixtures and lighting. Finally, each day they will do a thorough clean-up to minimize disruption of the hotel's daily functions. 

Low- Odor Coating:

During a hotel painting project, it is essential to keep that fresh-paint smell to a minimum to not disturb guests. Professional hotel painters will always offer low-odor paint coating to ensure this is the case. 
We hope these 5 reasons have convinced you about hiring a professional painting company for your next hotel painting project. Whether you own or manage a hotel, you know that you need a flawless paint job to be able to impress your guests. And this can only be accomplished with a professional painting company. 
Did you know that re:fab is a professional hotel painting company? If you're looking for interior or exterior hotel painting services, we have over 25 years of experience. We know how to get the job done fast and done right. Contact our excellent customer service team at 1-800-690-2539 for inquiries and visit our webpage at www.refabpro.com for a FREE Estimate!
Sources
https://www.sharperimpressionspainting.com/recent-projects/hotel-painting-services-good-reasons-to-invest
https://www.awpainting.com/2018/10/29/top-5-reasons-why-you-should-hire-a-professional-painting-contractor/
https://www.ajc.com/news/four-reasons-hire-professional-painter/gEqrB1kI9ZeK5Q4ksqiIyN/